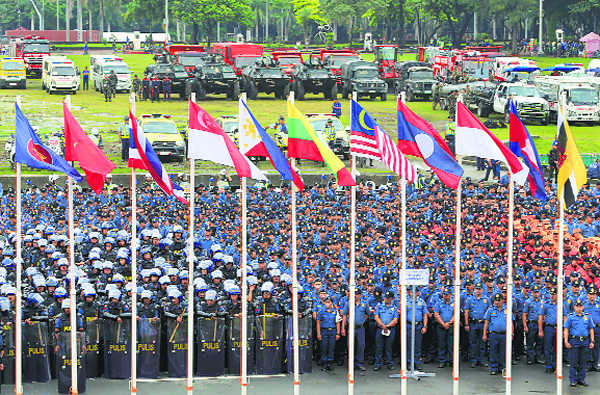 MK Bhadrakumar
TWO years after the India-African Forum Summit in October 2015, India is hosting another comparable summit — the special Commemoration Summit with the 10 countries of the Association of Southeast Asian Nations in New Delhi on January 25. All ASEAN leaders accepted PM Modi's invitation to then be our chief guests at the Republic Day parade. It promises to be a nationally televised event showcasing PM in an eventful year ahead in Indian politics.
But what does India hope to gain out of this high-profile event? We need to remind ourselves that the 41 leaders of the African Union who took part in the 2015 summit left Delhi insisting that it is enough to hold the next summit with India after five years — not three (which is the Chinese practice). They knew India needed extra time to fulfil pledges. The danger in excessive focus on 'event management' to showcase our PM is that we tend to forget the raison d'etre of such diplomatic events. Since the African summit, India's exports to Africa registered a significant drop of 15 per cent.
Alas, once again, vainglorious considerations are at work. Be that as it may, the establishment pundits who write 'curtain raisers' for such events claim that China's 'assertiveness' in foreign policies is the leitmotif. The diplomatic objective appears to be two-fold — creation of a regional security architecture in the Southeast Asian region with a role for India in it, and, secondly, registering a riposte to China's expanding and deepening ties in South Asia by displaying that India too is not lacking in friends in China's neighbourhood. The whole enterprise is predicated on the assumption that the ASEAN countries visualise India to be a 'balancer' in their region vis-à-vis China. How valid is this assumption? The strategic layout of China-ASEAN relations has assumed much softer tones in the recent years borne out of a realisation in Beijing, perhaps that it pays to put more efforts into improving the relations. Thus, it was announced last week that the Philippines and China proposed to discuss at a foreign ministry level meeting in February in Manila the implementation of their agreement to conduct joint oil and gas exploration activities in the disputed South China Sea. To quote Philippines foreign minister Alan Peter Cayetano, 'Conceptually we both want it (joint exploration)… We will never compromise our national territory. But (on) sovereign rights… you can talk. (It means) that area belongs to you but since you do not have the financial or technical capability to develop it, you get a partner.'
To an Indian, such disarming candour dripping with pragmatism becomes a novel experience to absorb. Welcome to ASEAN. The point is, ASEAN and India inhabit two different planets. The nearest analogy could be that India and China discuss how they could cooperate in the development of the impoverished Northeastern states (although issues of territorial sovereignty are not even involved in this case). Again, looking ahead, 2018 may well witness a Chinese company winning the competitive bidding for the single-biggest project ever that ASEAN region probably undertook — the $17 billion high-speed rail project that will cut travel time between Kuala Lumpur and Singapore to about 90 minutes from the current five-hour road journey. To jog memory, India wouldn't even seek competitive bidding for its Ahmedabad-Mumbai bullet train, lest some Chinese company won, causing embarrassment all around.
Suffice to say, it's unclear what India can do for ASEAN. The grouping's main challenge today is about maintaining unity and its central role in its region. ASEAN is being swayed in different directions by the big powers. Quite obviously, some ASEAN countries are closer to China than some others in the grouping might like. Cambodia is apparently China's closest ally; then comes a host of others such as Myanmar, Laos, Thailand and so on. The Philippines under President Roderigo has been steadily getting closer to China. The relations between China and Malaysia have noticeably warmed up in recent years. India will not be helping matters if it were to injecting the 'Quad' serum into ASEAN veins. India should not cause polarisation among the ASEAN members, just when a long journey is about to begin in search of the elixir that must go into their so-called code of conduct with China in the South China Sea. Some of the issues are contentious — for instance, the definition of the exact waters in the South China Sea, which the proposed code will cover. But on the bright side, the disputed waters of the South China Sea as such are calmer nowadays.
Importantly, India should show humility to learn from the ASEAN experience. It is simply fascinating to watch how Singapore is going about with its new responsibility of rotating chairmanship of ASEAN through 2018. Mindful of the pressures on the grouping's unity, Singapore proposes to focus on what unites the member countries — a common vision on trade, climate change and terrorism. PM Lee Hsien Loong bundled together under the tagline 'Resilient and Innovative' a plethora of plans that include ASEAN working together to get tough on terrorism and cybercrime, become more resilient in the face of climate change and promote schemes that will help ASEAN's economies innovate and use technology. Foreign minister Vivian Balakrishnan said recently that as chairman, Singapore wanted to connect the region's people and economies more seamlessly through digital technology, and to deepen the bloc's ties with outside powers like China and India as well as expedite the Regional Comprehensive Economic Partnership. The logic of economic integration appeals to the ASEAN members.
A Singaporean scholar said recently, 'Don't worry too much about disagreement in ASEAN. We have to go at it the ASEAN way: Emphasise the positive, think constructive and try to overcome problems.' ASEAN's non-confrontational style provides a beacon light for the Modi government to resuscitate SAARC. The South Block's efforts to stage the special Commemorative Summit in the weekend will not be in vain if Modi opts to leave it to his peer group from Southeast Asia to do the talking on the real spirit of Vasudhaiva kutumbakam. The Rohingya problem created discords within the ASEAN family; yet, that didn't put out the crackling fire in the hearth. India has a lot to learn from ASEAN. The irony of India abandoning its immediate neighbourhood where its relations are in hopeless drift, where regional cooperation is moribund, and to jump into the bandwagon of its 'extended neighbourhood' cannot be lost on the ASEAN leaderships.
The writer is a former Ambassador
Top News
The accused ASI was nabbed by local people, who then handed ...
Two frontline combat aircraft of the IAF crashed during a tr...
Gandhi was accompanied by his sister and Congress general se...
PM Modi also appreciated people for eating food items made o...