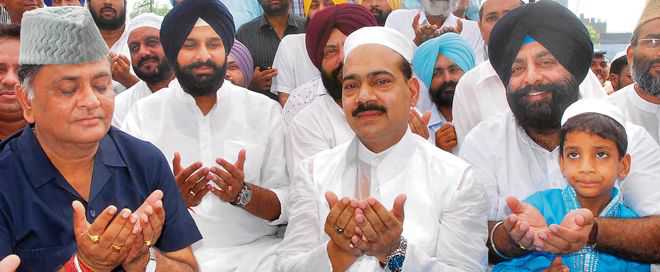 M Rajivlochan
Historian
Are we a nation? Does the natural diversity of the Indian social landscape undermine Bharat, the rashtra? Do we need to homogenise to become a nation? Does being a nation undermine our diverse identities? Logic, common sense and the experience of living in India suggest these to be red herrings.
Diversity is natural to human existence. Only Indians, since the British pointed it out, make a fetish out of it and constantly talk either of nurturing diversity or of diversity being under threat. It requires an extraordinary kind of insularity to presume that diversity is unique to India. All people have it. Diversity exists in all nations. Even those that claim to be governed by a single religion, caste, tribe or language.
The defining feature of a nation — at least a civilised and caring nation — is the desire and ability of the people to live together rather than fighting with each other over the natural dissimilarity in belief patterns, religions, languages, food choices and preferences for conjugal living etc.
France has 25 regional languages, each regional language has many sub-groups. A report written for the French Government in 1999 identified 75 languages as regional or minority languages. China has eight main dialects, each of which has hundreds of variations, not counting minority languages like Mongolian or Tibetan and their variations. The religious universe is equally diverse.
A Pew report of 2017 identified 13 countries, including the United Kingdom, where Christianity is the state religion. And yet, only 59 per cent of the people in the UK practice Christianity. Even fewer follow the Anglican denomination which is the one that is the 'state religion'. Islam, Judaism, Sikhism and Hinduism are the other minority religions. One-quarter of the UK said they did not practice any religion. None of this leads France, China or the United Kingdom or any other country, to wonder whether they are a nation or a nation-in-the-making.
In India, historically speaking, people revel in how unique they are and superior to others. An almost impermeable layer of superiority also makes them quite contemptuous, and unmindful of each other as they divide themselves into castes and sub-castes and sub-sub-castes, and religions and sub-religions…the defining feature here is to create ever small, insular groups. Each of which group then asserts its presence, loudly if possible.
Outsiders frequently get overwhelmed by such insularity that marks the Indian society and culture. Various visitors who came to India in historical times noticed stark differences between Indians and the outside world. However, it was Babar, the invader from Kabul, who first noticed that such insularity was indicative of Indians being uncultured. He had decided to stay in India even while his generals insisted on leaving behind the heat and dust of India and return to the pleasant climes of Kabul. Writing his memoirs in the 16th century, he remarked that Indians did not have the ease of interacting with each other, unlike the people of Afghanistan and Uzbekistan who were comfortably cosmopolitan.
To this day, social division along innumerable fault-lines is a characteristic feature of India. Whether this is due to our innately strong sense of self or an inability to find common platforms, it hardly matters. Whether we like it or not, other countries do see us as one nation and have done so perhaps since the earliest days. Greek geographer Herodotus used the term 'India' in the fifth century BC.
In the modern world, existence is defined by citizenship. Rights flow from where you live. The right to do business, the terms of business, depend on that. No doubt, identity has multiple strands to it. Insular groups based on caste and religion are, by definition, a microcosm of reality and have limited relevance beyond that microcosm.
Attempts to project such insular groups as the primary identity of an individual, important beyond all others, have only resulted in violence and bitterness. Kashmiri Pandits and Kanyakubj Brahmins have as little in common with each other as Mappila Muslims and Deobandis. The one
secular, open-ended identity that is available to all, and which guarantees constitutional rights to the people, is that of belonging to a nation.
Asserting the identity of an insular group over and above everything else is liable to undermine any collective identity. Whether or not to live together as a nation is, in the end, a moral choice.
The Constitution makers of India made that moral choice for us when they chose to have the Constitution as the fundamental norm, from which flowed all other norms for the state and the people of India. They gave us a Constitution that was extraordinarily detailed. They also made the Constitution the device with which to transform the Indian society. The grand project of the Constitution involved, among other things, a commitment to the ideas that were not, in 1947, a characteristic of India.
The Constitution talked of equality of status and opportunity for all citizens in a society that was extremely unequal in every possible way. It talked of the liberty of thought, expression, belief, faith and worship for all citizens in a society that had just emerged out of a murderous partition of the country, because some people insisted on religion as their primary identity. There was a commitment to providing social, economic and political justice to the citizens.
Whether knowingly or unknowingly, the Constitution was also following an ancient Indic tradition: asserting the right of individual conscience and belief. A defining characteristic of India in the past has been a refusal to allow a monopoly of truth to any one belief system. Till the arrival of Islam at any rate, Saiva, Vaishnava, Sramana, Nirgrantha (Jaina) to name only the most well known; all these groups freely crossed over from one to the other, without social sanction against such crossings.
Finding all belief systems in one and the same family was a routine affair. In an earlier age, Chandragupta Maurya was a Jain, his son Bindusara a follower of the Ajivikas and grandson Asoka a Buddhist. Asoka's son Jalauka was a Saiva and his grandson Samprati a Jaina.
Making choices when faced with claims of competing identities is never easy. It might be difficult to balance the demands of individuality with the demands of being a member of the wider group called nation, but finding that balance is critical to survival as a nation. In the end, it is a moral choice that we must make.