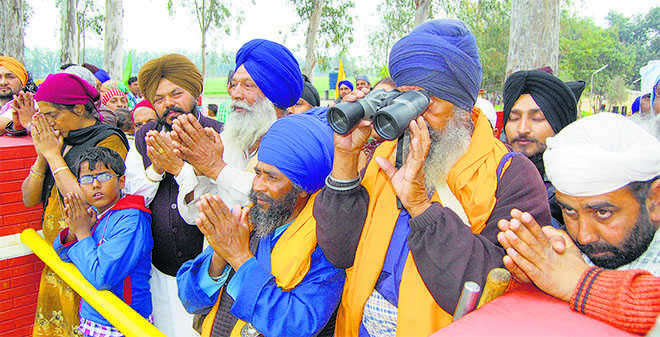 MK Bhadrakumar
Former Ambassador
The terrible beauty about India-Pakistan relationship is that it is immensely popular among the peoples in both countries. Aside a clutch of perennial naysayers, the overwhelming Indian opinion feels elated about the decision to develop a pilgrim corridor to Gurdwara Darbar Sahib in Kartarpur, Pakistan. This sentiment is echoing in the words of former PM Manmohan Singh who has described the development as 'a good beginning'. He, however, added a caveat that there still remain many 'hurdles' on the path of people-to-people relations between the two countries and 'one should not underestimate those hurdles'.
For the moment, the salience lies in the launch of the corridor becoming a rare 'bipartisan' public event in India on November 26 and in our country's public diplomacy, two days later when Pakistan PM Imran Khan is expected to perform the ground-breaking ceremony for construction work on their side. We must, therefore, savour the moment, as would the relief of rain on a parched land.
But, having said that, the hurdles cannot be wished away. Imagine the dismantling of the Berlin Wall in 1989-1990 as a 'standalone' event instead of being the dramatic culmination of the end of the Cold War, which itself was painstakingly negotiated between the Soviet and Western leaderships. The point is, we are turning Cold War history upside down. The corridor emanated out of a Pakistani brainwave to pluck a low-hanging fruit and India could not but respond, given the birth anniversary celebrations of Guru Nanak Dev. Hopefully, it will generate traction to move on to a broader engagement to reset ties.
PM Narendra Modi's decision to depute Minister of State Hardeep Puri to represent the Union government at the function in Pakistan on November 28 is both a symbolic gesture and substantive diplomatic move. Although Puri wears the political turban in this trip to Pakistan, the fact remains that he was also in a priori history a gifted diplomat. Importantly, he is known to be a votary of a stable, predictable relationship between India and Pakistan and such profound convictions must be by their very nature deep-rooted. It is unthinkable that Modi is not aware of all that, and much more. Therefore, by deputing Puri, one would imagine that Modi is keeping 'all options on the table', as they say. Most certainly, it was not coincidental that Pakistan army chief Gen Qamar Bajwa flew down to the LOC last week, even as the corridor decision was coming up for the Indian Cabinet, to reiterate that his country, indeed, seeks a relationship of peace and cooperation with India.
No doubt, the assessments that Puri makes in this goodwill-cum-diplomatic mission to Pakistan will have a significant bearing on Modi's policy decisions ahead. Conditions are more favorable today than at any time in the recent years for a substantive, constructive India-Pakistan engagement. The main reason for saying so is that the Afghan problem is transforming in a way that meets Pakistan's legitimate interests, and in the region's history, a new dawn is breaking. A US drawdown is on the cards, which brings the curtain down on nearly four decades of American interference in Afghanistan, dating back to the Saur Revolution in 1978. Suffice to say, we are entering a period of transition. Pakistan's priorities are radically changing. Imran Khan's surge in Pakistani politics coincides with this paradigm shift and in the ensuing recalibration of Pakistani national policies. Imran Khan's first 100 days in office testify that he has his task cut out for him as nation-builder and that he is acutely conscious of it.
Alas, the Indian mindset is taking time to accept that Pakistani policy is moving away from the syndrome of the national security state to regional integration. That is because of the troubled history of India-Pakistan relations, which have had many false starts, and, perhaps, also due to subterfuge and bluff by interest groups that thrived on the adversarial relationship. Pakistan today is a much sought-after regional power and India needs to come to terms with that geopolitical reality.
Modi has significantly strengthened India's strategic autonomy. The fact that within the week of President Trump's diatribe against Pakistan, the Modi government decided to build a corridor of friendship with Pakistan underscores the new resilience in our foreign policy by jettisoning its 'unipolar predicament'. This becomes a solid pillar for a new foreign policy architecture with Modi's imprimatur on it. Of course, the dramatic improvement in ties with China since the Wuhan summit in April between Modi and President Xi Jinping is another key pillar of this new architecture. Interestingly, Chinese ambassador Luo Zhaohui was recently quoted as saying that the relations between the two countries are at one of the best periods in history.
Again, a third pillar would be the resuscitation of India's time-tested relationship with Russia, which had atrophied through the past decade. However, for any edifice to be rock solid and enduring, it should rest on four pillars. This is where Pakistan comes in. Pakistan is China's 'iron brother' but beyond that, intrinsically, we must realise that it also happens to be a strategic hub by its great geographical location, immense untapped resources, big market and so on. India's foreign policy will work optimally if it has a cooperative relationship with Pakistan. The singular message coming out of the corridor saga is that the country will be supportive of any bold initiative by the political leadership to create space for India's strategic autonomy.