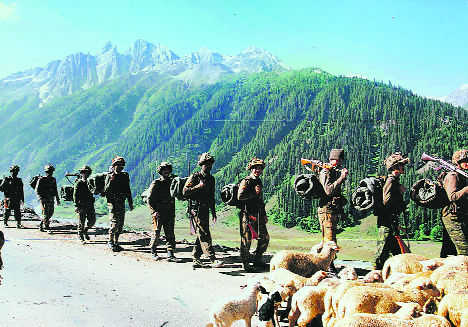 MG Devasahayam
Former Bureaucrat
The Defence Ministry has set up a human rights cell in the Army to look into complaints of rights violations. Though reactive and not proactive, as it should have been, this step is significant since we have no formal code like the Geneva Convention for the Army to deal with civilian population. According to Kautilya, there are four distinct threats to the state: that which is of external origin and internal abetment; of internal origin and external abetment; of external origin and external abetment; and that of internal origin and internal abetment. Drawing on this wisdom, the Army Doctrine-2004 addresses these threats and defines the role of the Army to deal with them. Accordingly, the Army's primary role is to preserve national interests and safeguard the sovereignty, territorial integrity and unity of India against any external threats by deterrence or by waging war. A secondary role is to assist government agencies to cope with "proxy war" and other internal threats and provide aid to civil authority when requisitioned for the purpose.
Lest there be any confusion, the doctrine clearly distinguishes "proxy war" from "insurgency", which is the most serious "internal threat" faced by India. Proxy war is conducted between nations utilising non-state players to fight on their behalf. Insurgency is an organised armed struggle by a section of the local population against the state. Possible causes of an insurgency include factors like nationalistic, ethnic, linguistic, religious or cultural separatism, poor governance, economic deprivation, corruption, discrimination and oppression.
Post Independence, India waged three real wars — China (1962), Pakistan (1965, 1971) — and for the last 48 years, there has been none. The Kargil conflict (1999) was not a war. So, for nearly half a century, the Indian Army has been spared of its primary responsibility of waging war to defend the "sovereignty, territorial integrity and unity of India." However, it has been involved in deterrence, which is also its primary task. To perform this role, the Army should have kept aloof from the civilian crowd, concentrating on its training and battle readiness.
Instead, the Army has been dealing very frequently with the civilian population because of continuous insurgency in some parts. With the bloated police and paramilitary forces unable to control the situation, the Army has been increasingly used against citizens within the country. Relegating the Army to its secondary role by prolonged troop deployment on internal security duties dilutes its authority, corrupts ranks and compromises efficiency through lack of training. Besides, over time, the Army is looked upon merely as another state force, with its soldiers losing the respect and mystique they traditionally enjoy. Familiarity breeds contempt and military men find themselves at the receiving end of civilian wrath. The Army retorts in kind and this leads to major human rights issues.
Human rights include the right to life and liberty, freedom from slavery and torture, freedom of opinion and expression as well as economic, social and cultural right. In the context of the Army, civil and political rights assume significance. These are laid down in The International Covenant and the Optional Protocols adopted thereof. These include rights such as freedom of movement; equality before the law; the right to a fair trial and presumption of innocence; freedom of thought, conscience and religion; freedom of opinion and expression; and peaceful assembly. It prohibits arbitrary deprivation of life; torture, cruel or degrading treatment or punishment; slavery and forced labour; arbitrary arrest or detention; arbitrary interference with privacy; war propaganda; discrimination; and advocacy of racial or religious hatred. Our Constitution enshrines almost all of them.
The Army Doctrine-2004 triggered a shift in the Army's counter-insurgency operations — from emphasising terrorist casualties, euphemistically called "kills", to not harming an innocent person "even if a terrorist escapes". The Army units were not to be judged on the basis of "kills" but on feedback from the local population about their behaviour. The success of a commander would be his ability to make a militant surrender. For example, soldiers would hold their guns downwards and not in a manner to intimidate people. They will be told not to enter settlements at night. This is adherence to the basic concepts of human rights while dealing with civilians.
But this doctrine has been practised more in the breach than compliance and human rights violations by the Army have become a matter of grave concern. Particularly so after the Army's adoption of the "Doval doctrine" that in the game of power, justice lies with the strong. The root cause for this is the Armed Forces Special Powers Act (AFSPA) that gives the Army the power to maintain public order in "disturbed areas" due to differences or disputes between members of different religious, racial, language or regional groups, castes or communities.
AFSPA came into force (September 11, 1958) in the context of increasing violence in the north-eastern states which the state governments found difficult to control. Jammu and Kashmir adopted this Act in 1990 and since then, it has become a weapon of suppression and oppression. While most Army brass staunchly support AFSPA, here is what a former Chief Secretary of J&K has to say: "As one who has worked in Kashmir, I can perhaps claim some first-hand knowledge of how the ASFPA was used there. I, therefore, agree that this law in the long run does destroy democracy. Today, the general public of Kashmir is almost totally alienated from the rest of India. An informal survey has shown that 90 per cent of the respondents in the Valley are in favour of 'independence.' Among the several reasons for this alienation, the operation of ASFPA has played a major role. This law confers absolute, unbridled and unmonitored power even on the lowest functionary of the Armed Forces..."
Much has been written and said about the frightening happenings in Kashmir. But the reality is that it is not Articles 370 or 35A that have caused this situation, but the failure of political leadership and governance in the Valley. The rot has deepened to such an extent that the Army, a force that is meant to fight the enemy and protect the people, has been pushed into a role of fighting these very people. Can there be a worse form of human rights violation? Can the setting up of a mere 'cell' attenuate it in any manner? The jury is out.
Top News
Gandhi was accompanied by his sister and Congress general se...
Two frontline combat aircraft of the IAF crashed during a tr...
PM Modi also appreciated people for eating food items made o...
Sarpanches of Haryana to hold 'chakka jam' against Amit Shah...