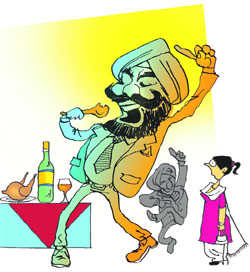 MEN and women have always, and continue to be seen not only different, but rather contrary to each other across nations. Feminists like Nancy Chodorow have ascribed the gendered patterns of life to the notions of masculinity and femininity generated in a socio-cultural context. She has argued that parenting instills gendered attitudes and temperament among boys and girls, which later turn them into men and women. She further describes that boys are taught to be masculine more consciously in comparison to girls who are not so consciously and directly taught to be feminine.
Her perspective very aptly describes the social milieu of Punjab, where a huge premium is attached to masculinity right from the birth of a male child. Very different yardsticks are used to define the adequate behaviour of a man and a woman. Endorsing Chodorow, Punjabi men derive their honour from manliness often defined in terms of aggression, militancy and rusticity, while no such clearly defined prescriptions for femininity exist for Punjabi women.
Punjabi folk songs and proverbs indicate the varying prescriptions for men and women, often eulogising masculinity in the following way: "Khaan bakre te peen sharaaban, putt Sardaaran de" ("Sons of Sardars eat meat and drink.") The notion of masculinity, which has been celebrated for ages in Punjab, has been enormously reinforced in the recent past, courtesy Punjabi pop. This has revived, in a rather very aggressive manner, the masculinity of Punjabi men, mainly Jats, making women vulnerable. In the above quote, drinking alcohol and eating meat by men, a sign of affluence, is glorified.
Such an attitude is reflected in the recent incidents wherein men accompanying the groom in the marriage party, carry pistols and fire shots in the air, as a sign of masculinity, showing their dominance over the bride and her family. Ironically, a number of such violent celebrations have resulted in deaths during wedding ceremonies. In some marriage palaces, the owners have displayed boards directing the guests not to carry weapons (pistols) on the venue. Who bothers about such warnings, especially as a part of marriage party (baraat) in Punjab! Such is the premium on masculinity that gunshots, commonly associated with manliness, provide music in pop songs and celebration at weddings.
Such rituals and acts in public places, reflecting pure masculinity, are in fact threatening to the women, who are never allowed to be a part of such celebrations. They are, instead, segregated in a corner away from drunken men who keep on dancing and making merry, displaying an extremely aggressive body language. One just has to imagine the plight of the bride's parents, who keep praying for peace, so that the baraat returns without any mishap. Viewed in this light, raising a daughter and marrying her in such an atmosphere is nothing less than a nightmare for the parents. When the parents of a bride on the one hand, and those of the groom on the other, occupy such unequal positions in the so-called modern Punjab of today, why would anybody like to have a daughter? Adding to it, the financial implications of a daughter have increased manifold. In order to make her eligible for marriage today, she not only has to be educated but has to be equipped to earn, and then is to be married off by spending a hefty sum on the pre-wedding, wedding and post-wedding ceremonies and ever after. No doubt, Punjabi women have seen an enormous change in their upbringing and social status, yet, the media continue to treat them as something to be owned. As narrated in a recent popular song: "Lokaan ne mashook rakhi honi aai, mittraan ne muchh rakhi aa." Just as you keep a moustache you may keep a woman too! Another very famous song very aptly describes the ground reality existing in Punjab: "Jinne vich balliye toon saari sajdi, unne ch taan mittraan de boot aaonde aa." Recent field work in the states of Punjab and Haryana conducted by our research team has endorsed the fact that huge money is spent by young men in the shape of swanky cars and accessories, expensive cell phones, shoes etc., in the name of exhibiting masculinity. The use of cell phones or electronic media is considered inappropriate and wasteful for the girls, especially in the rural areas. The belief is that all these gadgets spoil young girls. In other words, while society can afford to have spoilt men it cannot (at any cost) afford spoilt women. Such has been the glorification of masculinity that even girls, in the name of empowerment and freedom, can be observed internalising a number of masculine traits. They can be often seen to be swinging between masculinity and femininity, while performing their professional roles on the one hand, and family/emotional roles on the other. I find it very amusing to see young policewomen in uniform, with lipstick, mangalsutra and choora (wedding bangles). The same girls who are performing so well as managers, government officers, doctors, teachers, engineers and even bureaucrats, are rolling between their professional roles, assessed mainly on the basis of masculine parameters, and the extremely feminine roles.
It seems that in the so-called modern social milieu too, masculinity has been placed at a higher pedestal, keeping women at their toes, in their effort to be saviours of tradition and modernity. While men were always supposed to be masculine, women in their professional roles are being expected to exhibit masculine characteristics, while keeping their femininity intact at the same time, which they often find difficult to do. In Punjabi society, women continue to be in an even more vulnerable position today, caught between the two worlds, one, that places them in the illusion of gender equality, and the other, which objectifies them. However, masculinity continues to be the accepted norm in Punjabi society.
The writer is a Professor, Department of Sociology, Panjab University, Chandigarh