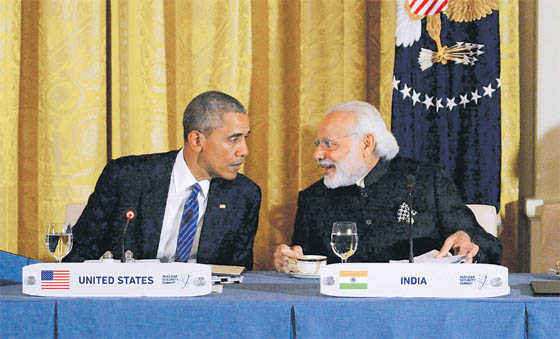 NEXT month, the Modi government completes two years, almost midway through his term. It would be appropriate to assess the success of his government's foreign policy and whether it is different from his predecessors.
A phrase frequently used by the Modi government is that India aspires to be a "leading power". The phrases avoided are "global power" or "major power" which used to signify the US and the USSR during the Cold War, or even Great Britain till the 1950s. China, when referring to Sino-US relations, prefers the coinage "great power" relations. Ashley Tellis, a US analyst of India origin, explains that major powers are those making the rules of global governance. A leading power, at best, aspires to shape the existing ones to suit its national interests.
For instance, only the P5 members of the UN Security Council (UNSC) can really impact the adoption of resolutions under Chapter VII of the UN charter which are binding on all members. Hence, the Indian focus on becoming a permanent member of the UNSC and the demand for its reform. India is willing to wait, as with growing economic power, its chances will only improve for a permanent seat. Despite raised expectations last year, this may not come about during Modi's current term in office.
Similarly, the four dual-use technology control regimes, i.e. Nuclear Suppliers Group (NSG), Missile Technology Control Regime (MTCR), Wassenaar Arrangement and the Australia Group, can only be shaped by their members. That is why, India aspires to join them, the path being cleared by the civil nuclear agreement with the US. India may start by joining MTCR as not only is India fully compliant with its rules, but also China is not its member, and thus cannot play the spoiler. Moreover, by joining it, India gets into a better negotiating position with China over NSG membership.
Both these processes began with PV Narasimha Rao recalibrating Indian foreign and economic policies in 1991 to meet the needs of the post-Cold War world. Vajpayee brought new realism to India-US relations by authorising the nuclear tests that forced the US to accept that India could no longer be treated as a perennial middle power. Finally, President George W Bush, realising that a strong India was the necessary counter-weight to a rising China and crucial for stability in Asia, unshackled India from dual-use technology restraints by authorising the civil nuclear agreement without India signing the Non- Proliferation Treaty. It is interesting that the NSG was formed in 1975, immediately after India's nuclear test of 1974, and thus was originally India specific.
Foreign policy of a nation is thus like a river, forever flowing, although great leaders augment its flow or redirect its course. The other phrases frequently employed by the Modi government are "Neighbourhood First", "Act East" and now, "Look West". These are also old initiatives being pursued in an evolving context of the rise of China and the threat of radical Islam, as indeed the Shia-Sunni contestation. The first is really a given for any country and has been for all prime ministers, particularly post- 1991.
With Bangladesh, the agreement on exchange of enclaves and allaying of concerns over river waters has put the relationship on a positive path. With Bhutan, relations have always been exemplary. Sri Lanka will continue to test Indian diplomatic prowess, playing the China card periodically. The Maldives will also remain an area of deep concern over its domestic politics and Chinese intrusion. Nepal, likewise, continues to be a testy neighbour unclear of its destiny. Relations with Pakistan, despite periodic bursts of bonhomie, are unfortunately on a downward path. The conundrum is the traditional one of balancing engagement with the civilian government, and deterring Pakistan's army from undermining it.
Appointing a National Security Adviser known to be hawkish on Pakistan, including his open espousal in the past of retaliation in kind, may be good for public opinion in India, but is bad for diplomacy. While, undoubtedly, new deterrence strategies are needed to overcome the cycle of dialogue-terror-dialogue, the person engaging Pakistan should not be seen by them as the master of dark arts. Although Pakistan has been levelling charges since 2001 that Indian consulates in Afghanistan undermine its security, of late, it has become more specific and is being taken more seriously by Western powers, including the US. The re-hyphenation of India and Pakistan by President Barack Obama at the Nuclear Security Summit, which Modi took the trouble to attend, is not a good sign.
A BBC report last year about MQM leaders confessing to Indian financing of their leader Altaf Hussein, self-exiled in the UK, and now the "arrest" of a retired Indian Naval officer have dragged India into mud-wrestling with an experienced opponent capable of extreme subterfuge. The appointment of Lt-Gen Naseer Janjua, a former corps commander in charge of Balochistan, was a clear sign that if Indian NSA Ajit Doval wanted to remain terror fixated, Pakistan will direct attention to real or imaginary Indian hand behind the fifth uprising in Balochistan and the actions of the Tehrik-e-Taliban Pakistan (TTP).
"Act East" is proceeding well as it rests on the growing convergence between India and Japan, 10 nations of ASEAN and Australia. Myanmar will present a challenge as India will have to balance between the new civilian government and the military, the latter crucial for security cooperation. "Look West" has been pegged on Modi, who is personally investing in relations with the UAE and Saudi Arabia. It would have been better if he had balanced this with a quick visit to Iran. External Affairs Minister Sushma Swaraj going for the Joint Commission is a poor substitute for a prime ministerial visit. Moreover, the BJP also needs to introspect whether baiting Muslims at home while hugging them abroad is sustainable.
The broad lessons are that the PM must rebuild traditional political consensus over foreign policy, particularly because he is really building on old themes, although his style may be more assertive, personal or even, at times, theatrical. Henry Kissinger says: "High office teaches decision making, not substance." That is why the PM also needs a rethink on his immediate aides, Cabinet colleagues and advisers.
The writer is a former Secretary, Ministry of External Affairs
Top News
Congress' state in-charge says the party is tipped to get th...
Launches attack against nepotism and graft; seeks collective...
Says Congress will oppose attempts to put leaders like Gandh...
Chandrashekhar Harbola was part of a 20-member troop that wa...
One attack occurred at a minority habitation in Chadoora in ...