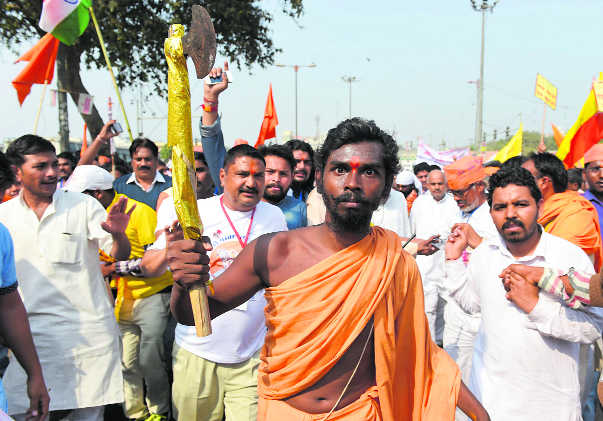 The Rashtriya Swayam Sevak Sangh (RSS) held its Akhil Bhartiya Pratinidhi Sabha from March 11 to 13 followed by the BJP's National Executive meeting a week later. Both the meetings affirmed and re-iterated their ideological and political programme for the governance of India under Narendra Modi who is seen as the helmsman both for the Parivar and for the Indian state. Modi was nominated by the RSS Supremo Mohan Bhagwat because of the great trust which the Sangh Parivar has reposed in its erstwhile Pracharak in faithfully and aggressively implementing the ideological and political agenda of a Hindu Rashtra plus Hindu Raj (State).
It is worthwhile to analyse Modi's track record in achieving the goals of governance as laid down by the Sangh Parivar -- to promote `holy' symbols like Lord Rama and Holy Cow; and to "curb anti-national and anti-social activities at the campuses". This is evident from the arrest of some JNU students under the obnoxious sedition law while Rajnath Singh and Amit Shah repeatedly proclaimed that "anti-national" activities will not be tolerated. The RSS has laid down a clear test which every Indian citizen will have to pass if he is a nationalist. Mohan Bhagawat has already observed that the "feeling towards your motherland should have been implemented but now-a-days one has to be taught to say Bharat Mata ki jai because voices against this [slogan] are becoming louder.'' It is not an empty rhetoric. A Maharashtra MLA was abruptly asked by a BJP MLA to chant Bharat Mata ki jai. On his refusal, he was suspended from the assembly on the basis of a vote of disapproval by the BJP, Shiv Sena and the Congress MLAs.
The RSS' standing army and its affiliates along with the new media have commanded everyone to raise that slogan or be ready to be painted as an anti-national. A full-fledged communal party is trying to enforce its idea of Indian nationalism as defined by the ideologue of Hindutava V.D. Savarkar that Muslim and Christians are not Indians because their religious places of worship and pilgrimage are outside India i.e. Bharat Mata.
It is simplistic to assert that Mohan Bhagwat and Amit Shah are only asking the Muslims to shout Bharat Mata ki jai. Even Hindus have been commanded to prove their loyalty by doing so. Alternative slogans during the national anti-colonial movement like `Hindustan Zindabad' and `Hindustan Amar Rahe' are not acceptable to the Sangh Parivar. Only Bharat Mata ki jai is the touchstone of patriotism and other slogans do not pass the smell test. Narendra Modi is providing full patronage and protection to the aggressive patriots of the RSS of which he himself is an integral part. It is not without reason that sadhus and Shankaracharyas, who carry great conviction among many Hindu believers and can influence their political preferences and choices in favour of a Hindu Party, are quite active in BJP and Sangh Parivar politics. Modi has never uttered a word against the anti-Muslim statements of Sakshi Maharaj or Yogi Adityanath because of their proximity to the Sangh Parivar. Bharat Mata ki jai has become a symbol of its anti-nationalism divisive agenda. The holy cow has become a public issue because Muslims slaughter cows while Hindus are expected to protect their `mother' from them. Of late, especially after Modi became Prime Minister, a large number of gau raksha samitis have cropped up. RSS affiliates have been hunting down so-called beef-eaters and animal traders. Modi in his address at the BJP's National Executive in March restated that his government is committed to 'vikas' and 'vikas' but Arun Jaitley observed that "the ideology of nationalism guides our belief and philosophy.''
Modi fully respects the Samgh Parivar's ideology and political programme which supposedly organically integrates the nation, state, territory and culture into a whole idea of nationhood. The Unitarian idea of one nation, one religion and one language cannot be a construct of a highly diverse and plural India. The RSS selected Modi for the top job to implement this agenda of Hindu Unitarian nationalism. Mohan Bhagwat detected a great deal of ruthlessness in Modi in implementing the goals of Hindu nationalism. It can be argued that Parliamentary democracy has become a Presidential system.
Modi is a different kind of leader and belongs to the ideological and political school of nationalism whose integral components are the cult of personality and hero worship. His Gujarat `model' from 2001-2004 was mainly based on populist appeal. Modi was the sole performer and did not allow any intervention by any other leader or institution. The same model has been replicated at the Centre even if there are multiple checks and balances provided through institutional arrangements. Modi is credited as the sole initiator of programmes like Jan Dhan Yojana, Swatch Bharat, Digital India and Skill India. The Ministers have to implement these programmes and bureaucrats regularly monitor their performance.
Modi is not only a centraliser, he is also a polariser. The latest example was his election-time barnstorming in Assam. He played on the emotive and divisive issue of nativity versus the outsiders and promised to native Assamese that "infiltrator" Bangladeshis, meaning a Muslim Bengali, would be deported. The last Lok Sabha election has shown that the BJP does not have a single Muslim MP among its 282 members. The leaders of Kashmir Valley, who are committed to democratic politics, expressed their anger when their students were targeted for allegedly cooking ``beef meat". How can the Kashmiris feel integrated when Hindu groups target those who venture to the mainland? Such examples can be multiplied to substantiate the argument that Unitarian Hindu India has and will create divisions and situations of violence. Do we want such an India? The answer is a Big NO. The reason is quite clear that plural and diverse India is soul of richness of society. Modi is the greatest danger to this India.
The writer is Professor Emeritus, Centre for Political Studies, JNU
Top News
2 others eject safely | Debris strewn across miles | Sukhoi,...
Visit comes ahead of NSA chief's US tour
Sarpanches of Haryana to hold 'chakka jam' against Amit Shah...