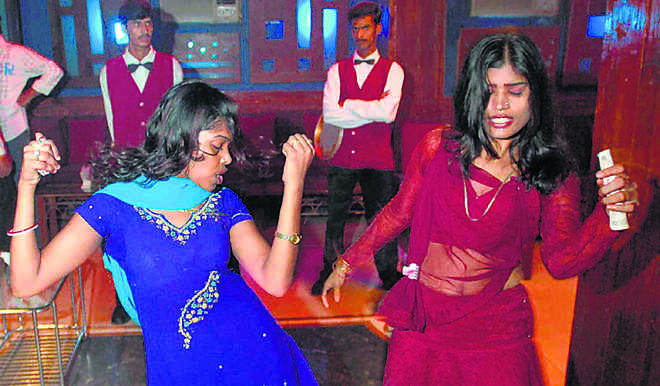 Salil Desai
Novelist and filmmaker
IN 1972, V Shantaram, a doyen of Indian cinema, produced and directed a brilliant, national award-winning Marathi film titled Pinjara (The Cage), starring Dr Sriram Lagoo as a much-respected village schoolmaster and Sandhya as a tamasha (a popular, bawdy form of Marathi folk theatre) dancer. The central conflict of the film arises from the schoolmaster's determination to permanently stop the dancer's troupe from performing in the village, since he believes she is corrupting the village youth. The humiliated dancer vows to ruin him by puncturing his sanctimonious morality, succeeds through seduction and sets in motion a series of events that eventually destroys them both.
One is reminded of this powerful film when contemplating the 14-year saga of dance bars in Maharashtra because Pinjara rivetingly frames both sides of the same argument, for and against, even though set in the rural hinterland three decades before the 'dance bar' issue erupted in Mumbai. The schoolmaster, much like the political class in the dance bar case, bats for morals, decency, the need for society to be protected from vice and lurid temptation, while the tamasha dancer, like the bar dancers, fights for the right to earn a livelihood by offering a form of adult entertainment, even if society at large finds it cheap and coarse. And both are right from their respective standpoints.
The Supreme Court recently paved the way for the reopening of dance bars in Maharashtra by setting aside several provisions of the Maharashtra Prohibition of Obscene Dance in Hotels, Restaurants and Bar Rooms and Protection of Dignity of Women (Working therein) Act, 2016, that severely restricted licensing and operation of these bars.
But nobody is quite sure whether the matter has been settled decisively or whether the Devendra Fadnavis-led state government still has some moral ace up its sleeve to thwart dance bars and its patrons. Dance bars debuted in Mumbai in the early seventies, and soon became a rage among a certain type of moneyed male clientele — diamond merchants, brokers, businessmen — looking for some harmless titillation at a place where they could drink, watch women lasciviously without inhibition and play out their filmi fantasies such as throwing money at dancers while striking deals or engaging in ribald conversation. By 2005, there were about 350 dance bars across Mumbai and its suburbs, many of which had gained notoriety as dens of vice because of a variety of reasons — their in-the-face salience and neighbourhood nuisance, the inevitable perception that these were fronts for prostitution, underworld connections and so on.
It was using this potent combination of reasoning — dance bars as a rendezvous for criminals and nocturnal epicentres of immoral activity which threaten Indian culture and society — that these establishments were first banned in Maharashtra in 2005 by late RR Patil of the NCP, former Home Minister in the Congress-NCP government led by late Vilasrao Deshmukh. In one stroke, it rendered unemployed around 70,000 people working in these dance bars.
Despite the Bombay High Court striking down the ban in 2006, a judgment which the Supreme Court upheld in 2013, the newly elected BJP-Shiv Sena government brought in an ordinance in 2014 to reimpose the ban. When the apex court again struck it down in 2015 as unconstitutional, the Maharashtra Government passed the 2016 legislation which had impossibly stringent conditions such as no serving of liquor, no payment of tips to dancers, licences only to people of 'good character with no criminal antecedents', installation of CCTVs on the premises, and a minimum distance of 1 km from schools and religious institutions.
The Supreme Court's latest ruling has dismissed these provisions, but has managed a balancing act by upholding regulations such as the closing time of 11.30 pm, no showering of money on dancers and no obscenity by performers. It has also frowned upon the Maharashtra Government's 'moral policing' approach to the issue.
What will the government do now? More importantly, how do we as a society respond? The Supreme Court and all those hailing the judgment are right when they say moral policing is abhorrent and people have the right to this form of legal adult entertainment, while the bar dancers and owners have the right to make a livelihood. Yet, how many of us would be willing to live in the vicinity of a dance bar? What if a dance bar were to open right across your residential complex or in your neighbourhood? Wouldn't the most liberal of us feel a trifle uneasy with the idea? Wouldn't we be concerned about the possibility of nightly nuisance, the kind of clientele visiting the place, the apprehension of embarrassing sights and sounds, and the probability that rules, regulations and timings would be easily flouted, as happens even with normal restaurants, bars and other establishments such as marriage halls in our cities?
History teaches us that it is far more sensible to regulate human pleasures within a reasonable law and order framework than forbidding them by using the bogus, shaky alibis of morals and culture. Surely, visiting a dance bar does not fall in the category of dangerous or perverse pleasures, like say drugs or extreme forms of sexual depravity. So what's the harm if someone wants to blow off steam at dance bars?
And before we again succumb to our middle-class sanctimony and outrage, let us remember that when most of us plan our European vacations, a must-see venue on every itinerary is the Lido or Moulin Rouge cabaret show in Paris, which frankly is just a sophisticated version of dance bars. Ditto belly-dance performances on Dubai tours!
Top News
Many local villagers were engaged in illegal mining when the...
The indictment enmeshes the Justice Department in the most p...
There have been signs of differences between the party and i...
Her claims come in the backdrop of a war of words between Ma...
A vacation bench of justices Aniruddha Bose and Rajesh Binda...