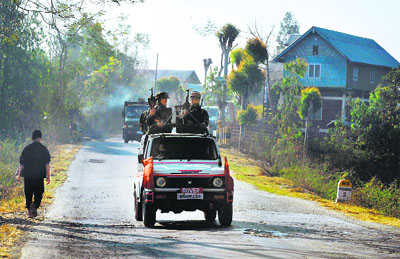 The swift and effective operation by the Indian special forces last week along Indo-Myanmar border at two separate places, targeting militant camps has not only come as a morale booster to the armed forces and reinforced their capability but also signalled a tough new approach of the one-year-old Modi Sarkar towards India's security and its readiness in tackling terror strikes.
Strategic community is inclined to see it as a "pre-emptive" strike against militants who could regroup and indulge in attacks again on Indian security forces and public places. It was the heightened pitch by some of the ministers in the BJP government to reap political harvest out of it that robbed the operation of its seriousness and legitimacy. The rush for claiming credit evoked a response from Pakistan's Interior Minister Nisar Ali Khan, who reminded that "Pakistan was not Myanmar" and warned India that his country would not be cowed down by threats.
The past week thus provided staple diet to TV channels that went on warning that Pakistan could be the next target of such surgical strikes and India's most wanted terrorist Dawood Ibrahim could be the next one to face the heat. The nationalist pitch was so high at times that sobriety and maturity were lost.
A brief look at the sequence of events would show that before the day ended on Tuesday, the ruling establishment decided to field junior Information and Broadcasting Minister Rajyavardhan Rathore, an Olympian shooter and a retired Colonel of the Army, to go live on TV news channels and claim political credit for the successful operation and blurt out details of the operation which the Army had chosen to couch carefully in safe terms. Frittering away subtle advantage, Col. Rathore remarked that military action in Myanmar to hit back at militants who had killed 18 Indian soldiers in Manipur was a message to other countries — obviously hinting at Pakistan.
On Thursday, it was left to the normally outspoken Defence Minister Manohar Parrikar who wisely refused to go into details but attributed the Myanmar operation to "change in mindset." Taking a dig at Pakistan, he said those who "fear India's new posture" have already started reacting. Political will and decisiveness are very welcome but strategic community warns of "chest thumping" and machismo which may turn out to be counterproductive in such situations. Rightly then, the Indian Army merely stated that the operation, taken up on specific intelligence inputs, was conducted along Indo-Myanmar border at two places in Manipur and Nagaland. "Do your job, do it right and keep quiet," advised a senior security expert.
It was during 2014 Lok Sabha campaign that the prime ministerial candidate of the BJP Narendra Modi had accused his opponents of being soft on terror and called for a more muscular approach and a no-nonsense policy in dealing with terror groups. His reference was also to the 2013 brutal killing of five Indian soldiers in an ambush along the border in Jammu and Kashmir, reportedly by Pakistani troops. Pakistan denied any role in the attack and blamed it on non-state actors. At that time too, the BJP had accused the government of being "soft" and sought to politicise the brutal killing of soldiers.
The operation raised pertinent points. First, there had never been any doubt about the capability of India's special forces to launch such an operation. The Army is not a stranger to covert operations across the border. Second, it was the first unilateral operation which was publicly acknowledged by the Army and the government, Third, uncalled for and unwarranted bid to claim credit invited a backlash even from Myanmar where the government obviously was not likely to be seen as the one giving concession to India so far as its territorial integrity and sovereignty was concerned and it spoke of only "cooperation" between armed forces of the two countries. Fourth, it is likely that militant outfits will regroup and plan their next strike against security forces and lastly is a different ballgame altogether when it comes to launching such strike on our highly patrolled and volatile Western border with Pakistan.
Realising the complexities involved in governance of a vast and diverse country like India flanked by neighbours like Pakistan on its Western border, an economic giant like China on its East, former Prime Minister Manmohan Singh had rightly observed that "you cannot choose your neighbours but can work for a stable and peaceful neighbourhood." In the recent past, diplomatic persuasion by India and engagement at several levels have resulted in encouraging cooperation from Myanmar and Bhutan in taking up joint operations against militant groups when flush-out operations were launched in December 2003 in Bhutan and "Operation Golden Bird" was conducted in 1995 along Indo-Myanmar border targeting north-east militant groups.
In the long run, covert military strike, hot pursuit cannot be exercised as regular options even by a strong and decisive political leadership but political engagement from a position of strength is certainly an option that should be explored. Peaceful states like Mizoram and Tripura — once ridden with insurgency — are examples. It is also high time that the Modi government held a strategic security review exercise to tackle manifold internal security challenges — ranging from Jammu and Kashmir to the longest running-but-now-quiet Naga insurgency in the North-East to left-wing extremism.
The new establishment in New Delhi will need to appreciate that peace is a fragile process that can always be disrupted by a small band of insurgents. It requires much greater strength to show restraint in the face of provocation.
The writer is a New Delhi-based strategic analyst