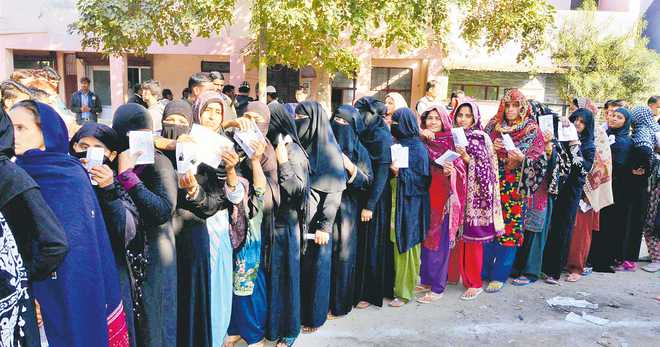 The ongoing Assembly elections in Uttar Pradesh, where Muslims constitute almost one-fifth of the total electorate and thus occupy a coveted position in state politics, has yet again fuelled the debate about whom do Muslims vote for. Most of the discussions on the subject often begin with certain presumptions which have been found untrue empirically.
Do Muslims vote differently than other fellow citizens of the country? Though there is no considerable difference between their voting behaviour and that of any other community still several myths about Muslim voters have been consciously formed and sustained over the years by the BJP and non-BJP parties equally to serve their own selfish interests.
It is most widely believed that Muslims vote en bloc for one political party. This belief is generally based on the assumption that Muslims form a single monolithic homogenous community. The fact is that the Indian Muslims are as diverse as any other community. They are divided not only on caste lines but also into numerous sects such as Sunni, Shia, Wahabi, Ahle-Hadees, Deobandi, Barelvi, Bohra etc. A majority of them votes differently for different political parties, based on caste, sect and class interests. Their choice, like any other ordinary voter, is also driven by local exigencies as well. No political party can take the Muslim voters for granted. Numerous studies on the electoral behaviour of the Indian Muslims indicate that their voting patterns do not differ much from those of others. Even Muslims voting overwhelmingly in favour of one political party is not uncommon in other social groups as well.
There is yet another myth that they most often are swayed by the appeals made by Imams and other Muslim clerics. It is true that during every election Imams and Maulvis can be seen issuing appeals, often described as fatwas, to Muslims to vote for one or other political party but the impact of such appeals have never been as profound as normally projected. Even if these appeals do have any limited impact that is confined to a particular sect only.
According to a survey conducted by the CSDS only 50 per cent of respondents claimed that the Imam's appeal had no impact on their vote choice. There was a time when these appeals had some impact but over the years Muslim voters have become mature enough and learnt how to respond to these appeals.
An impression has also been sought to be created by communal forces that Muslims always vote negatively and strategically with sole objective to defeat the BJP. If we subscribe to this theory it implies that issues like employment, education, health, road, electricity and law and order etc. do not matter to Muslim voters at all. This defies the ground reality. It is true that Muslims remain wary of RSS and BJP because of their open anti-Muslim stance but these issues affect their voting behaviour equally like any other ordinary voter. Sustaining this image of Muslims has benefitted both the BJP and the so-called secular parties, both who have deliberately kept the sense of insecurity among them alive for political reasons.
It is also worth noting that this anti-BJP trend among Muslims is also gradually changing, as shown in the recent CSDS studies indicating that while 3 per cent Muslims voted for the BJP in 2007 UP Assembly elections, the same rose to 7per cent in 2012. According to the CSDS survey, 8 per cent of Muslims voted for the BJP in 2014 Lok Sabha election, almost double from the 2009 tally, enabling it to win 45 of 87 Lok Sabha seats with a high concentration of Muslim voters which included 27 seats from UP alone. This is despite the fact that the BJP generally does not file Muslim candidates as it has not found a single Muslim candidate for 2017 UP elections. The percentage of Muslims voting for the BJP may not be very significant but it certainly hints at a paradigm change in their voting behaviour.
Though most Muslims don't support the BJP for reasons cited above but the claim of Muslims always voting tactically just to defeat the BJP also represents an oversimplification of the facts. Had this been the case, the BJP could have never won the Rampur and Moradabad Lok Sabha seats in the 2014 election, where the Muslim electorate constitutes 49.1per cent and 45.5 per cent, respectively. Similarly, in the last UP assembly election, the BJP won several seats where Muslim voters are in substantial number. Had they voted tactically they could have concentrated on one of the several Muslim candidates filed by other political parties to ensure their victory. A much-generalised explanation to this could be the split of Muslim votes but it can also be due to the plurality of their voting pattern, especially when they have multiple options. This aspect of their voting behaviour is either completely ignored or underplayed. In fact, the BJP always fans the propaganda of Muslims tactical voting as this suits it politically, leading to polarisation of the voters from majority community in its favour. If Muslims vote so tactfully then it is surprising that for the first time in UP's electoral history not a single Muslim candidate could win in the 2014 Lok Sabha polls, though only two years ago in the 2012 Assembly elections they had secured the highest representation.
By not recognising the plurality of Muslim electorate political parties seem to deliberately perpetuate the imaginary and illusory "Muslim vote bank" phenomenon to divert the attention from the real issues that confront the community. Projecting Muslim voters as a monolithic community breeds majoritarian communalism. Notwithstanding the fact that the threat to their security and identity is an important consideration that shapes the voting behaviour of Muslim elites but issues like education and employment are vital determinants for the rest but the political parties are not ready to recognise this difference. There is no empirical evidence to suggest that Muslims vote differently. Conversely, there have been numerous scientific studies conducted in the recent years that demolish most of these myths associated with Muslim voters.
The writer is a Professor, Department of Political Science, Aligarh Muslim University.
Top Stories