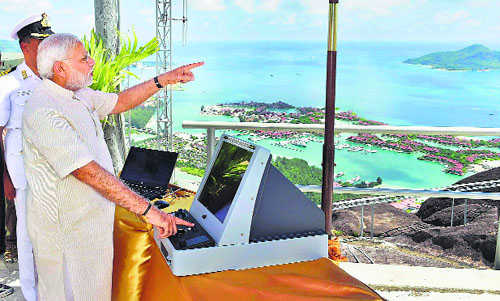 WHEN Prime Minister Narendra Modi recently made two separate forays to the island nations of Fiji, Seychelles, Mauritius and Sri Lanka, one of his statements stood out. "The course of the 21st century will be determined by the currents of the Indian Ocean," he said in Victoria, the capital of Seychelles
Besides the three western Indian Ocean countries that Modi visited on his last overseas tour. India has been extra sensitive about events taking place in two other island nations in the region, Madagascar and the Maldives. On the other side, it has steadily built naval ties with Vietnam and joined the Pacific Islands Forum, whose members are even further to the east.
Why should a busy Prime Minister spend so much energy wooing isolated or small nations when India gets almost nothing in return? The returns from India's security investment in these nations or helping them out in distress are next to nothing and this has been so for over three decades now. India did not even get the expected payback when some of these nations voted for Japan in its contest for a United Nations Security Council seat in 1993. Yet, the Indian Navy became more active, sailing almost round the year to Indian Ocean ports, near and distant.
No choice but to walk alone
A wave of expectation had swept resource-strapped admiralties all over the world when the US floated the 1,000-ship navy concept in 2007. It did not denote the exact requirement of ships but it was for those willing to work together as nobody can protect the oceans alone, explained Mike Mullen, the top US military official of that time.
Each nation would have contributed ships according to its capacity and this fleet would have undertaken global policing on the high seas. In order to make the proposal more acceptable to countries that value independent operations such as India, China and Russia, the Pentagon had offered to recuse the US Navy from some regions. The narrow and vulnerable Malacca Straits, for instance, was to be entrusted to Malaysia, Singapore and Indonesia at the East Asia funnel while Indian Navy would patrol the other end of the outlet towards India.
But mutual suspicions among nations ensured the proposal withered and competitive dynamics continued in the Indian Ocean where at least a dozen regional and extra-regional powers patrol the waters.
The Indian Navy, with about 40 lethal war vessels, including submarines and notions of not joining any military bloc, would have to single-handedly meet the demands spelt out in its doctrine with the help of some synergy and information sharing with friendly counterparts operating in the region. Another reason why it didn't join the two CTFs was Pakistan's presence and whose fleet chief would often serve as the force commander.
Changing the colonial model
India's military interest in the island nations in western Indian Ocean, especially the 3 Ms (Mauritius, the Maldives and Madagascar) and Sri Lanka partly stems from the strategy followed by colonial powers due to their lead in shipbuilding, navigation and gunnery to monopolise the extraction of raw materials from countries subdued by chicanery or military force. For two centuries, the Indian Ocean was a British lake due to its navy-led military presence in nine locations, from Cape Town to Brunei.
With countries becoming sovereign and no longer militarily emaciated, that concept has become impractical. The Indian Ocean remains busy and teems with all the ills of the modern world — religious extremism, drug trafficking, international terrorism and transit of weapons of mass destruction.
India has been involved with Mauritius because 70 per cent of its population is of Indian descent and the arrangement of easy routing of foreign investment suits both countries. But it serves another purpose, faintly reminiscent of the strategy by Britain (and after that US) to utilise Chagos Islands (now Diego Garcia) for basing long-range bombers, spy planes and stocking up naval vessels. India finally achieved a breakthrough in 2012 when Mauritius offered the island of Agaliga. Modi during his recent visit wrapped up the deal though India can ostensibly use it only for tourism and marine studies. Seychelles also agreed to give an island as well as host a surveillance station. For the same reason, India has helped out the small and militarily deficient states of Madagascar and the Maldives. They may not make such an offer nor is there any pressing need but these countries value India's no-strings-attached assistance. India on the other hand is open to their economic dalliance with other countries but wouldn't want them to become bases for operations against India or to interdict its merchant vessels during tensions. As a result, India now has a listening post in Madagascar and provides the naval and air components to Maldives.
If this part of the Indian Ocean possibly has oil reserves, there is no ambiguity about the high concentration of energy resources in the Arabian Gulf, to the north of these countries. Here India has stitched a naval berthing alliance with Mozambique and Oman and is negotiating to operate a port in Iran. Besides keeping an eye on transportation of energy to India, the presence of its naval ships in the region helped evacuate Indians from Lebanon in 2006 and then from several nearby countries after the wilting of the Arab Spring.
Though the Chinese "string- of-pearls" strategy has chaffed many Indian strategic experts, India has not been idle. It will soon be operating a port in Myanmar, is involved in Thailand's development of a deep sea port and provides patrol vessels to Vietnam.
Modi's visit to Fiji falls in another category. The 15 Pacific island nations are a huge voting block and besides hosting a substantial Indian population, Fiji acts as a leader to about four of them. That is why India just announced cash assistance to Vanatu, hit by a cyclone last week. Though it did not give naval assistance, Indian Navy's work after the Tsunami of 2004 is well documented. Visiting US Admirals often cite the contribution by the Indian Navy as an example why New Delhi should become more active in the Indian Ocean.
Hyper posture and returns
But military presence in exotic locations or hyper-active patrolling to remain disaster-ready would be imprudent without a clear action plan to neutralise the extra expenditure by bringing some economic benefits to its citizens. By developing the port at Iran, India will skip Pakistan which anyway denies free access across its territory for trade. The Iranian port of Chabar will offer a short route to Pashtun areas in Afghanistan as well as connect to Central Asia, Caucasus and Russia as part of the multi-nation North-South Corridor. The development of Sittwe port in Myanmar and involvement in the Thai port will open a second route to the north-eastern states apart from the congested and appropriately named Chicken's Neck corridor via Siliguri.
But India falls short in getting economic benefits from its developing presence in the Indian Ocean. The openhanded aid to Sri Lanka contrasts with mostly loans by China, in Maldives despite supplying even bottled water, India couldn't build an airport, Seychelles and Mauritius also entertain other military powers while the influence on Oman and Mozambique is minimal.
Follow the Chinese lead
Though comparisons are odious, take the case of China. Like India, it is an upcoming economy and also had to start afresh in the maritime business after becoming Independent around the same time. Unlike India, however, it has been pursuing a strategy since `98 to develop 20 sectors in the marine economy. A Chinese ultra-deep sea vessel dived 20 times in the Indian Ocean to collect samples of rare metals, held closely by countries producing them. This vessel also dredged up cobalt and other rare metals in the Pacific Ocean. Over time, China has evolved a marine economy with extensive shipbuilding and trade links that dwarf those by India. Also, China with 49 frigates, 24 destroyers, eight corvettes and about 60 submarines has a navy at least four times larger than India's.
As for assisting other countries in disaster relief, India will never be a match for the US. That is because the US Navy is the biggest in the world by any yardstick, and has a series of military bases from Guam to Korea to the Philippines from where ships can easily sail out to any corner of East Asia. Moreover,
India cannot commit most of its resources for disaster preparedness at sea when bulk of natural calamities such as the 2001 Gujarat Earthquake, the Uttarakhand floods and landslides and the J & K floods have been land-based events. The mantra for India would be to avoid getting entangled in competitive dynamics when economic returns are not commensurate. And meanwhile it must move from near-shore economic development initiatives such as off-shore oil exploration into deep-sea exploration for minerals and oil by leveraging the comforting presence of its Navy, at least in western Indian Ocean. This makes the need for a comprehensive national security strategy, especially on the marine side, more compelling than ever.
India's marine vulnerabilities & opportunities
A ship of the Indian Navy transits the Indian Ocean during exercise 'Malabar', with the US. It is an annual naval field training event.
Despite the Chinese lead in deep sea exploration for minerals, India is also getting into the act. It recently bought a South Korean deep sea survey ship but must accelerate plans for deep submergence vehicles to get to the ocean floor and extract samples. It has become even more important to keep an eye on the sea bed after multiple exposes of communications being intercepted. BRICS countries are currently laying a communications cable which needs to be looked after to deter tapping. India must also take the risk and begin talks with countries in the western Indian Ocean to begin prospecting for oil, especially after some countries on the African east coast found commercially extractable oil reserves off their shores.One of the worst urban acts of terrorism took place in 2008 when gunmen used the sea access route to attack Mumbai. Coastal security has improved since the 1980s when smugglers had a free run of the coast and was tightened further after RDX used for the 1992 Mumbai blasts was smuggled in from the sea. There has been a massive coastal security overhaul after Mumbai 2008 but the high seas and the areas around the EEZ (around 360 km from the territorial baseline) is vulnerable because off-shore production accounts for two-thirds of the country's domestic oil production. Also, most of petroleum is imported via the sea route and India is also one of the biggest exporters of refined oil.