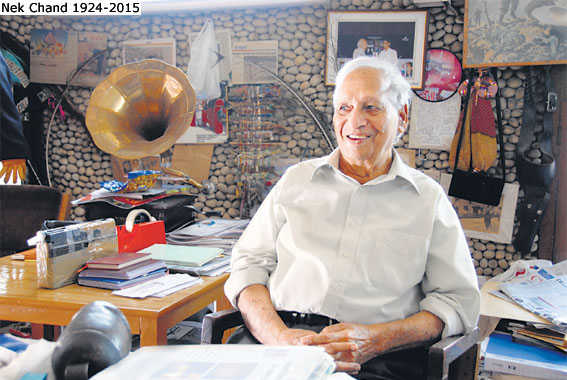 The Partition was the catalyst. It resulted in Nek Chand being displaced from his home in what became Pakistan in 1947. It was because of the Partition that the truncated Punjab would need a new capital, which would become the place that would give Nek Chand employment, a new home and eventually allow him to give concrete shape to his creative genius.
Construction detritus was the inevitable byproduct of the execution of Prime Minister Jawaharlal Nehru's vision of the new modern city — Chandigarh. Contributing to it was Nek Chand, till one day in 1959, he transformed what was, till then, waste into an expression of the inner artist in him.
He cycled around the city, picking up discarded objects. He transported water and cement to a site that was a store for the Public Works Department in an overgrown piece of land at the edge of the town and set to work with his hands, shaping human and animal figures.
Nek Chand was essentially an introvert and this too was an inward journey, which he shared with his family and a few friends. He carried out his work in secrecy since he was essentially working on public land, without permission of the city officials concerned. When the authorities stumbled upon his creation, they threatened to clear this encroachment.
The secret was out, and when people saw what Nek Chand had done, many were impressed enough to thwart the shortsighted city officials. Artists, culturally inclined persons, judges, senior officers, journalists, and photographers, all came to the support of the man, who had created a wonder in the wasteland.
After the struggle, what Nek Chand had termed as the 'Kingdom of Gods and Goddesses' was named the Rock Garden and thrown open to the public on January 24, 1976.
Public recognition followed. He was awarded the Grande Medalle de Vermeil in Paris in 1980, and three years later, a postal stamp that featured the now-iconic sculptures of the Rock Garden was issued. In 1984, he was awarded the Padma Shri by President Giani Zail Singh.
They say that a genius is never recognised at home. While Nek Chand received support from his wife Kamla and children Neelam and Anuj, his association with officials of the Chandigarh Administration was often patchy. Vicissitudes of time had shaped Nek Chand's personality in many ways. He had a lot of patience and he needed all of it when he dealt with red tape. Many an announcement was made in support of the Rock Garden and its creator, often to be defeated by petty officials.
Matters came to a head in 1990, when the Chief Administrator threatened to demolish the Rock Garden, but people formed human shields and the ensuing hue and cry made the official machinery retreat. The Rock Garden has gone from strength to strength since.
Nek Chand visited his office in the Rock Garden regularly. He would check his creation every day to ensure that all was in order. He would identify whatever needed intervention and then check again in the evening whether the work had been done to his satisfaction.
His growing international fame resulted in his travelling abroad to showcase his work, or to receive honours. He continued to inspire young people, and would personally lead teams of volunteers which came to the Rock Garden to learn at the feet of the master.
While mild-mannered, he was a no-nonsense man who inspired with the art that he brought alive from the leftovers of modern development processes. Even as he shaped concrete and rocks into soul-stirring sculptures, Nek Chand helped to shape the image of the city he lived in. He will be missed, even as his work will keep his legacy alive.
Top News
Action taken under relevant Section of Unlawful Activities (...
Says wants it to commit constructively to establish facts
Blinken says it is 'important for India to work with the Can...
Pawar and Adani first inaugurated a factory at a village in ...
More than 175 people have been killed and several hundred in...