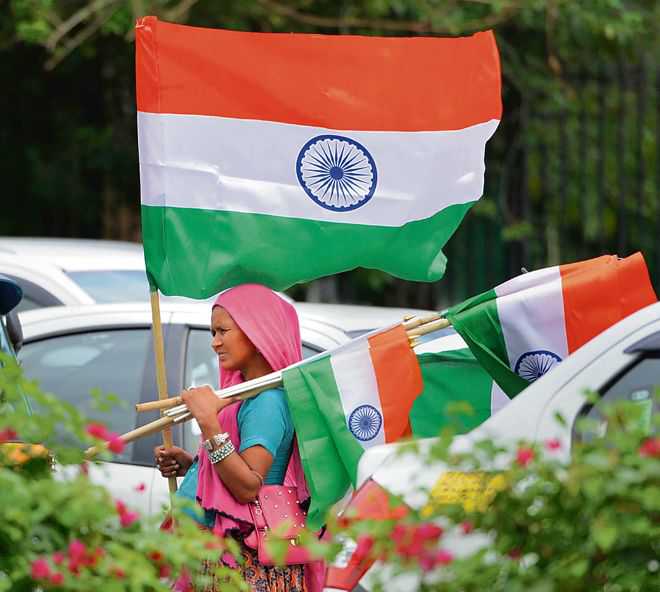 Avijit Pathak
Sociologist
Recently, with a group of friends and relatives, I visited the iconic India Gate in Delhi. Even amid the vibrancy of the tourists from all over the country and the associated 'selfie' culture, I witnessed the massive presence of the cops and paramilitary forces. For us, it could have become a festive moment with ice-cream and bhelpuri. Instead, I began to experience the pain of living in a regimented society that normalises the psychology of fear, surveillance and the harshness of the militaristic gaze. Possibly, at that moment, with heightened empathy, I could also feel what it would mean for normal/ordinary Kashmiris (believe it, not every Kashmiri is a terrorist — the way not every Hindu is a militant gau rakshak) to live amid the 24x7 army patrolling and the suspicious eyes of the mighty state.
Not solely that. When we began to walk from India Gate to Connaught Place, I witnessed yet another irony of our Republic: malnourished street children selling national flags, and trying to persuade the affluent driving their fancy cars to buy these symbolic products of our stimulant nationalism. No, it was not a pleasant experience. With deep pain, I felt the hollowness of our patriotism: the fragments and cleavages within the nation, and our insensitivity to gross social inequality. The experience of militarism, regimentation, surveillance and inequality does not make me feel happy. Who knows, I may be condemned for speaking of pain at a time when the nation, as it is said, is in a festive mood?
Yes, I am aware that these days happiness is manufactured, and it may not be altogether impossible to think of a state-sponsored course in compulsory happiness. Yes, as I look around, I see the performance of happiness all around. Kashmir is burning; and we are dancing and distributing sweets. Democracy has degenerated into the might of majoritarianism; and we are happy that finally we have found a government that is capable of taking 'hard' decisions. It doesn't matter whether there is growing unemployment, economic crisis or caste violence; we are happy because Hindus have ultimately rediscovered their 'masculinity'; and now they are capable of giving a tough lesson to the 'Muslim tyrants'. We are happy that the likes of Pragya Singh Thakur exist amongst us; and we can now easily throw the Gandhian 'nonsense' of nonviolence into the dustbin of history.
Yes, happiness is everywhere — in the spectacle of cricket, in the hyper-real shopping experience in fancy malls, in the surgical strike, in the panel discussions on 'patriotic' television channels, in the discourses of 'inner engineering' or 'art of living', in the supreme leader's obsessive love for his monologue, and in the chanting of Jai Shri Ram. However, it becomes difficult for me to consume this capsule of happiness.
No, I am not cynical; nor am I celebrating pain and anguish. But then, I believe that we cannot truly evolve as a politically mature and spiritually regenerated collective unless we see things clearly and critically, and with wisdom. At one level, education, I would argue, has failed us. Be it exam-centric rote learning or acquisition of mere job-oriented technical skills — the process of being certified as 'educated' does by no means indicate that we have the eyes to see the way Gandhi and Tagore saw the danger of hyper-masculine/centralised/technocratic nationalism, or the way Nehru and Azad saw pluralism and cultural syncretism as the treasure of our civilisation, or, for that matter, the way Bhagat Singh and MN Roy saw immense possibilities in socialism or radical humanism.
Moreover, even as mainstream political parties — left and right alike — have become mere instruments for winning elections at any cost, political education as awareness of the discourse of power, distribution of wealth, and functioning of the state has almost ceased to exist. What prevails is only gross emotion or rhetoric centred on populism. The result is that far from initiating a Gramscian counter-hegemonic struggle, even the subaltern get coopted by the system. We can't keep on romanticising the 'subaltern'. Don't forget that even the adivasis and Dalits are becoming enthusiastic champions of militaristic nationalism.
Likewise, a new form of social control has emerged through a highly manipulated 'public sphere' shaped by corporate media houses, sponsored and paid news, the bundles of falsehood disseminated instantly through social media, the lure of consumerism and market-driven utilitarian package of 'good living'. In the absence of liberating education and resultant 'one-dimensional' thought, many of us fail to debunk this empire of 'post truth'. Fancy clothes, good English, latest fashion — yet, many of us love to believe that 'Nehru was a Muslim', 'Gandhi was the real killer of Bhagat Singh', and 'JNU is full of anti-national jehadis wasting the taxpayer's money'.
I know that this is the time to celebrate our Independence Day. I know it is also a moment of gratitude. We were lucky that amongst our ancestors, there were visionaries who gave us the texts like Hind Swaraj, The Discovery of India, and The Annihilation of Caste. Yet, we should not take things for granted; we ought to renew ourselves perpetually to become capable of living with freedom. And this requires the spirit of fearlessness, the light of true education, and the poetry of love and compassion. If we miss this, allow ourselves to be carried away by the 'spell' of the magician and his dramaturgical performance, and feel happy, we cannot be sure of our freedom. We may begin to confuse surveillance with care, militarism with patriotism, brute masculinity with courage, spectacle with truth, and totalitarianism with democracy.
Top Stories