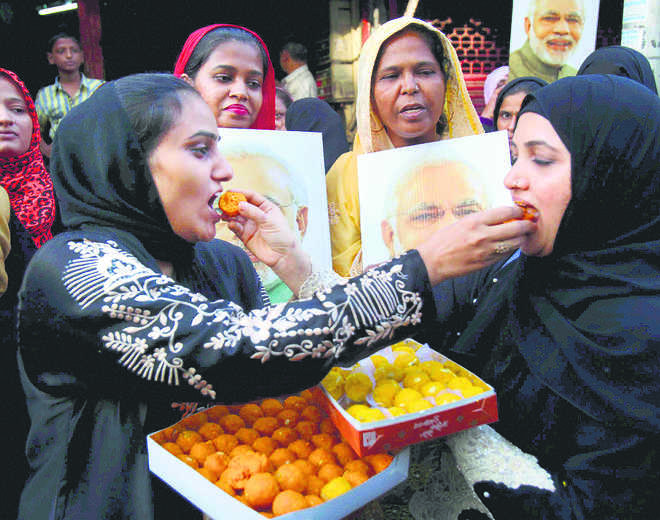 Faizan Mustafa
The much awaited judgment on the instant irrevocable triple divorce has been delivered on the expected lines. The issues were so complicated that there are three judgments running into 395 pages. This clearly shows that triple divorce's legality and constitutionality is not an open and shut case.
Generally the Chief Justice's opinion becomes the majority opinion. But strangely in this case, Chief Justice J S Khehar authored the minority opinion on his and on behalf of Justice S. Abdul Nazeer. A second opinion was authored by Justice Rohinton Nariman with which Justice UU Lalit concurred. Justice Kurian Joseph has written the third opinion, agreeing with Justice Khehar on some points and with Justice Nariman on others. Thus there is confusion on the majority opinion and all the three judgments have serious problems.
Justice Khehar has not only held triple divorce as constitutional but has elevated it to the status of fundamental right. He has explicitly held that personal law is included within the freedom of religion and observed that courts have a duty to protect personal law and are barred from finding fault in it. He went on to hold that personal law is beyond the judicial scrutiny. 'Triple divorce cannot be faulted either on the ground of public order or health or morality or other fundamental rights', said Chief Justice of India. Having protected the triple divorce as an integral part of Hanafi school and holding it as implicit in freedom of religion, why CJI stayed it for six months and asked Parliament to enact a law is not clear. May be he wanted Parliament to consider the reforms.
Justice Joseph partly agreed with Justice Khehar and held that freedom of religion subject to restrictions given in Article 25 is absolute and that the Shariat Act of 1937 is not a legislation regulating and codifying triple divorce. He held that 1937 Act was meant to negate customs and usages contrary to Sharia. He agreed with Justice Nariman that triple divorce is not part of Sharia and since it is contrary to Quranic injunctions it cannot be protected under freedom of religion. Justice Joseph's opinion too is problematic as he equated theology with law in saying what is bad in theology cannot be good in law. Thus to him law and morality are one and same. Moreover to say everything which is in Quran is an essential or fundamental practice of Muslim Personal Law will lead to absurd consequences as Quran does permit polygamy in certain situations. It also permits wife beating though liberal Islamic feminists give a different meaning to the Arabic word wazribu hunna and argue that it means simply 'explain again'. Similarly Quran gives just half a share to daughters in comparison to sons.
Justice Nariman did not examine the triple divorce debate in necessary details. or its discriminatory nature under Article 15 which prohibits discrimination only on the basis of sex. He however struck down triple divorce as unconstitutional. Unlike three other judges, he held that the Shariat Act of 1937 did not merely do away with the customs and usages contrary to Shariah but clearly laid down that if parties are Muslims, 'rule of the decision' shall be Muslim Personal Law and since Muslim Personal law considers triple divorce valid, therefore Shariat Act to that extent is unconstitutional as triple divorce is manifestly arbitrary and thus violative of right to equality. Since Justice Joseph does not agree with him on the interpretation of Shariat Act, there is no majority holding triple divorce as unconstitutional.
Justice Nariman's reading of triple divorce is strange as Shariat Act nowhere mentions this term though it talks of other types of divorces. This may be a vital and deliberate omission. Reading triple divorce as statutory recognised divorce is against the known principles of statutory interpretation ie causa omissus which means legislative omission cannot be filled by construction. The courts while interpreting statutes do not have the power to add a word to even a defective statute particularly when the legislative intent is clearly mentioned in its statement of object and reasons. Moreover where a word used by the legislature has a fixed technical meaning, it is to be taken in that sense only unless the contrary legislative intent is clearly evident. Talak is a technical word of Sharia and it cannot include something like triple divorce which according to Justice Nariman himself is makruh or undesirable.
In the context of Shariat Act of 1937, CJI rightly noted that the legislative object was to remove un-Islamic practices from the Muslim society. Word triple divorce which is not there cannot be first read in the statute and then because of that word, the statute struck down. Moreover this strange interpretation to hold triple divorce unconstitutional has other problems as well- Justice Nariman himself noted that triple divorce was valid as per 1932 decision of Privy Council and since this decision was part of personal law thus triple divorce was statutorily recognised by the 1937 Act. Thus he conceded that judicial decisions too are part of Muslim Personal law. Many High Courts after the 2002 Supreme Court judgment of Shamim Ara held invalid instant triple divorce without efforts of reconciliation and without a reasonable cause. Thus instant triple divorce was no more part of personal law after 2002 and thus Shariat Act cannot be struck down in 2017 as unconstitutional as under new procedure, every divorce has to be preceded by efforts of reconciliation. In any case, three judges including Justice Nariman did hold that triple divorce is not part of Sharia. If it is not part of Sharia how can it be read in the 1937 Act which was meant to implement Sharia as has been rightly held by Justice Joseph.
CJI's comparison of 1937 Act with the Dissolution of Muslim Marriage Act,1939, clearly demonstrates that while 1939 Act codified Muslim Personal Law on the issue of divorce by a Muslim women, Act of 1937 did not and it merely mentioned the subjects on which Muslim Personal Law will be applicable. Thus if triple divorce does not have statutory basis, striking it down as arbitrary under Article 14 is problematic. Moreover right against arbitrariness is available against state and not private parties.
This split verdict is not such a huge victory for gender justice. No one talked about gender justice. Moreover it does not settle all the legal issues relating to triple divorce such as will three divorce pronouncements will be counted as one or will not amount to even one as was held in Shamim Ara by the Supreme Court?
The writer is VC, NALSAR University, Hyderabad
Top Stories