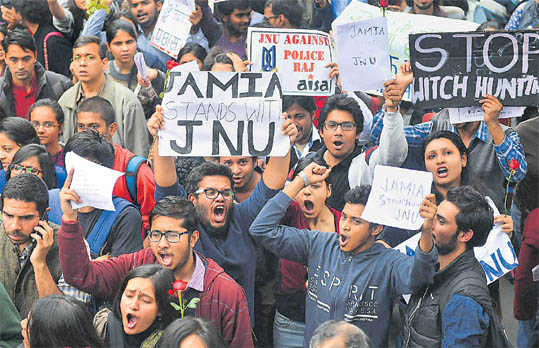 Much has been spoken and written on the recent events in Jawaharlal Nehru University (JNU), following a protest by a small groups of students on February 9, 2016. These have been both critical as well as supportive of the university. The fact that some students appear to have raised slogans in support of Kashmir's azaadi, and also celebrated Afzal Guru, those critical of the university were quick to brand it an institution that encourages and nurtures separatist elements and therefore the entire university was a den of anti-nationals. Some have gone to the extent of suggesting that it should be shut down.
However, the number of those who defended JNU is also not small. Universities everywhere have students with a range of political opinions and occasionally they do come to confront each other or the local authorities. Unless there is a threat of violence, such cases of "indiscipline" are dealt with by the internal process of inquiry and punishment. Like other such institutions, JNU not only has such provisions, they have been working quite actively and effectively. Despites its charged political atmosphere, rarely have we heard of any cases of violence being reported from
JNU. What was the need then to not allow the university to sort out its issues internally?
Allowing dissent
A large section of people with liberal opinion, from India and abroad, has also spoken in support of JNU. And they are not all Leftists or uncritical of the so-called anti-national tendencies. They have pointed to the legitimate role of the university in allowing political disagreements and dissents of all kinds, as long as they do not resort to violence. If not in a university, where else could we discuss and debate our differences? If Kashmir is an integral part of India, not only do Kashmiris have a legitimate right to study in the universities and colleges across the countries but should also have the right to debate and discuss issues that concern them.
The popular opinion outside its campus views JNU as a "den of Leftists," where the teachers and students all subscribe to the Communist ideology. This is far from true. Like any other universities, in India or abroad, the JNU faculty holds a wide range of political opinions and, as elsewhere, some of them would be Left-leaning political opinions. But the numbers of those who would openly subscribe to Right-wing politics is also not any less significant. JNU, indeed, has a large number of Left-wing groups, who compete with each other but also with others, the "free-thinkers", the Congress and AAP-affiliated student bodies and the ABVP.
As would be the case with other campuses, common students do not necessarily align completely with one or the other organisation. Candidates and their personalities also matter. During the last elections of their union, JNU students elected three of their representatives from different Left-wing organisations but also elected one from the ABVP. Some other candidates of the ABVP also polled a good number of votes.
More interestingly perhaps, unlike most other university campuses, JNU students' union elections are an entirely students' affair, with no involvement of the administration or the teaching faculty. Political campaigns are also carried out without the use of money and muscle power, again a rare thing in Indian university campuses. These are undoubtedly the best liberal democratic practices that every university in India should imbibe. How would these make JNU students anti-national?
By now we also know that some of the videos that were initially shown in the electronic media as evidence of anti-India sloganeering by the JNU students were in fact morphed and doctored. While the actual truth would hopefully emerge in due course, these revelations have already shocked many people and the number of those speaking and writing in support of JNU is steadily swelling. Hopefully, the controversies currently surrounding the university will soon die down. The popular media will soon find other compelling issues confronting the people of India, with its ever-restive populace. The powerful and violent agitation of Jats in Haryana for their inclusion in the OBC list is already making big news.
Lessons for the nation
However, what is currently happening in JNU has many important lessons for us as a nation. Perhaps the most important one is to learn to recognise the value of being a Constitutional democracy. Even when elected by a sizeable majority, those in power have to swear by the Constitution and its substantive provisions. Political ideologies could influence the nature of economic policies or styles of governance, the rulers do not have the right to be selective in their approach to rights and entitlements of citizens. Citizenship cannot be a privilege only of those who vote for the political party in power and share their political ideology.
The same holds true for institutions. All institutions, not only the judiciary and the bureaucracy but also the university, need to be treated with a sense of purpose and autonomy. It is through these institutions that a constitutional democracy delivers its promise of citizenship. This becomes even more critical in countries like India, marked by a range diversities and vicious forms of inequalities. Public universities like the JNU have played a constructive role in the process of nation-building through its admission policy of giving opportunities to those from historically deprived regions and communities and friendly environment. It has helped in producing a new elite that has expanded the idea of India and made it more inclusive.
Institutions like JNU need to be celebrated for their positive role in instilling among its student a sense commitment to the empowerment of the poor and the marginalised. For this to continue, the autonomy of institutions like JNU needs to be protected from external pressures that is founded on a mistaken and a fragile notion of national identity.
The writer is a Professor of Sociology, Centre for the Study of Social Systems, JNU and a Senior Fellow, Centre for Social Sciences and Humanities, New Delhi.