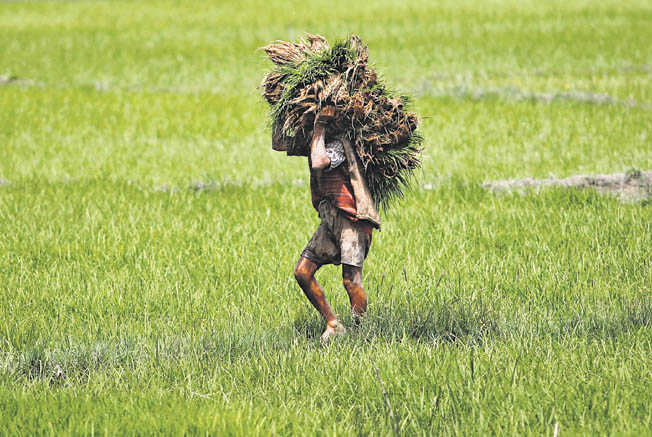 AS always, the common person is worried about job, inflation, and today the main scare is also about health. Already, pollution is making people (especially children and the elderly) sick in metropolitan cities like Delhi, Mumbai and Kolkata. In addition, there are seasonal health scares which make life unpredictable even for the well-to-do. With the dengue scare, the inadequacy of the hospital structure has come to the fore. There is need for higher investment in hospitals, more than any other sector. The private health sector is booming and draining people of money in times of emergency. It is shameful that patients died of dengue because there was no place in a public hospital in a big city like Delhi.
India, however, is on a high GDP growth path. Recently, Finance Minister Arun Jaitley said at a conference in Singapore that India was likely to grow at 7.5 per cent and already in the last quarter, its GDP growth rate was 7.3 per cent. Showcasing India's high GDP growth when others are faltering has been a chosen strategy of the NDA government. It is not agriculture which is fuelling growth because, as is evident, the monsoon deficit has caused much damage in Maharashtra, Gujarat and parts of Punjab. There has been a spate of farmers' suicides as a result and agricultural growth is below 2 per cent. Vegetable prices, especially of onion, are still high, yet the Wholesale Price Index is shrinking and is in the negative. Consumer price or Retail Price Index is around 3.6 per cent. But as RBI Governor Raghuram Rajan has warned, inflation could be reignited any time and this has been his justification for not reducing interest rates by a few notches.
There seems a lack of sync between the RBI and the Finance Ministry. The Finance Minister has been pleading for a rate cut for sometime and the RBI Governor has declined to comply because of his fear of inflation, and recently, he has been warning about Brazil also. Brazil undertook interest rate cuts, as a result there was much credit flow into various unsustainable ventures and industries. Inflation returned and Brazil's GDP has shrunk for two quarters. Credit offtake is low in India and hence it would benefit if rates were cut because it would benefit the small and micro manufacturing units which require capital at low cost.
The manufacturing growth rate has also risen to 7.1 per cent and the Index of Industrial Production was up at 4.5 per cent in August after being in the negative for months. The service sector growth has picked up with a rise in the growth of hotels, transport and communications which recorded the biggest expansion. Finance real estate and insurance have also registered 8.9 and 10.2 per cent growth, respectively. IT companies have again been hiring more people. The FDI inflow has increased but not so much as to bring about an investment boom. The PM went to Silicon Valley to woo investment and realise his dream of digital India.
It is domestic demand that is fuelling growth because many important indicators seem to be unimpressive. People do have money to spend and it is evident in the numbers going shopping in malls and bazaars and the resultant traffic jams in big cities that have become frequent. Also the equivalent of 30 per cent of the GDP is in black money which is circulating and keeping business going. People with salaries and daily wages are the ones who may be spending much less as uncertainty looms in the case of some industries which are shutting down in the face of slack demand. But according to Ipsops survey, consumer confidence is higher than before. They probably believe that strong leadership at the centre will lead to policy changes and reforms which will make India a leader among the BRICS in terms of GDP growth. But demand coming from the agricultural sector, important for manufacturing growth, is getting slower.
Even if we have 7.5 per cent growth, there will be problems if the youth do not find jobs. Export growth has shrunk by 20 per cent and has slumped in the last seven months. Since it involves manufacturing, it could have given employment to many people engaged in export production.
Export slowdown is not only due to slack western demand, but also because China's slowdown has impacted Asian countries which are showing lower demand for Indian exports. Asia is a major destination for our exports, taking 50 per cent of all Indian exports.
A sign that revival of the western countries has not taken off is the fact that the interest rates in the US have not been raised. It will mean that the FIIs are not going to leave the emerging markets soon. We are dependent on FIIs in a big way, so it is good news for us. Also, the oil prices are supposed to remain low, which is also positive news for us. Thus India perhaps should not depend on export-led growth so much and start looking inward and encourage domestic investment instead. For that, the September RBI policy is important.
If the government is successful in bringing money stashed abroad by various incentives and schemes that it is currently offering, it would help in people gaining confidence in the Modi government. Otherwise, like the previous government, this government will also be seen as only interested in wooing foreign investors and FIIs and justifying top leaders' numerous trips abroad. The Modi government has to differentiate its policies in some distinctive way, like revamping the health sector, safety nets for the poor and improving the quality of education. The government ought to pay more attention to agriculture and the distressed farmers who cannot cope with crop failures anymore. The upkeep of water bodies should also be attended to. If the government can keep an eye on how states are treating agriculture, it would benefit farmers throughout India. Else it would seem that the government is also obsessed with GDP growth and not interested in increasing the welfare and happiness of ordinary people.