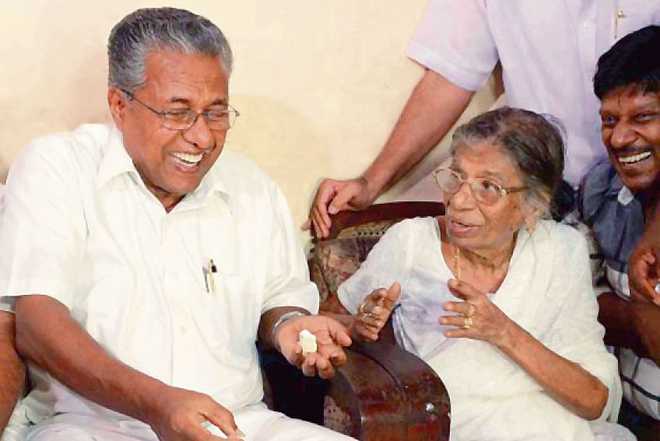 K Govindan Kutty
Journalist & Author
KR gowri is not used to laughing. In these past 100 years, there has been little scope for laughter or levity. To this earliest living communist of India, life is but a cause to fight, an anguish to voice. Her voice is a bit tremulous, some queer pulmonary strain sometimes threatening to muffle it, but that has never deterred her from raising it for the good of the underdog. She is irrepressible.
No laughter, but she can often do things to bring a furtive smile to younger lips. Consciously, she will introduce an element of drama in her political acts. Before the Assembly proceedings started one day, Gowri walked in, grim as usual, with a gunny bag full of misshapen mango-like coconuts. The size and shape was funny. If there was a suppressed chuckle out of earshot, she burst out, "Don't laugh. You don't know the pain of the peasant. I'm a peasant."
Agriculture has been her passion, politically and personally. She took to farming and milk-vending for a living after the dismissal of the first communist ministry in 1959 and the rout of the party and her bohemian husband, TV Thomas, in the subsequent election. With no qualms. she would remind you that she had to provide for his toddy and beedi.
Thomas was a charismatic leader whom she married when they were ministers with the party's endorsement. When the party split in 1964, more than that happened. Gowri-Thomas relations were ruptured. Long years later, on his deathbed, Thomas cried. His former wife was at hand to nurse him. Gowri is unforgiving for what the party did. The state secretary was the villain.
If Gowri was around when a Cabinet was being put together, there was no need to look for someone to handle agriculture. It went to her without question. She was at the forefront of the movement to rebuild agrarian relations. The young lawyer who could have gone up the stairs of judiciary was instead drawn into the vortex of what anti-communists called the red riddle in Kerala.
She became the state's first Revenue Minister, piloting its momentous land reforms Bill and promising land to the tiller. Landlordism was abolished. Those who, in communist lingo, were known as kulaks threatened to leave thousands of hectares fallow when faced with escalation of wages and cost of cultivation.
In and around Gowri's own political constituency, Kuttanad, a kayal king, lord of backwaters, dared the government which took over his land. History's ugly culmination was that the official machinery proved its supreme lack of enterprise by leaving a good part of Kerala's rice bowl uncultivated. The indifferent performance of agriculture over the years made a mockery of state farming.
A no-nonsense person, Gowri enjoyed working with the high and mighty bureaucracy. When she was in command, officialdom, which overawed less domineering political bosses, fell in line. She knew the game plan, and executed it with consummate authority. She saw through businessmen's operations and occasionally used their funds to finance the party's revolution. Whether an anti-communist or an abkari trader, their help was sought and got by Gowri whenever the party's chest went empty.
Yet, she did not quite fit the classical description of a communist. She went by her own instinct, almost oblivious to the wisdom handed down by the party apparatchik. In God That Failed, Richard Crossman had said what appealed to communism's votaries was not so much what it had to offer them as the total sacrifice and submission it commanded. Gowri is not the kind of person who will give herself away when face-to-face with the general secretary or his factotum. Her kind of intellectual self-assertiveness is not what makes anyone a darling of leaders.
Time was when communists were wont to shout that god did not exist, as if they could recognise one when they met one. It took time for that kind of atheism to wear off. Gowri did not make a public celebration of her faith, such as it was, but she was never embarrassed when a curious camera focused on her when she stood in front of a shrine, eyes closed, hands folded, lips praying for god alone knew what.
In an interview on the occasion of her centenary, she said: "There were days when we went round denying god. Today, lying in darkness, unbeknown to anyone, I pray to god. I am alone. I have none. Yet, I am up and active."
For the 'mother of the century', as someone has characterised her, to reach this stage of thought, she had to travel a long mental distance, starting as a communist and ending with a faint feeling that she could no longer be latched to the 'god that failed'.
A quarter century ago, her dalliance with her party, the CPM, ended and she presumptuously floated her own party. Expulsion came as a matter of course. The break came when it was all too clear that the party leadership would keep her with it but not give her what the whole world felt was her due: chief-ministership.
In Kerala's caste calculus, she was long projected as the most eminently qualified candidate for the top political job. In 1987, they say, word went from house to house that vote was being sought to make an Ezhava woman Chief Minister (Ezhava is a backward caste woman). Election over, someone else clambered on to the gaddi.
Even Gowri could be a victim of illusions. Maybe in a fit of dejection or out of a wrong assessment of her own strength, she propped up a party which was bound to crumble. Pathetically, someone who has seen in her praise a flood of oxymoron — 'a flower in the face of fire' — ends up watching her own bloated shadow.
The grace of it all is that she knows it too well, and can retrace her steps to her old party soon, with no gain in view. When she was fighting it, her old party had put up a youngster against her in the Assembly election. He won. In this parliamentary election, she says, she voted for him. That is KR Gowri.
Top News
2 feared dead as car plunges into Beas river on Chandigarh-M...
Is produced in a local court amid heavy police security on W...
Khwaja Sayyed Chishti was a refugee from Afghanistan used to...
On Tuesday, a police team from Chhattisgarh reached Uttar Pr...