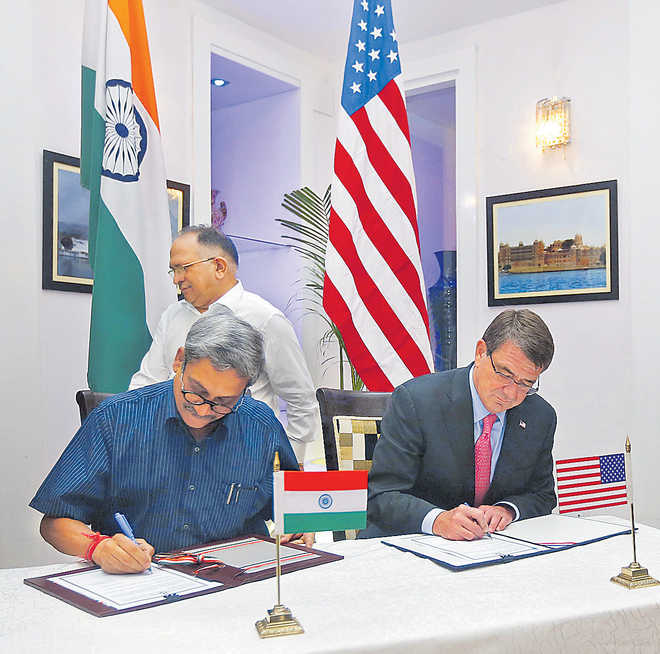 THE signing of the Logistics Exchange Memorandum of Agreement (LEMOA) in Washington on August 29 has generated controversy in India. The opposition parties — the Congress and Left parties, in particular — have voiced criticism. The UPA government was hesitant about signing this "foundational agreement" despite American urgings. The present government has not explained how or why the volte-face became necessary.
LEMOA provides for the armed forces of the two countries to use the other globally for supplies, spare parts, services and refuelling. Effectively, the US forces could operate out of Indian bases on a simple basis. This is the first time India is allowing a foreign power such access to its military bases. Even in the halcyon days of Indo-Soviet friendship and cooperation, the two countries never felt the need for such a platform. India has fought more wars than most countries in modern history, but never felt the need for LEMOA, either. Of course, it is not on India's mind to project power in faraway regions. From the US perspective, too, a military base in India as such is not a critical need when it has dozens of bases in the Indian Ocean region — spread out in Afghanistan, Qatar, Kuwait, Bahrain, UAE, Oman, Djibouti and Diego Garcia — to fight its wars or pursue its interventionist policies as the 'world hegemon'.
So, what is the raison d'etre of LEMOA? The heart of the matter is that LEMOA is not a 'stand-alone' agreement. It represents a milestone in a journey that lies ahead. We need to relate it to the ground clearing that has already taken place for this "foundational agreement" — India's induction into the Missile Technology Regime (with American help), unique designation of India by the US Congress recently as the US' Major Defense Partner (comparable to NATO allies), etc. Equally, we need to discern that LEMOA will be followed by two other milestones — signing of two other "foundational agreements", namely, Communications and Information Security Memorandum Agreement (CISMOA) and Basic Exchange and Cooperation Agreement for Geospatial Intelligence (BECA).
Make no mistake, an architecture is rising on a solid foundation. This is at once clear if we comprehend why the US has been insistent on the signing of these agreements as prelude to the transfer of advanced technology to India. Quintessentially, CISMOA and BECA can lead to the US selectively —yes, selectively — transfer advanced military technology to India and, perhaps, allow co-production in India, while the ultimate control rests in American hands in regard of actual usage of the technology. If CISMOA and BECA come through — there is no conceivable reason why the Narendra Modi government will say "Nyet" — LEMOA at once becomes of great practical use, insofar as given the "interoperability" of the weaponry, the US will be able to operate out of Indian bases as is they are full-fledged American bases.
On the other hand, CISMOA and BECA are "enablers" that will open the Great Indian Arms Bazar to the American vendor to a more optimal extent. It means many things — US exports to India will increase exponentially; US-India defence ties will deepen and expand; the US will irreversibly replace Russia as India's principal partner in defence cooperation; and, most important, the US will emerge as India's indispensable partner in sustaining our defence preparedness, no matter what lies in the womb of time in regional and international politics.
It is this last aspect that also happens to be the most crucial for India's tryst with destiny. Clearly, with CISMA and BECA enabling the US to have the ultimate say in the use of American military technology by the Indian armed forces and with such a critical dependence developing for India on American political goodwill, it is not difficult to see where things are inexorably heading to. It's strategic autonomy!
Make no mistake, this is going to be a one-way street all the way — India's strategic autonomy will get whittled down; India-Russia relations will atrophy (which is also critically important for the US global strategy, against the backdrop of the New Cold War); American arms exports to India will enter a boom period (India is expected to spend $150 billion for arms purchases in a near term); these arms deals, in the absence of open tendering, will be highly lucrative for the American vendor; the US creates powerful interest groups among India's elites.
Three fundamental issues arise here. One, the US is the only country demanding such a "chastity belt" to be put around India's loins. This is despite Russia having supplied BrahMos technology and currently negotiating advanced S-400 ABM system and supersensitive stealth aircraft and nuclear submarines, etc.
Two, the US has a consistent record of keeping its military partners on a tight leash within the overall matrix of its strategies as a superpower — that is to say, there are profound geopolitical implications, given the stark reality that US-India strategic partnership can never be an "equal relationship".
This leads us to the third template, namely, implications of all this for India's relations with third countries — Russia, China, Pakistan, Iran, principally. The US strategic doctrine openly espouses containment strategies against Russia and China. The US has designated Russia as its "geopolitical enemy" and there is no scope for US-Russia cohabitation under and Indian tent. Simply put, no matter India's "time-tested" friendship with Russia, Uncle Sam will kick out Ivan from the Indian tent and Ram can only helplessly watch this happening right in front of his eyes.
Again, while the perception in India could be that the emergent partnership with the US will put pressure on China to be conciliatory toward us, the evidence so far is to the contrary. The relative stability and predictability of the India-China normalisation under the UPA has suffered a setback through the past two-year period. Finally, Iran and Pakistan worry about the US' intentions. Thus, a geopolitical realignment in India's neighbourhood becomes a high probability. And, India lives in its region.
— The writer is a former ambassador
Top News
Congress leader has been trapped in the consequences of the ...
About 47.58 lakh government employees and 69.76 lakh pension...
LS secretariat has sent notification to EC to declare Wayana...
Prominent leaders stopped by police and detained at Vijay Ch...
Overrules a 2011 verdict by a two-judge Bench