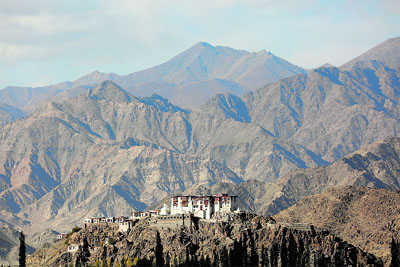 THIS government has made a distinct shift in policy to deal with Pakistan. But mending the chronic nature of Kashmir imbroglio needs other steps than just accosting Pakistan. An equally radical step is needed to reset the internal parameters of Jammu and Kashmir. The government can do it. It is time to look at India's internal political statecraft. The initial flawed decision on Kashmir was essentially crafted by Jawaharlal Nehru who had wistful familial links with the Valley. It undercut India in several poignant ways. The faulty statecraft failed to check both China and Pakistan eating into the state's territory. Over 55 per cent of the State's 222, 236 sq. km territory is under the occupation of either China or Pakistan.
Pakistan has, at least, separated Gilgit-Baltistan from 'Azad Kashmir,' realising the sensitivity involved. India's tagging of Ladakh to Jammu and Kashmir underscores its lack of strategy clarity. Why this incapacity? The nation ought to rethink its Jammu and Kashmir policy in a realistic way to ensure that it is in tune with the changed circumstances.
One territorial reality is that 82 per cent of Jammu and Kashmir is Ladakh and Gilgit-Baltistan. Over 60 per cent of what India has constitutes Ladakh that is most critical for its national security. Imagine, without Ladakh, the PLA would be sitting on the southern foothills of the Himalayas. It has been rather self-harming to have ignored Ladakh thus far. Its political profile was once compared to Himalayan kingdoms like Nepal, Mustang, Bhutan, Sikkim and Monyul (Arunachal).
Its internal significance apart, the country has failed to underpin Ladakh's strategic value for gaining direct access to Tarim Basin and the Tibetan Plateau. Ladakh had no bonding with either Jammu or Kashmir, except through a brief subjugational link with the Maharaja whose rule elapsed on October 26, 1947.
It was Nehru who spurned Ladakh's resistance against a unitary Jammu and Kashmir state. Instead, he left its fate in Sheikh Abdullah's hand who had no links with the region. Ladakh suffered on demographic deficiency (low weight in electoral politics), often used as an alibi for neglect. New Delhi too turned a blind eye to the Kashmiri practice of sabre-rattling against Ladakh and their wilful play on Ladakhi candour. Yet, the Indian leadership went on appeasing the Valley. The results of that policy are now before our eyes. Surely, New Delhi may have gained from diverting Ladakhi anger singularly against Kashmir, at least to highlight a contrasting viewpoint to debilitate the call for Azadi. China's prolonged atrocities in neighbouring Tibet may have become another expediency to ignore Ladakh. Such a scenario may not be available now. The government has ignored the Ladakhi demand for a Union Territory (UT) status for too long. The demand predates the Telangana movement. The case of UT status got a shot in the arm when the BJP promised to fulfil the agenda in 2014. But, is the Narendra Modi government serious about it?
While the country is bogged down in the Valley, Ladakh may be sliding into disarray. There are distinct signs of diffusion since the Burhan Wani events in Ladakh. Apart from demographic migration, the trend of pro-Azadi protests, hartals and shutdowns are spreading to other parts of the state.
It is certainly not good statecraft, if demographic scarcity becomes a liability that leaves our vast borderland vulnerable to the enemy's encroachment.
Ladakh's economic potential is not even thought of. Its colossal water resources of Zanskar, Suru, Dras, Shyok rivers benefit Pakistani farmers in Punjab and Sind, while only five per cent of Ladakh's arid land is irrigated.
If Article 370 impedes outside investments, the only economic source of tourism remains hostage to poor connectivity. Clearly, Kashmir can't remain a pretext for not doing anything. Robust defence preparedness alone also cannot ensure durable peace. Therefore, reordering of Jammu and Kashmir is a necessity, for there are far bigger imperatives on the strategic front for India. The Chinese forays into Gilgit-Baltistan, albeit on the China Pakistan Economic Corridor (CPEC) pretext may not be without its historical claim over the region since the Tang Dynasty. China's eventual control over PoK would have direct consequences for Ladakh as well. Why allow Jammu and Kashmir to become a trilateral problem? India can do little to obstruct the CPEC project. Simply remaining a bystander is also no solution. Here, Ladakh's unique geographical location should allow India to offer connectivity to the Eurasian region and China. Although, the CPEC posits a complex problem, India needs to join the project while also suggesting that parts of the CPEC go through the Indian territory of Ladakh. This way India can foster its connectivity with major markets and resource centres.
The best way to blunt the CPEC is to think about India's own "Belt and Road" idea. Modi should offer Xi Jinping an alternative energy corridor originating from an Indian port running across Ladakh to China. Why not jointly use the Aksai-Chin highway?
The proposal could spring multiple advantages, ranging from attracting Chinese investment, earning billions as transit fee to nudging Beijing to depend on India, thereby buying guarantee against any Chinese misadventure. China stands to gain from a more reliable economic corridor than risking investments in terrorism-plagued Pakistan. A fresh thinking should also draw on the growing opportunities for joining connectivity projects in High Asia and the Eurasia. But, for that to happen, the first step should be the resetting of Jammu and Kashmir.
The people of Ladakh were united in demanding UT status when they recently met the Union Home Minister Rajnath Singh. Separation of Ladakh from Jammu and Kashmir could become the kernel, if not a masterstroke, in India's long-term home and foreign policy. It would be a coup de maître to deal with multiple challenges.
The writer, a former Indian ambassador, is an expert on strategic affairs
Top News
Video footage from local news channels show fans streaming o...
Deepak Tinu is a close aide of jailed gangster Lawrence Bish...
Car occupants were on their way to Karewath from Theog when ...
Congress leaders pay homage to the Father of the Nation on h...
Crushing season to begin in Nov | Private mills oppose move,...