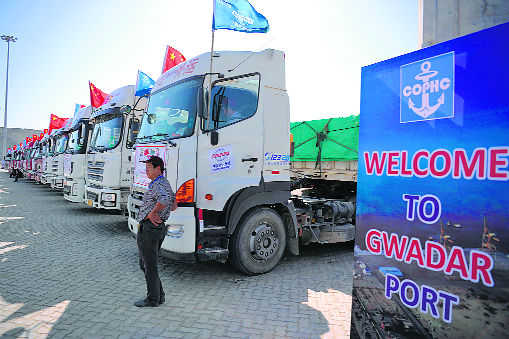 Lt Gen Syed Ata Hasnain (Retd)
Former GOC, 15 corps, Kashmir
THE maritime zone in India's neighbourhood is now strategically significant and falls in the zone of connected security. That is why the news that China could sell an aircraft carrier to Pakistan, without a timeline attached to the proposal, needs a holistic examination, not from a maritime angle alone.
Why is an aircraft carrier important? As part of a carrier group, it is an instrument for power projection and extends airpower to the distant oceans where an adversary's flotilla can be contested away from one's own shoreline or areas of interest. Its presence along with the vessels of the carrier group caters to deterrence and provision of security to sea lanes crucial for the undisturbed conduct of freedom of navigation.
The US dominates the holding of aircraft carriers, with a total of 19; 11 of these are Nimitz-class nuclear-powered ships. Only 12 more carriers exist around the world. Till recently, India had two of these — INS Viraat and INS Vikramaditya. However, INS Viraat has since been decommissioned, leaving the Indian Navy with a single carrier, like the Russian navy. In two years, India will have its second carrier, indigenously designed and constructed. China's PLA navy (PLAN) is reported to have two carriers with a third under construction. It is likely that China has decided to build five carriers and launch them by 2025-30, bringing the number to six or seven. One of the current holdings, the Liaoning, a refurbished erstwhile Russian ship, is the one which China's official media says will be handed over to Pakistan.
Will Pakistan pay for the carrier? Given its cash-strapped economy and the fact that debt servicing of CPEC (China-Pakistan Economic Corridor) loans commences this year, and annually could amount to $4 billion, it is doubtful that it will pay anything. However, the idea of giving Pakistan a carrier must strategically appeal to China. The reason can be traced to China's power deficit in the Indian Ocean. For commencement of deployment of a capable blue-water navy, China needs a carrier group on either side of the Straits of Malacca. The power deficit is an outcome of a major but erroneous decision taken at the foundation stage of modern China. Deng Xiaoping, who fathered China's modernisation and rise, accorded the lowest priority to modernisation of the military, placing more emphasis on agriculture, technical education and industry.
Within the military, the PLA was placed at the higher rung. What the leadership did not realise then were two facts. First, to maintain China's growth rate, it needed a continuous flow of energy to keep the industrial production increasing year on year. Second, the economy could only flourish if the flow of goods from the thousands of factories could be continuously ensured to markets far abroad. For both, secure sea lanes of communication (SLOC) were required, right from the Suez and the Persian Gulf to the Straits of Malacca and through the South China Sea to China's eastern seaboard. Deng and the subsequent leadership made the cardinal error of not commencing the early modernisation of PLAN, which could ensure balanced contestation against potential adversaries whose combined naval power could block China's energy and container traffic, thus starving its growth. That would be a major red line against China's tolerance, but no sensible nation ever wishes an adversary to come near a potential sensitivity such as a red line.
Domination of both the East and South China Seas is not as big a challenge because of the proximity of Chinese naval bases. It is the security of the SLOC in the Indian Ocean which could pose a problem, should the standoff against potential adversaries reach such a contingency. The Andaman and Nicobar Islands, just west of the Straits of Malacca, combine to bring about the Malacca effect, a deep perception of insecurity in the Chinese strategic matrix. Although China has been making attempts at securing bases in South Asia to overcome this disadvantage, the fructification of these to a level of placement of naval assets has yet to be reached. It has, however, secured for itself a foothold in Djibouti by leasing the Port of Doraleh.
With perceived anti-China security equations in the making ('Quad' being one of them), China is looking at options. Deployment of a carrier group off Djibouti will be perceived as a naked show of strength, although the US has recently moved a carrier group into the Middle East to threaten Iran and secure its assets against Russian threats. This is a momentary development; in the long run, China needs partnerships with navies that can extend its interests in the west Indian Ocean. For this, the Pakistan navy fits the bill.
Pakistan seeks acquisition of military power beyond its economic sustainability. With a 6.5 lakh-strong army and a reasonably powerful air force, it lacks maritime capability, essential to secure its ports at Gwadar and Karachi. With a carrier, it can have a chance of contesting the much superior Indian Navy's expected attempts at a blockade of Karachi. It could also draw out the Indian Navy further into the Arabian Sea and even threaten a part of Indian trade, energy traffic and offshore assets.
Pakistan's submarine capability of five diesel-powered vessels is being bolstered by the reported sale of eight submarines (none nuclear-powered) by China, four of which are likely to be provided by 2023 and four more by 2028. India has 15 submarines (two nuclear-powered), and two more conventional ones are likely to be inducted. However, it is not the immediate future that India needs to be concerned about. It is with the further development of Gwadar Port and creeping boldness of the PLAN to move westwards with fuller capacity that will pose a greater threat.
Lastly, while the strategic partnership with the US looks upon the extended Indo-Pacific region, the relationship appears more centred on the Pacific segment and less on the Indian Ocean. This potential fructification should spur India to more meaningful security in the west Indian Ocean.
Top News
Says unprecedented assault on corruption has angered those w...
As part of the special drive, the regulators have identified...
Behind him, Papalpreet Singh, who is said to be his mentor, ...
Punjab CM accuses Jathedar of favouring the Badals; Giani Ha...
7 others, including Ahmed's brother Khalid Azim alias Ashraf...