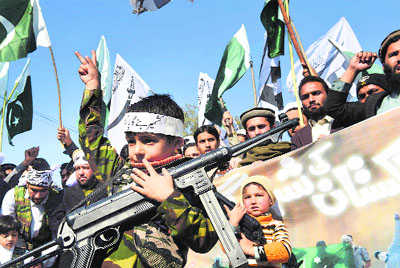 PAKISTAN has been following a policy of a"thousand cuts," against India. Though for Pakistan it has been a cheap option, it has created a sort of siege mentality within India. Unfortunately, India's response to counter this, "cheap option" has been increased deployment on the borders etc. To secure the bases of the Indian Air Force would cost Rs 8,000 crore and those of the Indian Navy Rs 7,000 crore. A committee under a former Vice-Chief of Army Staff has been constituted to review security arrangements at military establishment. Its recommendations may result in substantial financial outlays.
While these measures will impose heavy financial cost, yet a large number of other civilian targets (including schools) will remain vulnerable to terrorist strikes. Given the extent of involvement and the covert support of the Pakistan State to what they call non-state actors, these cross-border terrorist strikes are not going to end anytime soon.
India has not been able to work out a viable and effective response to this, policy of a "thousand cuts," by Pakistan. Operation Parakaram, where the Indian Army was mobilised, consequent to attack on the Indian Parliament, ended in a fiasco. This mobilisation cost the country Rs 1,000 crore and lives of 800 soldiers in various accidents.
Though after the recent attack at Pathankot, the Indian Defence Minister has talked of causing pain to Pakistan in response to these attacks, he would have no clue as to how to cause this pain! Pakistan itself has been a target of some terrorist attacks, which is a fallout from the policy of running with the hares and hunting with the hounds. There is no such thing as good terrorist and a bad terrorist. As Hillary Clinton, pointed out to Pakistan, that "if you rear snakes in your backyard, don't think that they will bite only your neighbours". At the root of this policy of Pakistan, is its military and the ISI, who do not want improved relations with India. Good relations with India militates against any rationale for Pakistan to have such a large military, which otherwise is a heavy burden on the country's economy.
Pakistan's National Security Adviser played a masterstroke by informing his counterpart in India that a group of 10 terrorists had gone across the Gujarat border to carry out a major strike during the Maha Shivratri festival. That put the security agencies in a spin and an alert was sounded all across India.
Perhaps no such group actually crossed into India, but Pakistan has decidedly delivered a, "googly." If this, "group of 10", did cross over into India then how come we have not been able to track it down thus far? For Pakistan to carry credibility in its changed policy towards export of terrorism to this country, it has to dismantle terrorist training camps and bring to book those involved in terrorist attacks in Mumbai and now at Pathankot.
The Pakistan prime minister and a large number in civil society may want friendly relations with India, enhance trade and commerce and build cultural ties. On the other end, majority of the population has been completely radicalised and would be averse to closing ranks with India. These elements, along with the military, will continue to negate Pak government's efforts to improve relations with India. At the same time, India's own intelligence-gathering capabilities, guarding of the border, policing of areas close to the border and the link between drug trade and political class and state administration needs looking into. The investigations into the Pathankot terrorist attack, as also the manner of tackling terrorists group within the air base have been ham handed. The visit of the Pakistan SIT to Pathankot has been another sham by that country. In the best interests of the two countries, it is better to leave the Kashmir issue aside for a decade or so and look at other areas where cooperation and understanding can be reached. It will be of greater advantage for Pakistan to develop trade and commerce relations with India and possibly inter-link the two economies. The China factor, in any breakdown of relations between India and Pakistan, works entirely to that country's advantage in which Pakistan stands to gain nothing.
If Pakistan persists with this policy of, a "thousand cuts," against India, then Pak must be made to suffer much pain. It is time for India to make it clear to Pakistan that terrorism and treaties cannot go hand in hand. While India will certainly retaliate to cross-border terrorist attacks, Pakistan and the World Bank need to be put on notice that the Indus Water Treaty and terrorist strikes cannot cohabit. If Pakistan persists in these attacks, then this Treaty will be severely impacted. Hopefully, better sense will prevail and Pakistan will put an end to this dangerous game of nurturing terrorists. It needs to shed the belief that India will continue to dither in its response.
The writer is a defence analyst.
Top News
Police say report on wrestlers' allegations to be submitted ...
The protesting wrestlers will not attend the congregation
Says the CM is protected at both these places by the Punjab ...
Were arrested after a brief encounter in Kharar in the wee h...
Based on the FIR, it is revealed that his daughter had been ...