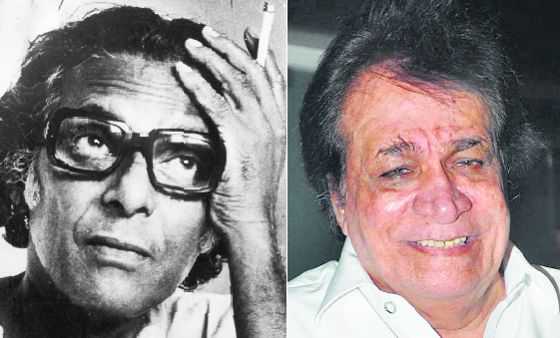 Salil Desai
Novelist and Filmmaker
Mrinal Sen and Kader Khan — a most unlikely pairing! Never did their paths really cross during their illustrious careers. Sen never directed Khan, nor did the latter ever write dialogues for any of the director's films. Yet, when death claimed them in quick succession recently, one couldn't help juxtaposing the fact that they represented two completely contrasting strands of the same industry in the 1970s and 1980s — art films and commercial films — both of which enriched Indian cinema greatly.
While pipe-smoking Sen created highly regarded, brooding, meaningful new-wave cinema, Khan was amazingly prolific both as a dialogue writer and character actor, first as a villain and then in comic roles, in innumerable commercial films for over three decades. There is no doubt that both occupied parallel universes, and yet there were two peculiar similarities with regard to their respective backgrounds. First, both were born outside India — Sen in Faridpur, located in present-day Bangladesh, and Khan in Kabul (Afghanistan). Second, both were well-qualified and did white-collar jobs before entering films. Sen post-graduated in science and took up a job as a medical representative, while Khan did a degree in civil engineering and then taught the subject at a Mumbai college.
That is where the similarity ends and the paths they took thereafter is a fascinating study of diametrically opposite approaches to cinema — one focusing on escapist entertainment and the other on cinematic experimentation.
For an average moviegoer, Sen's cinema was almost anathema because of its sluggish pace, minimal dialogue, taut focus on subtle, visual story-telling and abstract, bleak or at times ambiguous subjects. It had the unmistakable intellectual imprint of the Bengal school of film-making, of which he, along with Satyajit Ray and Ritwik Ghatak, formed the 'holy trinity' for a long time. Khan's canvas, on the other hand, whether as an actor or a dialogue writer, was out-and-out formulaic Bollywood masala flicks. His real achievement lay in infusing variety and versatility and in his ability to endlessly improvise within the constraints of commercial entertainment and yet provide novelty in the clichés.
Sen made his directorial debut in 1955 with Bengali film Raat Bhore (The Dawn) and went on to make seven more movies before gaining major national recognition with his first Hindi film, Bhuvan Shome (1969), starring Utpal Dutt and Suhasini Mulay. This tale of a strict government official, trapped in his own image, who goes on a bird-hunting expedition is amusing and poignant, as he morphs into a gentler, relaxed, compassionate version of himself — courtesy a petite village girl he encounters. Sen followed it up with his politically loaded Calcutta trilogy. Then came his next Hindi film, Mrigayaa (1976), which captures the friendship between a British administrator and a tribal youth, both fond of hunting. While the film won accolades, Sen indirectly made a lasting contribution to commercial cinema by introducing Mithun Chakraborty to Indian film audiences in the role of the tribal protagonist. His international reputation continued to soar through the late 1970s and early 1980s.
Khandhar (1984), which featured Shabana Azmi, Naseeruddin Shah and Pankaj Kapur, was a narrative of a sad subterfuge meant to comfort an old woman but which only heightens the sadness of the unchanged reality of her daughter's lonely existence. The crowning glory of Sen's life was the Dadasaheb Phalke Award, conferred on him in 2005. Indeed, he has left behind a remarkable body of work: 24 feature films in Bengali, Odia and Hindi, 14 shorts and five documentaries.
Khan's portfolio is equally staggering in its own way, having acted in over 300 films and written dialogues for about 250 movies. Although he had done some films earlier, his ascent started with a small character role in Yash Chopra's Daag (1973) and as a dialogue writer with Manmohan Desai's Roti (1974), both starring reigning superstar Rajesh Khanna. His ability to churn out punchy, street-smart dialogue that had the audience whistling in the aisles soon made him indispensable to all leading banners through the seventies, including several Amitabh Bachchan films. His rich baritone and pock-marked looks catapulted him to meaty roles as a menacing villain. In the eighties, he became a permanent fixture both as an actor and script-cum-dialogue writer of South Indian remakes, starting with Jeetendra's Himmatwala (1983). Khan also reinvented himself as a chameleon-like character actor and even his villainy had shades of sly wittiness. The 1990s saw him ease wonderfully into the David Dhawan-Govinda template of earthy, screwball comedy which gave full play to Khan's flair for breezy, repartee-oriented dialogue writing as well as penchant for hilarious performances.
There is no denying that he hammed his way through more than half the films he acted in, while many of the movies he wrote dialogues for were eminently forgettable, but it is also true that Khan has left behind enough memorable work — as an actor in films such as Do aur Do Paanch, Inquilaab, Ghar ho to Aisa and Bol Radha Bol and as a dialogue writer of movies like Amar Akbar Anthony, Muqaddar ka Sikandar and Agneepath. He won three Filmfare Awards: two for Best Dialogue — Meri Awaaz Suno (1982) and Angaar (1993) — and one for Best Comedian in Baap Numbri Beta Dus Numbri (1991).
So even though Sen and Khan were as different as chalk and cheese, we must mourn them both for their handsome contribution to the magic of Indian movies.
Top News
Martyr PM's son who walked for national unity can never insu...
Says Rahul Gandhi's disqualification culmination of lawful p...
Indian Ambassador to the US Taranjit Singh Sandhu was not in...
Seeks explanation for 'security breach'
Search operation for 'Waris Punjab De' chief enters 9th day