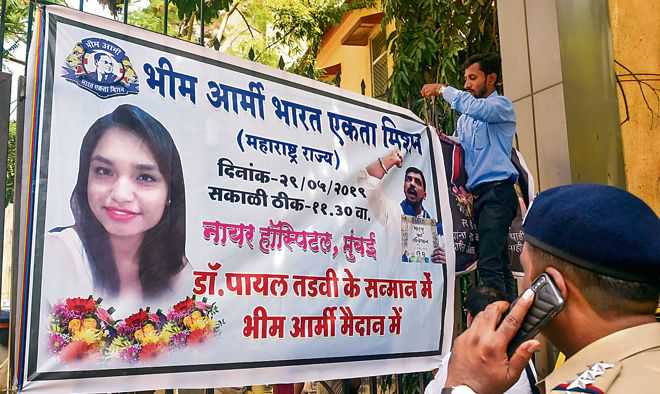 Salil Desai
Novelist and Filmmaker
May 22, Mumbai: Dr Payal Tadvi, a post-graduate medical student of TN Topiwala National Medical College, attached to BYL Nair Hospital, commits suicide in her hostel room.
May 23, New Delhi: PM Narendra Modi wins a massive electoral mandate for a historic second term.
May 24, Surat: 22 teenagers attending a coaching class on the illegal fourth floor of a building perish in a fire.
Now that the elections have been won decisively by Narendra Modi and euphoria reigns, the Opposition has been ground to dust, liberals scoffed and mocked at mercilessly, tall claims made about India having changed into New India under BJP rule, perhaps it's time for a rude reality check.
Dr Payal Tadvi belonged to the Muslim Tadvi Bhil community, a Scheduled Tribe, which can be described as a micro-minority. The reason she took her life seems to be unbearable mental harassment and humiliation meted out for several months by three upper-caste seniors, Dr Hema Ahuja, Dr Ankita Khandelwal and Dr Bhakti Mehare, who have now been arrested after protests erupted in Mumbai. The facts that have emerged so far in the police investigations and the report by the anti-ragging committee set up by the college reveal that the three seniors in the gynaecology department were openly hostile to Payal, probably because she had bagged a quota seat. Often, they loudly shouted at her in front of patients and medical staff, screamed abuses and casteist slurs, prevented her from the operation theatre or from performing deliveries and learning.
Earlier, when she had been forced to share a room with two of these seniors for a fortnight, they apparently ragged her with taunts and actions like wiping their feet on her mattress every time after visiting the bathroom, messed with her belongings and so on.
After the ill-treatment had gone on for several months, during which time Payal confided in her mother, husband and some friends, her husband, Dr Salman Tadvi, who worked in Cooper Hospital, met the gynaecology unit head at Nair Hospital and made a verbal complaint on May 13. However, instead of being chastened, the behaviour of the three seniors took a turn for the worse. They threatened Payal that they would ensure that she does not complete her course, criticised and belittled her constantly, made derogatory comments about her reserved category status — most of which has been confirmed by witnesses in the report submitted by the college committee. On the day she committed suicide, she apparently left for her room in tears after another such episode.
The 22 teenagers — 18 girls and four boys — who lost their young lives in Surat, were enrolled in Smart Design Studio, a coaching academy preparing them for the National Aptitude Test for Architecture, while awaiting their class XII results. The academy operated from the illegally constructed fourth floor of Takshashila Arcade, without even basic safeguards in place that could have enabled the unfortunate students to escape their ghastly fates. When the fire broke out between the first and second floors, because of a short circuit and quickly spread to the fourth floor through a flex display panel, the students were caught in a death trap because the RCC staircase connecting their floor to lower floors was blocked and the other iron stairway with a wooden frame collapsed. To make matters worse, the coaching class had placed rubber tyres in place of chairs for the students to sit on and was housed in a low-ceilinged dome-shaped fibre structure. Engulfed by flames and smoke, many of the panic-stricken victims, jumped to their deaths in a desperate bid to escape, while others died of asphyxiation and fire-related injuries.
The fire engines apparently were a little delayed in arriving and were not fully equipped to handle the conflagration and rescue, according to some media reports.
Even a cursory look at both these tragedies, should make us realise that the rhetoric of New India is a sham. Both incidents make it excruciatingly clear that our republic is beset with injustice, impunity, insensitivity and inequality.
Dr Payal Tadvi faced the double inequality of hailing from a backward community — Bhil — and a minority — Muslim. While getting a seat through the reserved quota helped her overcome the inequality, the strong social prejudices of her tormentors, coupled with the immunity they felt they enjoyed because of weak implementation of laws, ensured that neither the anti-ragging nor anti-SC/ST atrocities legislation could protect Payal from grave injustice. That a complainant is victimised, despite having the law on her side, while her tormentors could get away un-admonished by the authorities, forcing her to commit suicide is a reflection of how far we are from being a caring, civilised law-abiding society. That people are quibbling about whether Payal was subject to ragging or casteist humiliation itself shows the perverse insensitivity of our times, especially because both acts are shameful, punishable offences.
The horrific Surat accident is also another manifestation of the entrenched eco-system of impunity and illegality. The builder, the coaching class owner, civic authorities were all complicit or lackadaisical or both in permitting the illegal construction, because in India everything 'chalta hai'. Not even the parents of those unfortunate students must have batted an eyelid when informed that their children were sitting on tyres in a makeshift structure because it is almost abnormal to insist on implementation of laws, rules and regulations. Everyone is used to illegalities all around — most of which we endure nonchalantly and in turn impose with equal brazenness on others when we need to.
What of this heralds the New India that Modi talks of? Will it ever come, or are we forever condemned to only singing 'Woh subaah kabhi to aayegi….' when we must instead be demanding 'Jinhe naaz hai Hind par wo kahaan hai…?'
Top News
The Khalistan sympathiser had failed to take control of the ...
Hosts India matched their best-ever performance with 4 gold ...
Martyr PM's son who walked for national unity can never insu...
Warning systems alerted the pilots whose timely action preve...
Nat Sciver-Brunt smashed an unbeaten 55-ball 60, while skipp...