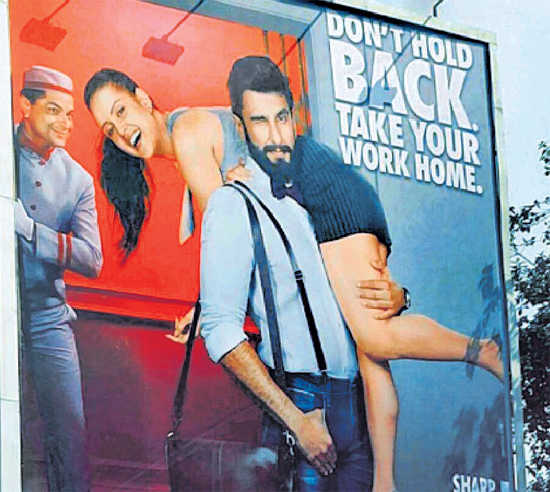 RECENTLY, Bollywood star Ranveer Singh has had to apologise for featuring in the advertisement of an apparel brand, which allegedly sports a "sexist" message. The advertisement depicts a mischievously winking Ranveer Singh exiting an office, with a girl draped over his shoulder and a tag-line that quips "Don't hold back. Carry your work home." A bell-boy of some sort looks on adoringly. This seems to have incited fury on social media, because apparently the advertisement is being interpreted as some kind of exhortation to males to indulge in sexually predatory behaviour at the workplace. Such has been the backlash that the brand in question, had to withdraw the billboards and hoardings. The actor asserted he had the utmost respect for women, while the clothing brand regretted that the creative message had inadvertently caused offence. There is no doubt that the double-entendre in the advertisement is rather low-brow and politically incorrect, but does it really qualify to be called "sexist" or something that seriously denigrates women's rights at the workplace, as Tamil actor Siddharth tweeted, thereby kicking up the storm?
Let's take a closer look. The girl in the advertisement, nestling on Ranveer Singh's shoulders is smiling coyly, as if she does not mind in the least, being carried away thus. It seems reasonably clear that whatever is happening is with her full consent. She isn't being abducted or whisked away against her will. Why then should anyone be offended by the tag-line? Unless, we are arrogating to ourselves some prudish, Victorian code which frowns on amorous liaisons between two individuals, even if it is by mutual consent!
In fact, to turn the argument around, isn't it terribly sexist and patriarchal in the first place to somehow suggest that the woman is being taken advantage of, just because she is allowing the man to carry her away with him? Because that really is the essence of the argument of those who find the advertisement offensive — that the woman is not smart enough to discern between sexually predatory behaviour at the workplace and the possibility of a real office romance or even a mere, lustful romp with a colleague. Isn't feminism about choice? So why assume that the woman is not exercising her choice?
This brings us to the next point — how in the world do we jump to the conclusion that the tag-line promotes harassment of women at the workplace? Agreed the words "carry your work home" betray an attempt at naughty innuendo, indicating a stereotypical "boss and hot secretary" fling, given the visuals alongside. But isn't it stretching it a bit too far to say it implies or justifies or actively encourages inappropriate behaviour by males at the workplace? For heaven's sake, it's an advertisement — one of the many silly, pedestrian campaigns to grab eyeballs and market a clothing brand — the message of which no one takes seriously or literally. To claim that the advertisement promotes a misogynistic outlook or an immoral, "James Bond-ish" attitude towards women, which might influence all the impressionable young male minds out there is not just ridiculous but also stinks of a Pahlaj Nihlani kind of sanskari mindset, masquerading under the guise of progressive, political correctness.
Bad taste and poor creativity don't necessarily add up to offensive or wrong messaging. An advertisement is a distinct form of mass media messaging, with the commercial objective of brand building or sales promotion. It is not public interest communication. And so, as long as it does not violate advertising codes and standards put in place by a body like the Advertising Standards Council of India (ASCI), why should it be expected to conform to the rigorous straitjacket of political and moral correctness as regards every strand of societal sensitivities? Surely, it is frivolous and asinine to ascribe disproportionate influence of the contents of any such superficial advertisement campaign on deeper attitudes and outlook prevalent within a society.
To believe that any consumer who looks at the billboard, would have immediately purchased the brand concerned under the delusion that it would enable him to take liberties with some female colleague is amazingly alarmist reasoning. Are men and women so daft and so shallow so as to buy not just the brand, but the so-called "sexist" attitude in the tag-line?
How much more thin-skinned can we get, so as not to be able to distinguish between a bad attempt at macho humour and genuinely offensive misogyny? Between a copywriter's misguided cheekiness and undisputedly regressive thought-process!
Which brings us to the last point. Advertising is often justifiably accused of objectifying women. Indeed there are such ads galore broadcast even now. Similarly there are numerous advertisements which are downright crude — like those that show women being irresistibly attracted to men sporting a particular perfume or even undergarment. There are also a lot of advertisements that still show women in traditional roles and reinforce gender stereotypes. Why is it that these never seem to attract large-scale disapproval? The answer perhaps lies in the lack of glamour quotient.
The sad fact is that had it been some unknown model in place of Ranveer Singh, perhaps the billboard would not have merited a second glance and caused any negative publicity, because we would simply have shrugged it off and dismissed the advertisement and its tagline for what it was — a silly play of words and visuals to catch our eye and turn our heads momentarily amidst the glut of media messaging all around.
The writer is a Pune-based film-maker
Top News
Many local villagers were engaged in illegal mining when the...
The indictment enmeshes the Justice Department in the most p...
There have been signs of differences between the party and i...
Her claims come in the backdrop of a war of words between Ma...
A vacation bench of justices Aniruddha Bose and Rajesh Binda...