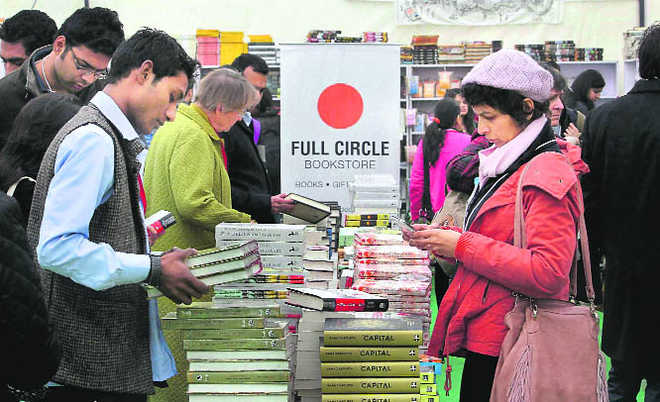 CHETAN Bhagat's latest book 'One Indian Girl' has apparently broken all pre-order records online and become an instant bestseller. As an Indian writer nowhere in that league, I am obviously green-eyed and consumed with envy. What enables Bhagat to sell lakhs of copies, mine don't even sell a few thousand? But we'll come to that later.
First a basic question. We had heard about the phenomenal sales of Bhagat's previous book too – Half Girlfriend. What intrigues me is where exactly are all those copies sold? Who has bought them? I rarely see anyone reading it during rail or air journeys. Ditto other books that feature on best-seller lists from time to time, not just
Bhagat's titles. All I see is a depressing number of people engrossed with their cell-phones. So are all those copies read exclusively at home? Or are they purchased for displaying on shelves? If the sales figures claimed are for real, then shouldn't there be proportionate visibility?
Two developments revolutionised English language publishing in India 10 – 15 years ago. One is Chetan Bhagat and the other is the Rs 100 paperback price point introduced by an aggressive, new publisher. Nothing was ever the same again. What began as a wave of 'my silly shenanigans in college and how I lost my virginity' books written by IIT / IIM types and other Bhagat clones, soon graduated to an explosion in publishing of all kinds of genres with big publishing houses frenziedly entering the fray too. Hundreds of hitherto unknown Indian authors, whose manuscripts would have languished in slush-piles in an earlier era, suddenly started getting published. A lot of new talent was unearthed and literary fiction gave way to an unprecedented era of popular fiction.
However, if truth be told, half of them should never have been published. Bad writing, terrible story-telling, pathetic language and clichéd and hackneyed themes have resulted in some of the worst trends and tastes. The resultant clutter has made it extremely difficult to discern between good and poor writing. Indeed, it has also completely changed the game for writers. Today, rather than being a good writer, one needs to be, first and foremost, a good salesman! First you need to 'sell' your manuscript to a publisher and then when it is published the book has to be `sold' to the readers.
It is not the quality of one's writing but the ability to create hype, social media outreach, media and celebrity access that determines the book's sales. Consider what is expected to stand a hope in hell: Writers first need access to commissioning editors. Today, much of this has been outsourced to certain literary agents in Delhi. Their ability to spot writing talent is debatable, but the chances of getting published increase manifold, if you sign up with them. Incidentally, some agents also charge reading fees ostensibly to first assess your manuscript and then knock it into shape, to package it for saleability. If you spurn this route, be prepared to get ignored unless you have recommendations or endorsements by some celebrity or person of influence. Very rarely, you might still get through without an agent or recommendation and only if some commissioning editor has the motivation and patience to actually read enough of what you have written.
Endless rejections are an inescapable part of writers' lives for generations. But today's most dispiriting requirement while submitting the manuscript to a big publishers is that you are expected to also propose the appropriate readership segment and how is the book to be marketed. It is your baptism to salesmanship.
Cut to the publication of the book. Firstly, an author is expected to scramble around to get a celebrity for the launch. Next, the author is supposed to promote it on the Facebooks, Twitters and Whatsapps. A new trend is to create a video trailer post it online. It is a given to pester friends and relatives to buy and post pictures of themselves with books. Bloggers must be pleaded to read 'free' copies and post reviews. This 'hard sell' is in itself is rather awkward for any self-respecting author. The more persevering conduct book readings or beg the mushrooming lit-fest organisers to slot a session for them. Authors are usually unsupported by publishers and are forced to spend out of their pockets. Publishers seem to think their job is to simply put a book into the market and leave its fate to the author. Authors usually get just 10 per cent of the sale price, which means if 5,000 copies of book priced at Rs 200 will net a meagre Rs 1 lakh as royalty over two to three years. Whatever the claims, not many books sell more than 5,000 copies, even after all the salesmanship.
So but for a few exceptions, most books that sell in quantities are either of authors whose brands have been built, and the rest by ones who are savvy persons rather than engaging writers. And that is precisely why popular Indian fiction in English is teeming with mediocrity. Because the focus is only on marketing rather than nurturing good writing! The fault lies with us all – authors, publishers, media and readers too!
(The writer, a FTII Pune graduate, is a novelist and documentary and short film maker)
Top News
China is yet to name its Ambassador to India after Sun Weido...
In his police complaint, Sikh priest says 'Waris Punjab De' ...
Scotland Yard blockades area outside India House, several ad...
Minister for Water Resources Gurmeet Singh Meet Hayer moves ...