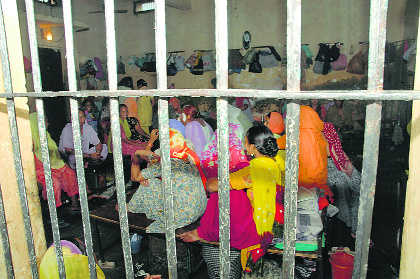 Upneet Lalli
Dy Director, Institute of Correctional Administration, Chandigarh
PRISONS are designed to be secure places to protect society. Does society feel more secure in locking up women offenders? Does it serve any purpose apart from incapacitation? How safe do locked-up women feel? A gender-responsive criminal justice system requires focus on various facets of a woman's life both before and after incarceration. Right from the process of arrest to the trial and imprisonment, women are generally handled with insensitivity.
Globally, women constitute around 7 per cent of the prison population. There are about 7.14 lakh women and girls in penal institutions around the world. India has around 18,000 women prisoners, constituting 4.3 per cent of the jail population. As per the NCRB (National Crime Records Bureau) data, 3,398 women, accounting for 59.2 per cent of the female convicts in the country, were undergoing life sentence at the end of 2015. Their small numbers, along with gender bias, account for neglect of their gender-specific needs and issues. Prisons are primarily designed and organised with men in mind. Women suffer the pains of imprisonment much more harshly than men.
Every time I have stepped into a prison, I have encountered women who have faced discrimination. Illiterate, poor, and marginalised, many women have known their sentence only when they have entered the prison after the trial. Women prisoners are the most invisible, neglected and misunderstood group. Inmates of all age groups, ranging from 18-75 years, are lodged for theft, murder, cheating, drugs, dowry-related cases etc. They are also objects of curiosity and stigmatisation.
Women who have broken the law have also broken the gender norms and are judged more harshly than men. Many of them are primary care-givers of their children. Once arrested, they hardly get a chance to make care-giving arrangements. Children below six years can accompany their mothers inside jail. In the case of high-profile women offenders, the media hounds them right up to the prison gates. Female prisoners when ferried in the same van as male inmates face harassment and threats. The consequences of imprisonment include psychological, social and economic losses. Family ties get broken for many women and they may not get the opportunity of a mulaqaat (meeting). I had interviewed an 18-year-old whose story was similar to that of Bunty aur Babli, with a twist: her parents refused to take her phone calls.
The mobility, behaviour and activities of those imprisoned are controlled by the carceral architecture. The main focus is on preventing escapes and maintaining 'control'. Women rarely escape and pose fewer security threats, but are held in places with maximum control and minimal freedom. Even new prisons which have been made to house women are a replica of those housing men, but with fewer green and open spaces for outdoor activity. While there are 63 open prisons, only two states — Kerala and Maharashtra — have provided for open prisons for women. Is it a coincidence that these states had a woman officer heading the department concerned? Himachal Pradesh and Delhi have provided for a semi-open prison system. In the open prisons, they get a chance to move out of a closed place and work at a designated spot.
Their day usually begins around 6 am when the bell rings. They are locked out, counted and then served tea. For maintaining personal hygiene, women inmates have expressed the need to change the prison manual norms and provide toiletries to them. Undertrials are not provided clothes, and some depend on the charity of others. Till a few years ago, no sanitary towels were provided to inmates as it was not mentioned in the manual. I had challenged this aspect in a PIL, but something that could have been dealt with immediately was referred to a reforms committee! Around 10 am, lunch is served to them. They are locked up for three hours in the afternoon after being counted. A constructive prison regime will have activities spread out to help them lead a law-abiding life after release. It is here that collaboration with the community is essential for imparting skills and providing counselling to them.
Women have limited or no access to facilities available for men. In one state, I had to point it out to the DG (Prisons) to have clocks in their barracks, and the women were thrilled to have such a minor change. While there are educational centres, library, canteen, factory and vocational training areas for men, women rarely get access to these places.
There is a need to look at prison reforms from a gender perspective, right from the time of arrest to release. Gender-specific problems require gender-based solutions. It was realised in 2010 that the penal system had to be gender-responsive to meet the special needs of women in custody. The United Nations' Rules for the Treatment of Female Prisoners and Non-Custodial Measures for Women Offenders, known as the Bangkok Rules, were adopted by the UN General Assembly.
The women prisoner's pathways to crime are somewhat different from men, yet they are not fully understood while being dealt with in the criminal justice system. A woman, nearly 70 years old, has been in jail for the past 18 months on kidnapping and rape charges. Looking at her paralysed body, I was puzzled as to how she was still inside the prison. While five others, including two male co-accused, have been released on bail, she continues to be behind bars. Having lost her husband during her incarceration, she has no one to reach out to. What purpose is being served by keeping her inside?
Imprisonment is a damaging experience and there is a need to acknowledge that women, through their circumstances and vulnerabilities, can become trapped in the criminal justice system. Our system needs to consider non-custodial measures, restorative justice programmes, community service sentences, and mentorship schemes. There should be thresholds to imprisonment, and the prison should be the last resort, not the default option that it is currently.