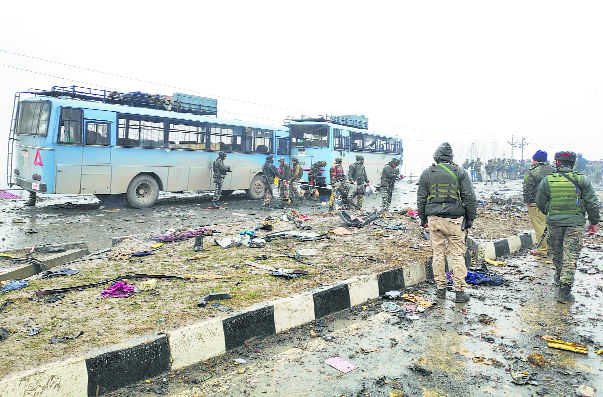 Ajai Sahni
Executive Director, Institute for Conflict Management
EVERY major terrorist attack in India, it seems, unleashes a flood of silliness. The utter foolishness of stock political responses — 'dastardly act', 'cowardly attack', 'munh-tod jawab', boastful threats of vengeance — has, in recent years, been compounded by TV anchors who play at being Generals, 'gaming' retaliatory strikes and threatening Pakistan with unlikely devastation. Within this theatre of the absurd is the constant harping on novelty — the idea that a new tactic or terror modus operandi has suddenly manifested itself in the latest outrage.
The vehicle-borne improvised explosive device (VBIED) suicide attack at Pulwama inflicted the highest fatalities on the security forces in a single incident in Jammu and Kashmir since the beginning of insurgency. There has been much commentary on this 'new type of attack', but this is nonsense. VBIEDs have been widely used in theatres of terrorism across the world for decades, and J&K has recorded at least seven such attacks in the past, the first of them dating back to April 19, 2000. However, the last such attack, preceding Pulwama, was in November 2005; the state had been free of such attacks for over 13 years. There was, however, no reason to believe that this tactic would or could not resurface.
Another species of self-serving nonsense is the assertion that the Pulwama VBIED attack is "an act of desperation". This is far from the truth. While strategic inferences cannot be drawn from a single incident, there is a range of surrounding circumstances that suggest that Pulwama reflects an intentional shift in Pakistan's strategy of terrorism in J&K. The Inter-Services Intelligence (ISI)-backed Jaish-e-Mohammad, which operates openly from Pakistani soil, was quick to take responsibility for the attack, indicating that it has the approval and sanction of the ISI to escalate violence in J&K, specifically targeting the security forces. This demonstrates a growing confidence in the military-intelligence complex at Rawalpindi, a likely result of anticipated outcomes in Afghanistan. It is perceived that the Pakistan army's terrorist instrumentalities were able to conclusively defeat one superpower (erstwhile Soviet Union) in Afghanistan, and are now on the threshold of inflicting defeat on the other one, the US (and its coalition allies), in that theatre. As America's negotiated flight from Afghanistan approaches realisation, Pakistan's confidence is likely to grow, as will its sense of complete impunity. If the US and a coalition of Western powers cannot act in concert against Pakistan-backed terrorism that directly affects them, these powers are hardly likely to take any extraordinary initiative or risk to protect India from rising terrorism in J&K.
It needs to be understood that Pakistan's decision to de-escalate terrorism in J&K was a consequence of a combination of factors, most of which are now diluted or no longer in existence. The first was overwhelming US pressure for deployment along the Afghan border, purportedly to prevent terrorism. While the latter objective was never served, a significant redeployment of forces from Pakistan's eastern borders with India did occur, necessitating a downward calibration of the terrorist campaigns as well. Pressure on Pakistan's army and security forces was also greatly augmented by a surge in domestic terrorism, which has now been substantially contained. International pressure on Pakistan and an interest in keeping the US aid pipeline flowing also placed limits on any excessive adventurism in Kashmir; but with the US choking aid, a growing dependency on China, and the fragmentation of global will, these pressures have also diminished. Crucially, Afghanistan was the theatre which was given the greatest priority by the Pakistani strategic establishment, and its campaigns through Taliban proxies were thought to be existentially critical for Rawalpindi; these campaigns are now on the cusp of success.
At no stage has Pakistan's strategic intent with regard to its objectives in Kashmir been altered; its objectives have merely been deferred. As Rawalpindi sees some relief along its Afghan front, and an environment of growing impunity, particularly with the encouragement and support of its 'all-weather friend', China, it will be tempted to redeploy resources, efforts and, crucially, tactics, from the Afghan adventure, back into J&K.
New Delhi's belligerent rhetoric, in this context, is no more than boastful flatulence. While some tactical retaliation by the armed forces is likely — and necessary — it will have nothing more than transient impact essentially oriented to optics that will serve the BJP's increasingly uncertain electoral prospects in the General Election. It will leave Pakistan's strategic posture and objectives unchanged.
It must be abundantly clear that no effective strategic options are immediately available to India. Strategy is a function of capacity, and there has been a sustained erosion of the capacities of the armed forces and the internal security apparatus over the past decades — and the past five years have done nothing to stem the rot. Annual budgets in the defence and internal security sectors have, in real terms, shrunk from year to year, particularly in the 'capital expenditure' category which funds capacity-building. In March 2018, a report of the Parliamentary Standing Committee on Defence had observed that 68 per cent of all equipment with the armed forces was in the 'vintage category', and that the forces did not have the ammunition reserves to sustain 10 days of war with Pakistan.
Political leaders, the media and most experts talk of responses and strategies only in the wake of major terrorist outrages, and once the media circus has faded away, things return to what appears to be the national default setting of inertia. While it is right to blame Pakistan and its proxies for the evil they do, it must, equally, be recognised that these attacks and the persistence of terrorism in J&K is substantially the result of our own strategic and policy failures, and is, to that extent, self-inflicted.
Unless strategic issues are approached within a sustained and long-term strategic framework, unless doctrinal issues on the country's major security challenges and security issues are settled, and unless there is a commitment of adequate resources across the entire spectrum of what is required to meet these challenges, we will continue to return cyclically to the directionless hysteria and posturing that we are currently engaged in after each self-inflicted disaster.
Top News
'I am Rahul Gandhi, not Rahul Savarkar,' he said when asked ...
The plea is filed by a Kerala-based social activist
Gandhi, representing Wayanad parliamentary constituency in K...
After a wait of over two years, India will have a full-fledg...
The marriage is solemnised according to Sikh rituals at Bibh...