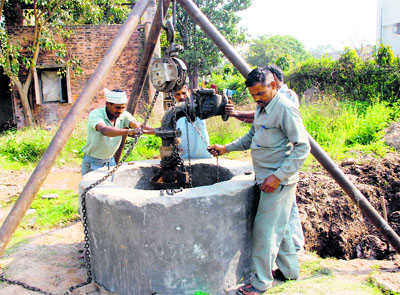 The National Aeronautics and Space Administration (NASA) sent a warning signal that agriculture output can collapse in states like Punjab and Haryana and there can be severe shortage of drinking water in big cities such as New Delhi if efforts were not made to ensure sustainable groundwater usage. We need to look afresh at issues related to usage of water for agriculture, industrial and domestic purposes.
The water table is rapidly falling in the plains of North of India but officialdom has not shown seriousness in the matter. Efforts to ensure efficient management of water are inadequate. Obviously, there is an urgency to take effective measures to regulate usage of water and introduce water-saving measures such as drip irrigation, sprinkling system and underground piping system for irrigation on a large scale. The canal system requires to be revamped.
First, let us look at an interesting similitude. Located several thousand miles apart, world's two leading foodgrains producing states, California and Punjab, are plagued by an identical problem related to water required to irrigate crop land. It has been widely reported that an state of Emergency has again been declared in California because of the severe drought fourth year in a row. Farmers are facing problems there to water parched croplands due to the drought. They have been recklessly pumping out water from bore wells to meet their requirement to irrigate farmland. Like Punjab, which has been contributing 25 per cent to 50 per cent rice and 38 per cent to 75 per cent wheat per annum over the years to the Central food pool, California is a state that alone meets 25 per cent food requirement of the US. Apart from it, 50 per cent of the total demand for vegetables and fruits in the US is met by California. In Punjab, the sub-soil water table has been dipping at a fast pace. The state faced a severe drought last year because of the rainfall was below average by 50 per cent. It is another matter that there was no major effect on crop yield because farmers operated their near 14 lakh bore wells (diesel sets and electricity driven ones) overtime to save their crops. The same happened in 2012 and 2009, when the rain was deficit by 47 per cent and 36 per cent, respectively, than normal average. Earlier, in 2007 and 2004, the state faced an equally bad situation in this regard. Except in 2008, the rainfall is never above average in the state since 2004. There is no regulation or check on the farm and industrial sector on pumping out water. About 3 crore gallons of water is pumped out by industry in Ludhiana alone. For drinking purpose, hundreds of tube wells work in cities, towns and villages work over time.
In the absence of adequate rain, farmers in Punjab recklessly pump out water through bore wells, numbering around 14 lakh. Applications for power connection to about 3 lakh tube wells await the nod of the Punjab State Power Corporation Limited (PSPCL). The number of electricity and diesel-operated tube wells was just 1.92 lakh in 1970-71. It went up to 6 lakh in 1980-81 and to 8 lakh in 1990- 91 and 9.25 lakh 1995-96. The number of diesel-operated remained almost same (in the range of 2 lakh) since 1990-91, the number electricity-driven tube wells shot up to 12.50 lakh in 2001-02 because the state government announced free power for farm sector tube wells in 1997. While doing so, the state government did not impose any restriction on the draft of water from the sub-soil. As free power to the farm sector is not metered, there is misuse of this facility. NASA, in its report, stated that "beneath the earth surface level, water has been disappearing in the Northern part of India, especially states like Punjab and Haryana and if the phenomenon persisted it could lead to the collapse of agriculture in that region." The Central Ground Water Board, Punjab Irrigation Department and Agriculture Department have been highlighting the rapidly declining water table for the past many years.
According to a report by the Water Resources and Environment Directorate, the water level dipped in 80 per cent of the total area in the state and came up only in about 20 per cent area. The minimal district-wise average fall of 0.38 mts was noticed in Fazilka from October 2013 to October 2014. The maximum fall 2.15 mts in the water table was recorded in the Sangrur district during this period. The average fall in the state worked out to be 1.20 mts. Rainfall was deficient by 50 per cent last year and consequently, the adverse impact on the water table was severe. The directorate observes and analyses data gathered from 1,000 observations wells across the state. The subsoil water level has gone down to more than 58 mts in Hoshiarpur and Sardulgarh areas of the state over the years due to unregulated rafting.
The question is: Does Punjab need such a vast number of tube wells when 27 per cent of the total 42 lakh hectares under agriculture is served by a network of canals? The area of 42 lakh hectares also includes the water-logged area of Muktsar region and the Kandi belt. According to a rough estimate, the state has a tube well for every two hectares, if one is to exclude area under water-logging and canal irrigation. Is there need to draw a line disallowing the installation of more tube wells and to fix the quantum of water to be drawn? This question should be addressed by politicians and policy makers. Free power to the farm sector has a strong relationship with a votebank. Should all farmers get free power or it should only be meant for small and marginal farmers owning less than 5 acres of land?
Punjab failed to set up the Water Regulatory Authority, a pragmatic step suggested by the previous UPA government. The state also did not promote less water-consuming crops such as maize and sunflower, instead of water-guzzling paddy. The Centre had made a viable offer for the procurement of sun flower but Punjab rejected it, while Haryana accepted it and also procured sun flower this year. In Haryana, the average fall in the water table in the past 16 years is about 8 mts.
The Punjab government has given free power worth Rs 45,000 crore since 1997 mainly to grow water-guzzling paddy (rice) crop. Had the state government promote less water-guzzling crops such as maize and sun flower and supported their marketing with this money, the scenario might not have been so bleak.
sarbjit.dhaliwal @gmail.com
Top Stories