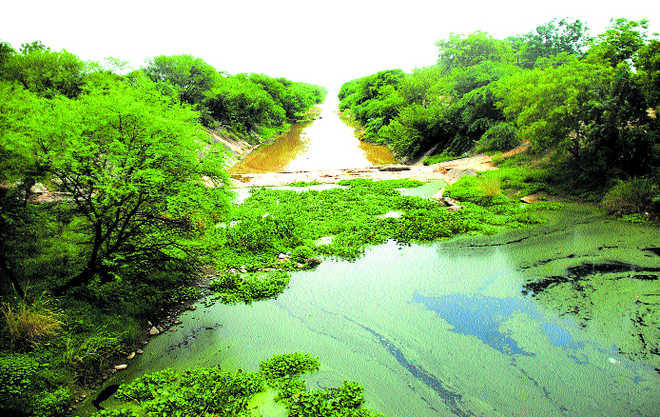 THE SYL canal controversy has reignited with the presidential reference on the constitutionality of the Punjab Termination of Agreements Act of 2004, passed by the Punjab Assembly when Capt Amarinder Singh was Chief Minister, being argued before the Supreme Court. The pro-Haryana tilt of the Solicitor-General of India, despite the BJP and the Akali Dal being allies in Punjab, raised many questions.
Matters have come full circle since the Indira Gandhi-led Congress initiated the canal idea in 1976 during the Emergency, and when Bansi Lal, a former Chief Minister of Haryana, was close to her heir-presumptive Sanjay Gandhi. Re-elected, the Congress revived the proposal and the canal's foundation was laid in 1982 following an agreement between the leaders of Punjab, Haryana and Rajasthan. However, the Rajiv-Longowal accord of 1985, inter alia, set up the Eradi Tribunal to re-examine the issue. Rajiv was conceding that this had been one of various hurts nursed by Punjab since the 1950s when Rajasthan, a non-riparian state, was made a co-sharer of the Punjab river waters.
With Punjab elections approaching, the debate feeds into local politics. Capt Amarinder is the knight-errant, who fathered the legislation, stymieing the SYL canal's construction. Haryana's Punjabi Chief Minister ML Khattar can play farmers' champion to distract them from the Jat quota agitation. More importantly, it puts Arvind Kejriwal, harnessing AAP's support in Punjab, in a corner as he both hails from Haryana and needs Haryana's water for Delhi. In this din the national and international context of water conservation and good management of river watersheds is lost.
Similar river water disputes had persisted between Karnataka and Tamil Nadu over the Kaveri waters since 1892; between Andhra and Telengana now and with other neighbouring states over the Krishna and Godavari waters since the reorganisation of states post 1956 and so on. The difference between them and Punjab's case is that Rajasthan was never a riparian state in respect of the Ravi, Beas or Sutlej, and Haryana's case needs closer examination as abutting the Yamuna it belongs to that watershed, whereas the Indus river system runs south-west, via Pakistan to the Arabian Sea.
On the other hand, the Indus Water Treaty of 1960 with Pakistan, which left the waters of the three eastern rivers — Sutlej, Beas and Ravi — for India to use, was negotiated taking into account the needs of the entire erstwhile Punjab, giving Haryana a claim. However, the question arises whether when allotting Punjab waters to it, its existing share in Yamuna waters was taken into account? The lesson from Kaveri dispute is that no lasting solution to river water sharing is possible using passing political exigencies or coercion, legal or administrative.
The global context cannot be ignored either. As the world's population climbs to 9 billion before stabilising around 2050, and climate change plays havoc with weather patterns, pressure on global water resources will mount, leading to inter-state tensions, or even wars. It is estimated that by 2025, 40 countries in the Middle East and Africa will have water scarcity. Globally, agriculture accounts for 70 per cent of the water used annually. Singapore had to import water in 2015. Demand for water is expected to exceed supply by 40 per cent by 2030. Today, one quarter of the world's big cities is water stressed.
Regionally, the Chinese control of the Tibetan plateau since 1950 is the greatest challenge for South and East Asia as all major river systems originate there — Indus, Ganges, Brahmaputra, Irrawaddy, Mekong, Salween, etc. Tibet is called the third pole of the world as its glaciers hold water next only to the Arctic and Antarctic. With global warming they are melting at 7 per cent annually and thus would be two-thirds gone by 2050. While in the short run the flow in rivers may increase, the long term drop in the flow may be inevitable and catastrophic. The building of dams by the Chinese and unwise plans to take the water north from Tibet to augment the Yellow river are typically self-centred Chinese solutions to their own dilemmas.
The public opinion in Pakistan too is lapping up rhetoric that India steals their river waters when, in fact, India abides by the Indus Water Treaty, irrespective of war or terrorism. The problem is that population growth, excessive dependence on paddy as extra crop, soil degradation, leaching of water aquifers with fertiliser run-off, etc. are problems besetting the entire South Asia. It is calculated that at normal rainfall of 600 mm per year in Punjab, to counter water table depletion since the 1980s, land under paddy crop will have to be reduced by 25 per cent in the Majha and Doaba regions and 35 per cent in Malwa. The same would perhaps apply to Haryana.
These are thus not issues resolvable by courts or tribunals. They need a national strategy on food security, soil preservation, sustainable water use, crop rotation, etc. Farmers need to be weaned away from this destructive cycle of the Green Revolution gone haywire. Politicians, both in Delhi and Chandigarh, need to abandon Centre-state and interstate confrontation. Punjab too should abjure arguing it would not give a drop of water to another Indian. Instead, it should seek Central financial support for the entire region, including Haryana and Rajasthan, transitioning to a model based on low-water consumption and sustainable new organic agriculture, targeting products at a richer India requiring fruits, vegetables and pulses. The new model should not pollute or deplete aquifers beyond recouping, assuming that weather pattern changes may shrink the rivers. Then the two combined may be unable to meet the food and fresh water needs, particularly of the burgeoning urban population. Desalination units can exploit Punjab-Haryana-Rajasthan brackish water aquifers. It is not unimaginable that one day desalination plants on India's coasts may pump water to a parched North.
Adapting Karl Marx on history, if arm-twisting Punjab to share water with non-riparian states was a tragedy in 1950-92, the de-notification of land acquired for the SYL canal is a farce. John Steinbeck's classic novel The Grapes of Wrath — a 1930s American story of arable land turned to dust bowl — is a cautionary tale for Indian political leaders to abandon political opportunism and devise a post-Green Revolution sustainable food and water conservation strategy instead of quibbling over river waters.
— The writer is a former Secretary, Ministry of External Affairs
Top News
Over 1,100 injured, 56 of them grievously
Indigenous anti-collision train protection system was introd...
Had flagged ministry's laxity, sought definite time frame fo...