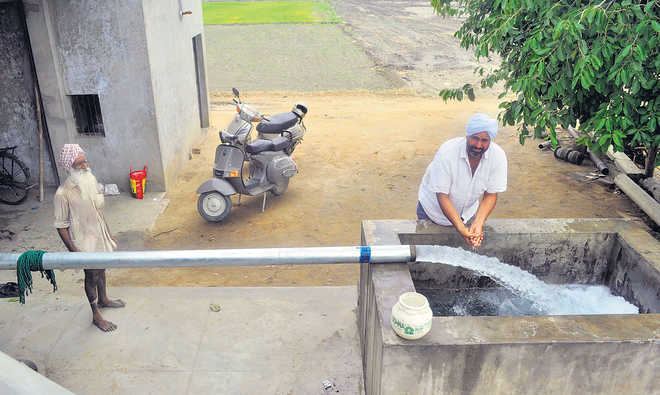 Pritam Singh & RS Mann
According to the last five years' data on irrigated area in Punjab, 98 per cent of its net sown area was under irrigation during 2010-11, 99 per cent during 2011-12 and 2012-13, and 100 per cent during 2013-14 and 2014-15. The data for 2014-15 shows that the source of irrigation for approximately 28.53 per cent (1,175 thousand hectares) was canal and for the remaining 71.46 per cent (2,943 thousand hectares) tubewells. A look at a longer time span of the last 35 years reveals a shocking fact: that the quantum of area under canal irrigation in Punjab has decreased significantly after 1990-91.
Canal water irrigation facts
The net irrigated area (NIA) under canal irrigation for 1980-81 was 1,430 thousand hectares which increased to 1,660 thousand hectares in 1990-91. There is a gap in the data available for subsequent years, but for 2000-01, the available data shows the decline to 962 thousand hectares and in 2010-11, rise to 1,113 thousand hectares and as per the latest data available for the year 2014-15, this rises marginally to 1,175 thousand hectares.
The difference between the NIA under canal irrigation in 1990-91 when it was highest (1,660 thousand hectares) and that in 2014-15 ( 1,175 thousand hectares), shows that since 1990-91, Punjab has lost 485 thousand hectares area under canal irrigation. This amounts to 29.21 per cent decline in NIA under canal irrigation in Punjab between 1990-91 and 2014-15.
There is a gaping hole in research on estimating the volume of water involved in this decline of area under canal irrigation in Punjab and the destination of that lost water. Let us first estimate the volume of this canal water which was once used to irrigate 485 thousand hectares. For simplification, we assume that the 485 thousand hectares of land was used only to produce just one crop of rice in one year (though in reality this land is used to produce more than one crop in a year, we make this assumption to prevent overestimation). The average yield of rice in Punjab for year 2014-15 was 3,838 kg per hectare. Approximately 5,337 litres of water is used for producing 1 kg of rice. So, the total rice produced from the area of 485 thousand hectares in a year would be 186,14,30,000 kg. The water needed to produce 186,14,30,000 kg of rice works out to be approximately 8 MAF (million acre feet).
Where could 8 MAF water have gone?
This raises a hugely significant question that if this gigantic volume of water, ie 8 MAF, is no longer used for irrigation, then what happened to this water?
i. Most probably, this 8 MAF of water is flowing free of cost to Punjab's neighbouring states, ie either Rajasthan or Haryana or both. While Punjab is fighting for 3.5 MAF water of the Sutlej Yamuna Link there is a staggering lack of awareness that 8 MAF water is flowing free out of Punjab every year. This also means that Punjab is using significantly less river water out of the total 14.54 MAF of water which it has been allocated. This can be attributed partly to some degree of mismanagement of canal water resources at the governmental level and partly to the farming practices that have emerged as a result of government policies.
ii. Another possibility for the decline in area under canal irrigation could be a decrease in the water flow in the rivers. If a scientific assessment does show that there is a decrease in the river water flow, it can be a crucial material evidence for Punjab's case in the river water dispute pending in the Supreme Court.
Every year, Punjab needs approximately 48 MAF of water to produce rice alone and every year according to the above estimates, Punjab pumps out approximately 24 MAF of groundwater to fulfill this water requirement to produce rice.
How the water can be retrieved
Keeping in view the gravity of the situation, the Government of Punjab needs to pay attention to the significant fact of Punjab losing approximately 8 MAF of water each year over the last many years. The roadmap for the government to retrieve this 8 MAF of water consists initially of at least two important steps.
1 Firstly, the government must identify the districts where this decline in area under canal irrigation has taken place.
2 Secondly, the reasons for this decline must be investigated. The intuition is that at various stages, connections for tubewells were given in large numbers without taking into account the long-term negative implications of such a policy which can paradoxically be seen as a generous gesture to the peasantry. It is more convenient to use the tubewell for irrigation in comparison with canal water. Farmers can use tubewell water at a time of their choice while for canal water, they have to wait for their turn as also for the release of water in the rivulets carrying water to the fields.
3 Some news reports indicate that the Government of Punjab has come up with a cashback scheme for farmers who save electricity by more efficient use of water. The switch from tubewell water use to canal water use can be incentivised by this cashback scheme. Such a scheme can be more effective in those areas where the decline under canal irrigation has been more drastic. Such piecemeal initiatives deserve appreciation but it is of importance that the Punjab Government prepares a comprehensive strategy to retrieve this 8 MAF canal water being lost every year. Specific provisions need to be made in the agricultural policy that is currently under discussion to put into effect the proposed comprehensive strategy.
(To be continued. The next article explores the destination of 8 MAF water being lost in Punjab every year)
Pritam Singh is Professor and RS Mann a PhD scholar in Economics at Oxford Brookes University, UK