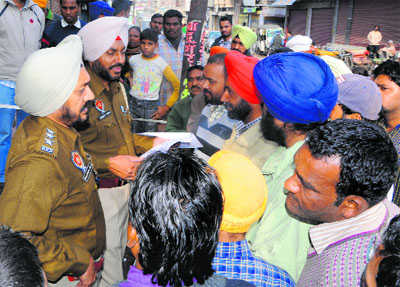 The youth of Punjab is being compelled to leave Punjab for want of employment opportunities. This is especially true for the aspirational youth. Employment has shrunk in the agriculture sector on a massive scale. The number of persons engaged in agriculture has declined by 5,83,047 (2,61,207 as cultivators and 3,21,840 as agricultural labourers) due to non-viability of small and marginal holdings. There has also been a decline in labour requirement due to a high level of mechanisation of agricultural operations.
The quality of employment on casual or contract basis in manufacturing and sevice sectors is very poor. Service conditions in avenues of informal employment are very poor and the wage level is very low. This does not attract the Punjabi youth to seek employment and they are forced to migrate to distant lands in India and abroad.
Highly educated and qualified youth emigrate legally, while those who are less educated and low-skilled adopt illegal channels. The illegal channels of emigration lead to tragedies like Malta and Panama. Even legal channels can create tragedies in war zones like Iraq, Afghanistan, Libya, and Syria.
Some experts believe that Punjabi youth does not work in Punjab and is bent upon going abroad for greener pastures. This is a half-truth. If this was so then thousands of teachers, nurses, linemen, and other qualified persons or MNREGA workers would not struggle here and become victims of police oppression. There are lakhs of young persons working in private unaided schools, repair workshops, as drivers of trucks and SUVs. They ply auto-rickshaws and work as security guards and engage themselves in small enterprises. They want better working conditions and higher wages.
There is no effort in the state to improve the quality of employment in the unorganised sector. At no stage has it been thought to develop preference or reservation on the pattern of Himachal Pradesh (70 per cent for local population) in the enterprises getting public or government support. It seems that the employment issue for the youth remains abandoned so far as the state is concerned.
The state government organised a survey and brought out a report on unemployment in Punjab in 1998. It was estimated that 14.72 lakh youth in the age group of 18-35 years were unemployed. Out of the total unemployed youth, 62 per cent were educated up to matriculation and above and 38 per cent were uneducated or educated below the matriculation level. After this, there was no effort to update this figure by organising another survey on this issue. The employment exchanges which used to register the unemployed have been either closed or have become defunct with government outsourcing many jobs to private contractors. It has stopped filling vacancies to downsize the government. Thus an important agency giving information on the magnitude of unemployment has been made non-functional. At this juncture, no authentic information on unemployment in the state is available. Whatever figures some times are quoted is guesswork. By applying the simple method of population proportion of employed as the same in 2011 as it was in 1998, it can be estimated that this number must have increased by more than 2 lakh. Even if we assume that the rate of unemployment has not changed, then this figure in 2011 must have increased to 16.80 lakh. As per the earlier survey, the unemployment situation is more serious now for educated youth in the state.
Educated youth want a better quality of employment in which there is regularity of jobs, salary is paid as per proper grade, with regular increments and other permissible allowances, weekly paid holidays and permissible retirement benefits. Even in the private sector, the youth needs to be paid minimum permissible wages or salaries. This is on no one's agenda. It is interesting to note that the state government deliberately kept 1,20,000 jobs vacant for many years. This not only forced unemployment upon 1,20,000 youth but also crippled the working of several essential services like health, education and extension services in the state.
In the election year, the government spokespersons, as an allurement to youth, have announced that the government is going to fill these vacancies. The government does not have a plan to provide employment to a large number of youth beyond the 1,20,000 vacancies in the government sector. The major chunk of employment has to be created outside the government sector, especially in enterprises engaged in manufacturing and service activities.
The state has not been able to create even one software centre near any of two airports in the state. There are reports of closure of manufacturing units at Mandi Gobindgarh, Ludhiana, Goraya and Amritsar. The government has no plan to engage the youth in gainful employment. Without proper planning, jobs cannot be created. There has to be coordination between production, structure of the economy, employment creation and human resource development. All this has been left to the market forces and all the three critical elements are operating independent of each other. This has produced a large crop of educated unemployed youth in the state.
A major proportion of the state population is young and a majority of them is educated. The young population is generally aspirational in nature. They have aspirations to progress and growth in life. They want quality employment in the form of regular jobs or business which is secure and provides them assured career progression.
The recent decision of the government to appoint persons in the government jobs on regular vacancies for four years on basic pay, denying them the grade pay, dearness allowance, house rent allowance and not to count this service for retirement benefits has disappointed educated young job aspirants. This is not so in the neighbouring states. This is driving them to seek employment outside Punjab. Thus more qualified and gifted youth which is not leaving the country is definitely leaving the state. This will deprive the state from the services of its own educated youth. For want of employment opportunities, some of our young people are even seeking employment in war-torn areas like Iraq, Afghanistan Libya Syria etc. This, occasionally creates difficulties for them and their families when they get caught in the crossfire.
The lack of employment also pushes some youth towards activities such as drug abuse, crime and violence. They become available for all kind of lumpen activities for the sake of monetary benefits. This is not desirable for a healthy society and for its sustainable progress. Therefore, keeping the youth unemployed is not in the larger interest of the society. They can be given training, skills, financial support and integrated with the marketing system to harness their productive potential. This is the proper way to enable the country to reap the demographic dividend that a large young population enables. This needs to be a major issue on the agenda of all parties contesting for power in Punjab.
The writer is a Professor, CRRID, Chandigarh.
Top News
Odisha government has issued helpline 06782-262286. The rail...
At least 50 people died and 350 were injured in a three-way ...
12837 Howrah-Puri Superfast Express, 12863 Howrah-Bengaluru ...
WFI chief demanded sexual favours in lieu of supplements and...
Said agitation will be intensified by holding panchayats acr...