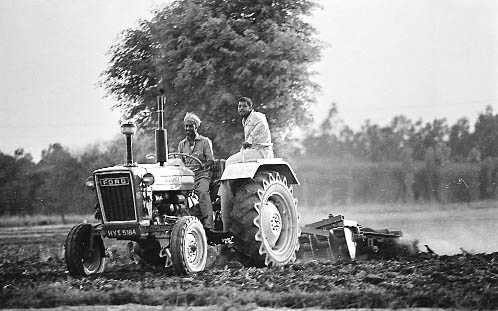 LOOKING back over almost seven decades of the state of Punjab in independent India, it is easy, with hindsight, to see why things have gone so terribly wrong with the state's economy. The first years after Partition were spent in recovery and reorganisation, resettling refugees and marking new political boundaries. But after this was done, in the 1950s, there was significant public investment at both the state and national levels in dams, canals, electric power, rural roads and market towns.
This investment laid the foundation for the Green Revolution of the 1960s, which was fuelled by technological innovation, again the result of public investment. Agricultural extension as a public service played a role as well. A national food procurement policy reduced the market risks faced by farmers. Developments in agriculture had implications for ancillary light manufacturing and services, such as tractors and pumps. Other light manufacturing such as woollen textiles and bicycles grew as well, spurred by rising purchasing power, though there was not any significant technological innovation in these products, and manufacturing equipment typically came from elsewhere. Punjab was India's richest state by some measures.
By the 1970s, however, warning signs were emerging. While farmers benefitted from the Green Revolution, larger, richer farmers did relatively better. The power of middlemen who provided credit, access to inputs, and a channel for quick sale of produce, also increased in this period — though moneylenders had always been a powerful group, even in the pre-Independence canal colonies. Although the local economy was not absorbing enough labour from agriculture, armed services recruitment provided a safety valve, as it had done for decades, and emigration to the West became an additional avenue for surplus rural labour.
In these circumstances, state political leaders chose to focus on competing for nationally-controlled resources, such as river water and electric power, rather than figuring out how to move Punjab to the next rung of the development ladder.
Political ineptitude at the state level was compounded by national politics. The 1966 division of Punjab into Punjab and Haryana, while increasing the autonomy of the Sikhs as a small religious and language minority within India, had actually weakened their position in the larger national political game. Haryana became an explicit bellwether for political competition throughout the Hindi-speaking belt of Northern India, rather than a sub-region of Punjab, which would compete for resources within the larger state. Continued religious concerns further distracted from pressing economic policy needs.
The global economic environment worsened in the 1970s, as did the level of conflict in national politics. By the 1980s, Punjab was in chaos, with enormous human, social and economic costs that are still being felt 30 years later. State-level politics no longer functioned in normal democratic channels for most of the decade.
Meanwhile, increased subsidies for water, electric power and fertiliser, another aspect of dysfunctional state politics, had created significant distortions in input use and cropping decisions. Water-intensive crops such as rice and sugarcane expanded in acreage, and created new lock-in effects for farmers to go with those for wheat under the public distribution system (PDS). Groundwater began to be pumped at alarming and unsustainable rates, as surface irrigation became less and less adequate. Attempts to introduce crop diversification went nowhere, and ecological disaster is now just a few years away.
When the national government began to liberalise the economy in 1991, Punjab's recent history meant that it was among the worst-placed of the richer states to benefit from this change. The removal of controls on industrial licensing did not create positive incentives to invest in the state. Agriculture, which might have benefitted from decontrol, remained heavily regulated, and dominated by the production of grains for the PDS. State politics did not stabilise (or perhaps normalise is a better word) until the middle of the 1990s. Over a decade without a state-level elected government had created a situation where corruption and rent-seeking were prevalent throughout the layers of government. For example, a corruption free-for-all was one of the factors that held back attempts to create a software industry in Mohali, near Chandigarh. A lack of attention to higher education compounded such barriers. Top-level corruption is common in Indian governance, but several states have been able to manage it enough to allow new economic activities to develop. In the case of Punjab, it seems that the ruling classes have sacrificed broad-based economic development to further their personal enrichment. National-level policies have not helped.
Punjab's agriculture needs to be reoriented away from a doomed role as India's breadbasket: this will involve attention to issues such as credit markets, agricultural extension, supply chain infrastructure, water-saving technologies and much more. But the state government has not shown any realistic effort in pursuing needed changes. The excuse of the legacy of the 1980s can no longer be used — the problem is largely one of quality of political leadership (although the earlier violence and mistrust contributed to this current low quality). What is surprising is that this problem has persisted even with a political coalition that bridges the rural-urban divide.
Bright spots in the Punjab economy — dairy farming, some health care facilities, a campus of the globally-reputed Indian School of Business — are few and relatively insignificant. Punjab's political leadership has failed to understand the stages of economic development, and where it might develop a comparative advantage for the state, and even when it has made efforts in the right direction, it has circumscribed them with the overall environment of corruption and rent-seeking. Corruption has deterred private sector investment. At the same time, the state government has not managed the public finances well: revenue collection has been weak, and expenditure has been poorly conceived and profligate. As a result, there has been woefully inadequate investment in all aspects of Punjab's economy. A shift away from Green Revolution cropping patterns, which are leading to environmental disaster, requires such major investments.
Punjab's people have a reputation for being enterprising and resilient. This makes it especially poignant that they have been cheated by their leaders, already losing a generation's worth of economic development. The structural features of Punjab's political economy have been part of the problem, but, as the current ruling coalition shows, not the only factor. Punjab is rapidly falling to the middle of the pack among Indian states. Remittances from abroad and the infrastructure built for Punjab's economic push 50 years ago both help to lessen the current pain and postpone the day of reckoning. But the current signs of social decay accompanying economic stagnation are stark indicators of worse days to come if Punjab's political leadership does not do its job better. Punjab's people indicated their frustration by electing the Aam Aadmi Party's only parliamentary representatives in the last General Election, but even that party has not demonstrated understanding of economic development or methods of good governance. Fixing what went wrong with Punjab's economy will be very hard work for all concerned.
The writer is Distinguished Professor of Economics,University of California, Santa Cruz.
Top News
On Biden admn's request, smuggler was held in Czech Republic...
PMGKAY to continue for 5 more years from January next