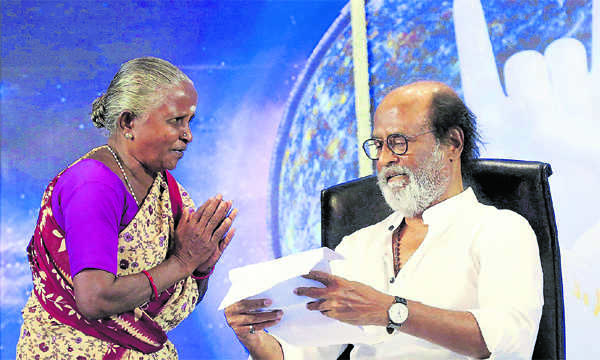 RUMOURS are rife that southern superstar Rajinikanth might soon enter politics. There is fervent speculation that he might either float his own party or join the BJP. Given the ferment in Tamil Nadu politics after the departure of Jayalalitha, it is believed that the time is ripe for Thalaiva to don the mantle of a politician. The logic goes that given his rapturous, mind-boggling fan following, he will be catapulted to power for certain, as and when the next state elections are held.
Rajinikanth himself has kept people guessing about his plans, neither confirming nor denying. However, his assertion last month that he is a true Tamilian, or his recent pledge of Rs 1 crore aid for farmers, clearly has enough political overtones. South India has a long history of film stars becoming politicians. Take MG Ramachandran (MGR), Jayalalithaa, Capt Vijaykanth in Tamil Nadu, NT Rama Rao (NTR), Chiranjeevi and Jayaprada (although elected from UP) in Andhra Pradesh, Ambarish and Chandru in Karnataka.
While MGR, Jayalalithaa and NTR were in a different league altogether both in terms of power and popularity, the rest have not done too badly for themselves either. Film stars from the rest of India, including Bollywood, too were eventually bitten by the political bug, starting with superstar Amitabh Bachchan and Sunil Dutt in the mid-1980s. They were followed by Rajesh Khanna, Shatrughan Sinha, Raj Babbar, Vinod Khanna in the 1990s and Govinda, Dharmendra, Hema Malini, Kirron Kher, Paresh Rawal over the last 15 years along with regional superstars like Manoj Tewari.
However, it is a fact that most of the above film stars who became politicians have not really blazed an outstanding trail. None of them have become chief ministers or held any significant positions in the government. Amitabh Bachchan was badly singed by Bofors and while Sunil Dutt was greatly respected for his work and his 1987 padayatra during the Punjab militancy, he was unable to rise further probably on account of his son, Sanjay Dutt's involvement in the 1993 bomb blasts. Similarly, Raj Babbar and Shatrughan Sinha have been long involved in political work, but have remained at the margins. The less said about the rest the better, since none of them have shown any inclination to make a mark. What then are the exact motivations of successful film stars to become politicians? On the one hand, after spending a lifetime at the top of their professions and being celebrated, why is it that most film stars are content to remain mere seat-fillers in politics, doing nothing of note? Do they enter politics merely to avail of the privileges, power, protection and connections that come with becoming an MP or an elected representative? If so, isn't this attitude remarkably small-minded and dishonest? Aren't they using their popularity and stature wrongly to get elected as public servants and playing truant?
On the other hand, what propels someone like Rajinikanth to enter politics? Assuming, he is in the MGR, Jayalalithaa and NTR mode, and wishes to do something substantial in politics say by becoming the Tamil Nadu Chief Minister, what exactly is the allure? After reigning supreme for so many years in the film industry, what exactly does politics have to offer Rajnikanth? Personal power and glory as a messiah of the public? But isn't he already God to millions of people? There must hardly be a soul in much of South India, from the lowest to the mightiest, who won't bend over backward for him, even now. So what additional glory, power or stature is Chief Ministership going to give him? Could it then be the urge to do great public service, realise a vision for Tamil Nadu that transforms the state into a kind of Utopia, like none other in India? Or to create an ideal of political governance that is unmatched in the murky world of Indian politics, provide a template for all politicians to emulate and thus make India a better country? Could it be some such lofty idea that drives Rajnikanth? If so, has he spelt out the elements of his vision anywhere, anytime before, for people to believe in his commitment and sincerity? What exactly are his credentials? How do we know that he will be any different from the typical politician? MGR was active in politics from his forties, and rose through the ranks to the Chief Minister's position by the time he was 60 in 1977. Jayalalitha joined politics in her mid-thirties and first became Chief Minister at 43 in 1991, the youngest Tamil Nadu CM ever. By the time she passed away last year, she had been a politician for 34 years. NT Rama Rao was 59, when he formed the Telugu Desam Party in 1982 and served as Chief Minister thrice till 1995.
At 67, Rajinikanth neither has any political experience nor any demonstrable ability for administration. On what basis does he then consider himself eligible for the terribly complex task of governance and to navigate the quagmire of politics? Why then does he want to risk his clean reputation and the love and esteem in which he is held by millions (including non-Tamilians like me), by thinking of entering politics? Is it boredom or the latent hunger to do something more momentous? Or is it that old human failing at work — the delusion of being seduced by his own larger- than-life screen image, which makes him believe he can perform miracles? Whatever it is, one wishes, Thalaiva either avoids the temptation of entering politics and if he can't resist the pull and takes the plunge, here's earnestly hoping he doesn't end up becoming a pedestrian politician, who flatters to deceive, like some of his Bollywood contemporaries.
The writer is a Pune-based author and film maker
Top News
The minister's comments come against the backdrop of the US ...
Describing the allegations levelled by Justin Trudeau agains...
Raids 51 places in Punjab, Haryana, Rajasthan, UP, Delhi
The seized substances are three packets of narcotics, wrappe...
Ashwani Kumar's work on potential reduction in TB treatment ...