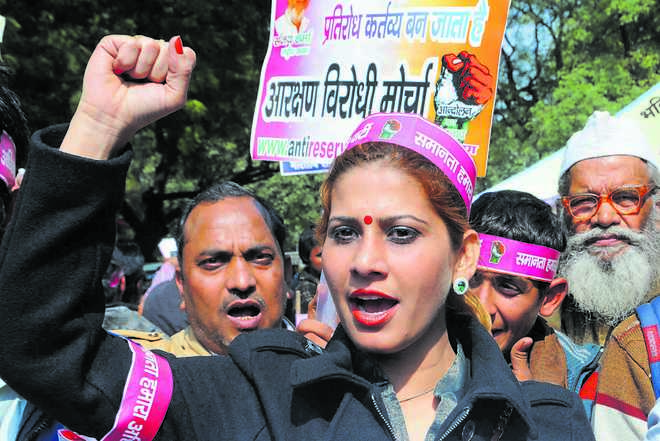 Reservation is one of the measures adopted by the Constitution to remedy the continuing evil effects of prior inequities stemming from historical discriminatory practices against various classes of people. These practices have resulted in social, educational and economic backwardness. Referring to the concept of equality of opportunity in public employment, B.R. Ambedkar stated: "... firstly, that there shall be equality of opportunity, secondly that there shall be reservation in favour of certain communities which have not so far had a 'proper look-in' so to say into administration ..." (Constituent Assembly Debates. Emphasis supplied).
The concept of equality before law contemplates minimising inequalities in income and eliminating inequalities in status, facilities and opportunities. It also implies securing adequate means of livelihood and promoting educational and economic interests of weaker sections of society. This specifically includes the protection of the SCs and STs from social injustice and all forms of exploitation. Equality, a positive right, postulates not merely legal equality but also real equality. The State is under an obligation to undertake affirmative action. The equal protection clause requires affirmative action for those placed unequally. Reservation, not an end in itself, is a means to achieve equality. It is well to remember: "There is equality only among equals and to equate un-equals is to perpetuate inequality." There is an ocean of difference between an advanced class and a backward class in the race of open competition and public employment. Having been placed unequally, they cannot be measured by the same yardstick. In order to make un-equals equal, the constitutional provision of Article 16 and Article 15 has been designed and introduced to provide preferential treatment to the SCs, STs and Backward Classes.
The problems of the bulk of the population should be solved on priority to ensure inclusive growth and development. The sooner the need for reservation is brought to an end, the better it would be for the nation as a whole. The sooner we wipe out traces of historical discrimination and stop identifying citizens by the stereotyped and ignonimous label of caste and backwardness, the healthier we would emerge as a nation.
In R Chitralekha & Another v/s State of Mysore & Ors (1964), the constitutional Bench held, "A classification of backward classes based on economic condition and occupation is not bad and does not offend Article 15(4)… If in a given selection Caste is excluded in ascertaining a class within the meaning of Art.15(4) it does not vitiate the classification if it satisfies other tests." The government of Mysore laid down that classification of socially and educationally backward classes should be made on the basis of economic condition and occupation.
According to that order, a family whose income is Rs 1,200 per annum or less (in 1964) and persons or classes following occupation of agriculture, petty business, inferior services, crafts or other occupations involving manual labour, are in general, socially, economically and educationally backward.
The government lists the following occupations as contributing to social backwardness: Actual cultivator, artisan, petty businessmen, inferior services (Class IV in government services and corresponding class or service in private employment), including casual labourer and any other occupation involving manual labour. Such an identification is also held permissible by the nine-judge Bench in the Indra Sawhney vs Union of India & Others case.
Economic backwardness is the bane of the majority of the people in this country. Even the poor among the higher castes are socially as superior to the lower castes as the rich are among the higher castes. Their economic backwardness is not on account of social backwardness. Economic props alone may enable them to gain equal capacity to compete with others.
In the case of SCs, STs and OBCs, social backwardness is the cause and not the consequence either of their educational, economic or under-representation in services. It is necessary to bear this vital distinction in mind to understand the true import of the expression, "backward class of citizens" in Article 16(4).
The Government of India provided 10 per cent reservation to the economically backward section of the upper castes and the nine-judge Bench held it unconstitutional (Indra Sawhney vs Union of India & Others). To break free from quotas, the government and the corporate sector must take up creative and out-of-the box ways of affirmative action.
Firstly, setting up of 6,000 model schools in every block, as initiated in the 11th Five-Year Plan, must be taken up seriously. This will ensure quality education. There should be innovation with curriculum and pedagogy and these should serve as models in infrastructure development, curriculum, evaluation and school governance. An apt example is the Kendriya Vidyalaya Sangathan. Secondly, promoting entrepreneurship should be prioritised. Education should be integrated with skill development to make it job worthy. Literacy, skill development, quality education and know-how are the 21st century dividends, which people will leverage to raise themselves out of poverty and climb the human capital ladder. This will ensure rural and urban inclusive growth with equity.
T.D. Jogpal is a former State Election Commissioner, Haryana, & Banarsi Dass is a former Principal Chief Conservator of Forests, Haryana.