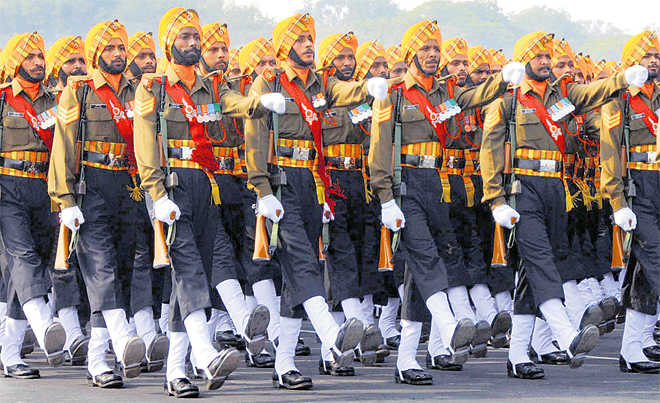 Lt-Gen Syed Ata Hasnain (retd)
To understand the readiness of the Ministry of Defence (MoD) to implement, in phases, the Army's recent proposal to "increase the intake of officers under Short Service Commission (SSC) and correspondingly reduce the number of permanent commission or regular commissioned officers", the public needs to have a deep grasp of the army's cadre.
A professional army's cadre management is not the easiest of responsibilities; it needs to be known that the army's cadre structure is hugely pyramidal, necessitating high wastage as promotions take place at different select ranks from Colonel upwards to Lt-Gen. With an average intake of approximately 2,000 commissioned officers every year and the majority being regular permanent cadre officers, only a few can be promoted (20-50 per cent) even at the first selection promotion level; this can be as early as 37 years of age and 14 years of service. The non-empanelled have to remain in the same rank till the age of 54, necessitating five to six rotations of placement in appointments. They conventionally cannot be placed in frontline units which are then under the command of officers junior to them. It's a huge social and financial burden on the government due to no fault of the officers who are simply victims of the cadre structure.
World position
Every professional army in the world follows a system of main and support cadres; the main being lean, with officers who are in service having undergone longer training duration and looking towards long careers, including consideration for higher promotions. The support cadre, on the other hand, with shorter initial training and by virtue therefore not aspiring for higher level command or staff responsibility, is a much larger cadre; the terms of service dictate only short-term engagement — 5, 10 or 15 years. The ratio, main to lean is ideally at 1:5. That reduces aspirants for higher training and promotion opportunities, improves promotion approval percentages and keeps available the younger support cadre officers to man lower command responsibilities in units.
Indian Army structure
The Indian Army's officer cadre structure is skewed with main to support at 4:1, thus forcing a large number of non-empanelled officers in the system, all of whom are carried to the final retiring age and given pension, and a below par manning of units. The Ajai Vikram Singh Committee (AVSC) set up to implement the Group of Ministers recommendations after the Kargil Review Committee's deliberations recommended 1: 1.1 as the better ratio, probably realising that doing anything better than that would take many years; a detailed professional study by the College of Defence Management did help towards that recommendation.
The current proposal for short service engagement of officers for duration of 10 or 14 years entails that they will be part of the support cadre. None will serve beyond rank of Major or Lt-Col. They will receive a golden handshake package of two months' salary per completed year up to 10 years and four months' salary for the same up to 14 years, thus sweetening the exit (maximum 36 months by one calculation). Training for post-exit jobs is also included in the recommendations, thus overcoming many of the earlier objections which spelt out the disadvantage to exiting officers at an age when they bore family responsibilities. The lump sum payments will entail high financial outgo, but far lesser than recurring pension liability.
The advantages of 1:1.1 ratio are many
First, a younger officer profile in front line units will manifest.
Second, the pension bill will reduce as the number of officers exiting with pension will greatly reduce. Progressively, the advantage will be even more as life expectancy keeps increasing.
Third, lower numbers in non-empanelled ranks whose motivation can be managed through financial increments and reservation of some promotion vacancies a few years later than their approved colleagues.
Employment opportunities for exiting army officers
There exist two employment opportunities for exiting officers.
First, a Cabinet approval already exists for the implementation of 'peel effect', whereby officers exiting the army cadre are to be absorbed in fixed vacancies of Central Armed Police Forces (CAPFs) and other government cadres. This is on the assumption that a large part of the exiting officers form an efficient segment of experience which cannot be absorbed by the Army's pyramidal system and will contribute to other government services with minimal training. The approved decision is pending due to lack of energy in commitment for implementation.
Second, another approved decision involving corporate responsibility (termed industrial deputation) with terms and conditions towards initial secondment with the government bearing expenses and ultimate absorption, has also not been implemented for lack of awareness and inability to take the industry on board.
Top News