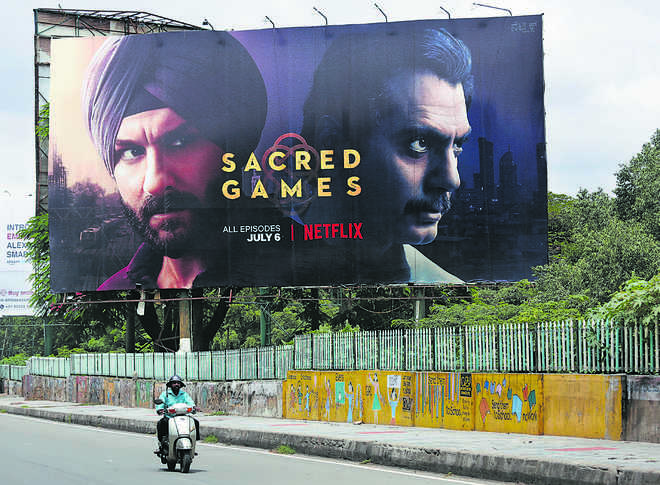 Salil Desai
Pune-based author and film-maker
AKolkata-based Congress worker, Rajeev Kumar Sinha, recently lodged a police complaint against the producers of Sacred Games, the first Netflix series in India, for insulting late Prime Minister Rajiv Gandhi. This was followed by a petition in the Delhi High Court filed by advocate Nikhil Bhalla, seeking removal of some offensive scenes from the net serial, which the complainant alleged incorrectly depicts some historical events and deliberately maligns Rajiv Gandhi. The All-India Cine Workers Association, a registered trade union of film industry personnel affiliated to the Congress, has also filed a complaint against the producers as well actor Nawazuddin Sidiqque, who portrays the character which mouths the apparently defamatory dialogues against the late Prime Minister.
People going on a warpath against films is not a new phenomenon in our country. In the late 2017 and early 2018, the Rajput Karni Sena kicked up a row to stop the release of Sanjay Leela Bhansali's magnum opus Padmavat. Just prior to that, some Mumbai Congressmen agitated against Madhur Bhandarkar's film Indu Sarkar which focused on the Emergency, Sanjay Gandhi and Indira Gandhi.
Before that, Karan Johar's Ae Dil Hai Mushkil ran into trouble, with threats of boycott by Raj Thackeray's Maharashtra Navnirman Sena (MNS), following the Pathankot attacks because it starred Pakistani actor Fawad Khan.
And if you cynically thought that only political and vigilante outfits are out to censor freedom of expression on celluloid, it's a good time to recall that even a non-controversial film like Jolly LLB 2 featuring Akshay Kumar was dragged to court last year by an incensed lawyer who objected to disparaging references made in the film's trailer against the Indian legal community and courts. The Mumbai High Court even set up a committee to screen the film before release, despite the film already having obtained a CBFC certificate.
And who can forget the 'sanskari' tenure of former CBFC boss Pahlaj Nihlani, who waged a single-handed crusade to 'protect' the Indian audience against everything he deemed immoral, culturally objectionable and un-Indian, even issuing a list of cuss words that could not be used in films? Starting from Shahid Kapoor-starrer Udta Punjab, films which faced censor cuts included Lipstick Under My Burkha, Aligarh, Befikre, and S Durga (Malayalam).
Why are we Indians so thin-skinned as to get inflamed all the time by what's shown in films and demand censorship of content that displeases us? For instance, the plea against Sacred Games is that in one episode, Nawazuddin Sidiqque's character Ganesh Gaitonde refers to Rajiv Gandhi as 'fattu', meaning cowardly in Mumbai Hindi slang, which was first sub-titled as 'pussy', subsequently changed to 'wimp'. The character also fumes against the ex-PM for his overturning of the Supreme Court verdict in the Shah Bano case, implying the country consequently became a communal tinderbox. His dialogues also rake up the Bofors taint against Rajiv Gandhi.
Assuming all this is said in a somewhat crude language, is this really serious enough for someone to get worked up about and take legal action or demand censoring?
Let's set aside the standard arguments trotted out against censorship like freedom of expression, creative and artistic licence and the right to offend, because these are often despised as liberal, pretentious and elitist abstractions today. Moreover, if we argue for a filmmaker's right of unfettered creative expression, then we also have to equally concede the right of an aggrieved individual to non-violent protest or seeking legal action as people have done in this case.
So, how do we negotiate this friction between creative liberty and this compelling urge for censorship?
The answer lies in firstly accepting that such conflict is inevitable, given the current state of our society where conservative and regressive impulses are fighting back against galloping modernity and what are considered the excesses of liberalism. The paradigm that then needs to be drawn to tackle such issues could be as follows:
n Legality test: Is the call for censorship legal? This includes the methods used, whether an offence is actually made out, locus standi of the petitioner and the relief sought.
n Frivolity test: Do the objection and demand have any real substance beyond legal technicalities or is it the result
of someone's hypersensitivity and
frivolous outrage?
n Genuineness test: How factual and genuine is the accusation that something is offensive, or is it based merely on someone's interpretation, exaggerated claims or grandstanding.
n Political test: Is the objection politically motivated or merely to raise the bogey of public sentiment for political gains? Are political parties, workers or proxies involved to exploit the controversy?
n Publicity test: Is the censorship demand really a means for garnering publicity, commercial gains or nuisance value — something which is often used both by film-makers as well as protesters?
n Public interest test: Does the objection or purported offence pertain to public interest: law and order, impact on quality and tangible aspects of day-to-day lives, rights and well-being as citizens, peace and harmony?
Indeed, if these tests are applied to any of the above censorship controversies, they fail miserably. The protests against Padmavat and Ae Dil Hai Mushkil fail all tests while the complaint against Jolly LLB 2 fails the frivolity and public interest test. Pahlaj Nihlani's antics repeatedly flunk the public interest and publicity test big time. And if we look at the Sacred Games case, it's probably bound to fail genuineness, political, publicity and public interest tests too.
How practically useful this paradigm could be to curb censorship attempts is of course a moot question, but its far better than getting locked into the banal arguments of the 'creative freedom' versus 'hurt sentiments' debate.
Top News
Describes India and China as 'friendly sovereign global cent...
In April 2016, the then CIC M Sridhar Acharyulu had directed...
He is serving time in a road rage case dating back to 1988
Clashes broke out between two groups in the Kazipara area of...
The govt had earlier given exemption of 2.25 per cent in sta...