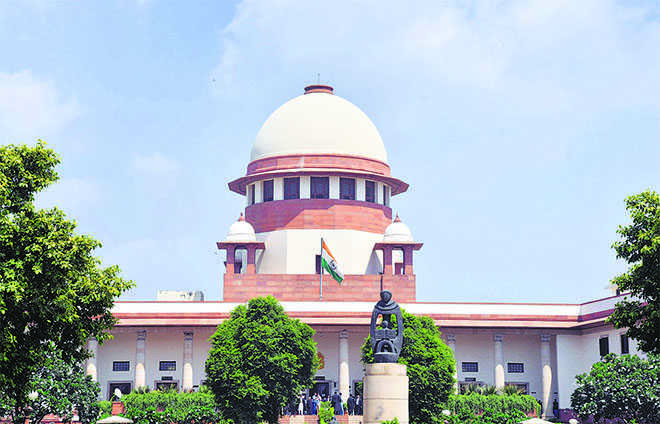 Faizan Mustafa
VC, NALSAR University of Law, Hyderabad
In his last week in office, former CJI Dipak Mishra delivered a number of landmark judgments. While he elevated individual rights to the highest pedestal of divinity in decriminalising homosexuality and adultery, in Bhima Koregoan, by agreeing with Justice AM Khanwilkar, he undermined even the individual liberty of so-called urban naxals. The Sabrimala judgment yet again demonstrated that Justice Mishra is not a great votary of group rights as he and other majority judges refused to recognise Lord Ayyappa devotees as a distinct religious denomination. The refusal to refer the matter of reservation in promotions and the controversial Nagraj judgment (2006) to the larger Bench gave yet another subtle indication of the importance the apex court today attaches to the causes of the underprivileged and Dalits. Framers of the Constitution had inserted group rights in the Constitution as they were convinced that individual rights, though important, would not in themselves be sufficient.
Justice RF Nariman's 58-page order on 48 petitions, including a few contempt applications and civil appeals, was widely appreciated in the media for paving the way for reservation in promotions as the court had overruled Nagraj on the need for collecting quantifiable data on the backwardness of SCs and STs prior to giving them reservation in promotions. But then the devil is always in the detail. The apex court has not disturbed the other two conditions erroneously insisted upon by the Nagraj judgment: ie, inadequacy of representation and efficiency of administration. In fact, the court almost added the new condition of exclusion of the creamy layer even in respect of SC/ST reservation in promotions.
Since due to M Nagraj's judgment, several high courts had struck down reservation in promotions and there was a stalemate on this issue, the court was requested to review it. Justice Nariman accepted the argument that Nagraj is clearly in the teeth of nine-judge Bench decision of Indira Sawhney (1992) in which the court had held that SCs and STs are most backward classes and their inclusion in the Presidential list under Articles 341 and 342 in itself is indicative of their backwardness. Indira Sawhney itself declared that it is about OBC reservation and 'has no relevance in case of Scheduled Tribes-Scheduled Caste'. Moreover, the court had said that the 'test of backwardness cannot be applied in respect of SC/STs who 'indutiably fall within the expression 'backward class of citizens.'
Justice Nariman quoted Para 792 of Indira Sawhney in which the court has categorically observed that the concept of creamy layer is not to be applied to SC/ST reservation. Moreover, in Ashok Kumar Thakur (2008), too, a five-judge Bench had clarified that the creamy layer doctrine is inapplicable to SC/ST reservation as it is just a rule of 'identification of backward class', not a 'principle of equality'. Justice Nariman did not agree with this observation of Justice Balakrishna in Ashok Thakur and said that creamy layer exclusion is implicit in equality as unequals cannot be treated equally. He clarified that the application of creamy layer in respect of SC/ST reservation in no way tinkers with the Presidential lists. The same castes continue to remain entitled to reservation. Only non-backward sections that have come out of untouchability or backwardness can be excluded by the constitutional courts to give full effect to right to equality under Article 14 and right to equal opportunities under Article 16. Since this observation is at variance with the five-judge Bench, the matter should have gone to the seven-judge Bench.
Unfortunately, the court overlooked the fact that nowhere in the world reservation policies are linked to the economic status of beneficiaries. Even in India we have horizontal reservation for women and persons with disability but we do not exclude the creamy layer in these reservation categories. SC/ST reservation is fundamentally based not on backwardness but on untouchability and historic discrimination that have not yet been fully removed as is evident from cases of atrocities against SCs and STs and some 11,000 or so complaints of discrimination in just promotions with SC/ST commissions. Unlike some castes included in OBC list, no SC/ST caste has political power, social domination and higher economic status.
Since the creamy layer exclusion will not happen at the initial appointments but only for promotions, there is a contradiction as to why unequals be given any benefit even at the initial stage of recruitment. In several sectors, including banking which has five or more scales, the benefit of reservation cannot be given anymore beyond the probationary officer rank.
Approving Nagraj, the court said quantifiable data will be collected by the state as per Nagraj on the 'inadequacy of representation'. It just clarified that it has to be for the cadre in which reservation in promotions is to be made. Moreover, such data will be tested by the courts. This, too, is an unnecessary exercise as SC/ST representation in group A jobs and in top positions is grossly inadequate. Out of the 80 secretaries of the Government of India, only two are SC/ST.
Moreover, 'efficiency of administration', too, is to be looked at every time reservation in promotion is to be made. But then efficiency should ideally be seen in the performance of employees. No scientific research has so far proved that SC/ST employees in performance of their duties are less efficient than employees recruited under the general category. Justice Chinnappa Reddy in Vasant Kumar (1985) demolished the efficiency argument when he stated that "the underlying assumption that those belonging of upper castes and classes, who are appointed to non-reserved posts, because of their 'presumed merit', naturally perform better than those who have been appointed to reserved posts and that the clear stream of efficiency would be polluted by the infiltration of latter into the sacred precincts is a vicious assumption, typical of superior approach of elitists classes."
Indeed, most IAS toppers are not even empanelled for the post of Secretary, Government of India. No research has been done to prove that toppers of medical and engineering tests become the best doctors and engineers. Recent researches have proved merit is undermined in NRI quota and management seats rather than in SC/ST/OBC reservation.
The judiciary has not been a keen supporter of reservation and, therefore, in a number of cases, in the name of 'merit', it has tried to put restraints on the state's power to make reservations, ie excluding promotions from reservation, catch-up rule, creamy layer etc. Even the so-called sacrosanct 50 per cent upper limit of reservation rule invented by the Supreme Court overlooks the ground reality that more than 75 per cent of our population consists of SC/ST/OBC. Thus, in effect, 25 per cent general candidates have 50 per cent seats allotted to them. The latest order is no exception to the court's disapproval of reservation policies.
Views are personal
Top Stories