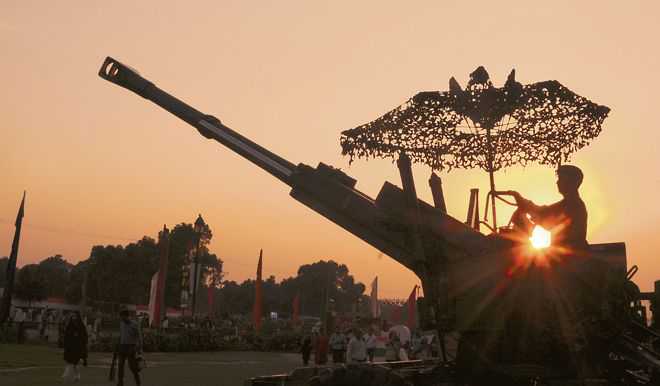 Rahul Bedi
Senior journalist
The services spend an inordinate amount of time and energy savaging Ministry of Defence (MoD) officials for delays and roadblocks in modernising and upgrading their largely ageing and obsolete materiel.
In seminars, television studios and newspaper and magazine columns, they tediously reiterate their anti-MoD babu mantra, which they claim had crippled their dogged endeavours to augment India's military capability and power projection capacity.
But rarely ever do they concede, and that too in private, their own culpability in encumbering this capacity through ignorance and professional ineptitude. The Indian Army is possibly the worst offender in this respect and one which manifests itself in the formulation of over-ambitious and fantastical qualitative requirements (QRs) for equipment that, in several instances, simply does not exist.
It's nobody's case that the MoD is blameless. It is and hugely so, in its hidebound attitude and overall incompetence. But the services, too, must share a large portion of the blame for innumerable glitches in equipment procurement and modernisation.
As Defence Minister, the late Manohar Parrikar described this phenomenon somewhat drolly at a function in New Delhi in the presence of senior Army officers. The former IIT alumnus declared that at times the Indian military's QRs for assorted equipment appeared to be straight out of Marvel comic books as the technologies demanded were 'absurd, unrealistic and fanciful'.
Ahead of securing the MoD's mandatory Acceptance of Necessity for most acquisitions — the first of 11 steps in the complex materiel acquisition procedure — the respective services finalise their QRs for the proposed equipment.
And in doing so, they demonstrate an ill-informed eagerness — a feature common to all government departments — by collating all available literature and information from the Web and HIS Jane's on the proposed acquisition, with the aim of including as many features as possible. Thereafter, the draft travels up the chain of military command in respective service headquarters, gathering supplementary parameters; each concerned officer feels compelled to suggest additional accompaniment in an attempt at displaying industry. All military personnel involved participate unquestioningly in this fantasy.
One retired two-star Army officer associated with such activity whilst in service said rarely were deletions ever made to the QR document. Accordingly, what finally emerged was a 'well-complied wish list of utopian dimensions'. He also confessed that such poorly conceived, formulated, and drafted QRs ended up creating confusion, resulting in the acquisition process for that particular equipment being either delayed or aborted, or both.
The April 2012 Parliamentary Standing Committee on Defence, for instance, reveals that as many as 41 of the Army's tenders for diverse equipment in previous years had been withdrawn or terminated due to 'implausible' QRs.
The Army's saga of assault rifle procurement 2010-11 onwards and under-process carbine acquisition collectively illustrate its technical incompetence and unfamiliarity with regard to rudimentary equipment. Its 2011 request for proposal (RfP) for 66,000 multi-calibre assault rifles was aimed at replacing the indigenously designed but operationally inefficient INSAS 5.56x45mm assault rifle, through a combination of direct imports and licensed production.
But the assault rifles QRs under three successive Army chiefs, all of whom prioritised this particular procurement, required them to convert from 5.56x45 mm to 7.62x39 mm by simply switching their barrel and magazine. This capability was, and remains, questionable and the four competing foreign rifle makers were expectedly rejected. Some 72,400 assault rifles were eventually acquired as a 'stop gap' earlier this year from US' Sig Sauer, some nine years after their requirement was first floated. Scores of soldiers who died in counter-insurgency (COIN) operations due to the inefficient INSAS rifles could well have been saved had the rifle QRs not been so whimsical and a competent weapon system was acquired in time.
Similar QR snags endured for over a decade in the critical purchase of bullet-proof jackets and helmets-ultimately procured in 2017 and 2018 from indigenous manufacturer-and for light machine guns and sniper rifles. Sadly, once again dozens of Army personnel who died in COIN encounters in Kashmir due to useless bulletproof jackets, patkas and helmets could still have been alive. Is this not culpability of the most serious kind?
The Army's list of QR snafus over the years is impressive. In mid-2015, its global request for information (RfI) for a multi-purpose Future Ready Combat Vehicle (FRCV) prompted ridicule in industrial circles. The RfI required the FRCVs to serve as a 'medium-sized' tank to replace the Army's ageing fleet of licence-built Soviet-era T-72's and also double as a 'light-tracked and wheeled tank' constructed on the same platform. This, in effect, was like asking for a high-end SuV and a Maruti Alto on a common base.
Earlier in 2004, the Army had issued a tender for 168 light-utility helicopters to replace its fleet of Cheetahs and Chetaks inducted into service in the mid-1960s, that ironically still remain operational. Its QRs required the proposed helicopters to hover uninterruptedly over a spot for 30 minutes, a capability no such platform possessed at the time. The maximum hover time available for such a helicopter type then was seven minutes with a US-designed model. Predictably this tender, too, was scrapped.
Similarly, a proposal to upgrade the 400-odd Bofors FH-77B 155mm/39 calibre howitzers acquired in the 1980s had to be terminated twice — in 2006 and in 2009 — as the QRs drawn up by the Artillery Directorate were 'unworkable'. A Bofors executive associated with the upgrade said the Army's QRs had been 'wholly unrealistic', as they demanded more capability than what even newer howitzers possessed.
Likewise, the RfP to at least five foreign vendors to replace the Army's obsolete Bofors 40mm L-70 and Soviet-era ZU-23mm 2B air defence guns had to be recently terminated as its QRs required a firing rate of 500 rounds per minute, a capability no gun in the world possessed. A similar fate has, over years since, befallen tenders for tank fire control systems, long-range observation systems and assorted ammunition; all were binned due to QR overreach and re-tendered later after sensible and realistic changes.
Recently, the Indian Air Force (IAF), perennially carping over its rapidly declining combat squadrons, too emulated the Army in its QR formulation by waffling for almost two years over acquiring a single-engine medium multi-role combat aircraft. Till early 2018, the ostensible race was between Sweden's Gripen-E fighter and US' F-16 Block 70 variant, with feverish presentations by both vendors to the IAF.
But in a sudden volte-face early last year, the IAF 'broadened' its long-pending fighter requirement to include 110 twin-engine and single-engine platforms, signifying a precious waste of time over a critical procurement. It simply displayed a fickleness that is neither acknowledged nor debated, but simply indulged.
After all, under prevailing conditions, the uniforms simply do not err.
Top News
Resolution gets the backing of 13 Council members, while the...
The written answer to unstarred question number 980, uploade...
Punjab Police tell Punjab and Haryana High Court that the in...
Move comes day after Ali walked out of Lok Sabha proceedings...
The tax department has deployed about 40 large and small mac...