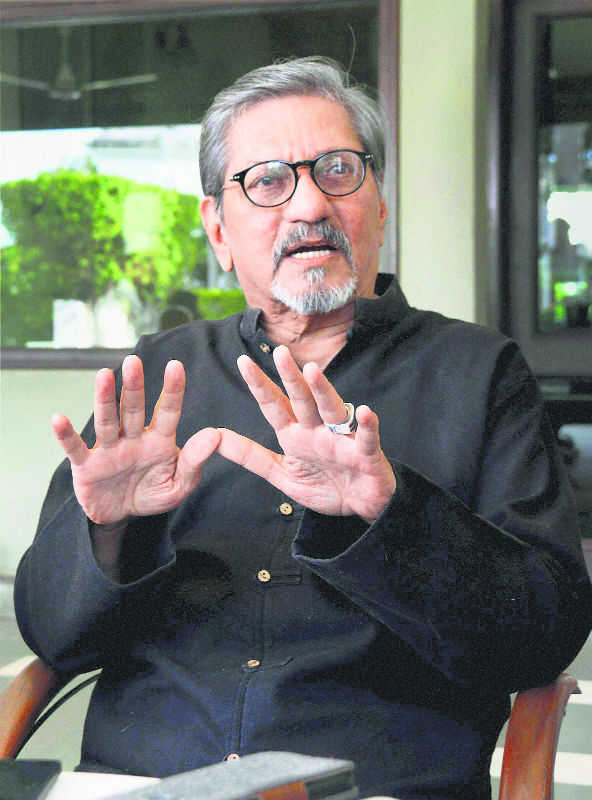 Salil Desai
Novelist and Filmmaker
Last week, eminent filmmaker and actor Amol Palekar had to suffer the ignominy of having his speech interrupted several times and then cut off by the organisers of an event at the National Gallery of Modern Art (NGMA), Mumbai, for which he had been invited as chief guest.
Palekar, speaking at the inauguration of a retrospective on the paintings of artist Prabhakar Barwe, was making some critical observations about certain recent decisions by the NGMA, when he was admonished by its director Anita Rupavataram and former chairman of the disbanded advisory committee, painter Suhas Bahulkar. When a perturbed Palekar asked them whether he was being censored from putting across his thoughts, he was advised by curator Jesal Thacker to avoid digressing and restrict his remarks only to Barwe's work.
The observations which attracted the ire of the organisers came in the latter half of Palekar's speech, when he raised questions about the wisdom of disbanding the NGMA's advisory committee and leaving all decisions to career bureaucrats, thus paving the way for total governmental control on what could or could not be displayed, and hence institutionalising cultural, ideological and political bias of the ruling dispensation.
The organisers made the argument that the inauguration was not an appropriate occasion to strike a sour note and that the uncharitable comments about the host institution were unbecoming of a chief guest. They also hinted that the issues should have been raised by him at a different forum, meaning in private, so that it could have led to a proper exchange of views. Even if one were to accept some substance in these arguments, the shocking part is how openly the hosts sought to silence a man of Palekar's stature. In a liberal democracy, is it civilised or courteous to ask a chief guest to shut up when all that Palekar was doing was voicing views about artistic freedom in a reasonable manner? Does it behove officials of an art institution run on public money to insult an exponent of art (incidentally, Palekar himself is a painter, too, apart from being a filmmaker)?
If they were uncomfortable, wouldn't it have been far better for someone to walk up to him and whisper a discreet word into his ears, instead of interrupting him in public? Even better, couldn't the NGMA director and curator have let him have his say and then taken the opportunity to provide counter arguments, say, during the vote of thanks?
Instead the brusque insistence that Palekar shouldn't criticise the decisions of the government — in this case the Union Ministry of Culture that runs the NGMA — indicates either the level of panic among government officials to nip any dissent in the bud, or the regime's clear instructions to bureaucrats to not let an alternative perspective be aired. Either way, it only heightens the growing apprehension that the current dispensation is hell-bent on muzzling artistic freedom and thereby censoring independence of thought. Instead, it believes in using all instruments and institutions of the state in policing and regimenting art, culture, expression and thought.
In that sense, NGMA officials moved a step further in conducting themselves like commissars of a regime rather than public servants.
That this comes so soon on the heels of the cancellation of the Marathi Sahitya Parishad's invitation to writer Nayantara Sehgal in January, after it became known that she would speak about the various assaults on artistic freedom by the Modi regime, is a particularly worrying trend.
In fact, there have been far too many instances of this government's intolerance towards artists and intellectuals with liberal sensibilities and those who have dared to express dissent. For instance, the vitriol against Naseeruddin Shah and cancellation of his event at Ajmer Literary Festival, where he had been invited in December. Just prior to that, academic Ramachandra Guha's appointment as director of Ahmedabad University's Gandhi Winter School was scuttled through motivated threats and pressure tactics on the management by the ABVP, the BJP's student wing.
What is most unfortunate about all these incidents is that more and more organisations and individuals are succumbing to this calculated assault by the regime, instead of resisting it. Palekar lamented that no one from the audience or any of the artists present stood up for him or asked the organisers to let him continue speaking.
In this bleak atmosphere of silence and compliance, it is heartening to see the brave actions of Principal Hemant Shah and Vice-Principal Mohan Parmar of Ahmedabad's HK Arts College this week, who resigned in protest when the trustees of the institution, comprising eminent Padma awardees like Balkrishna Doshi, Kumarpal Desai and Jnanpith awardee Raghuveer Chaudhury, cancelled permission for holding the annual event of the college, just because Dalit activist and independent MLA Jignesh Mewani was invited as chief guest. Mewani happens to be an alumnus of the college.
It is a moot question whether their resignations will change anything, but it shows that someone has a spine and not everyone will roll over. Moreover, the fact is that protest always has the potential of having a salutary effect on authorities. The Palekar incident, for example, has led the ministry to clarify that the local advisory committees of the NGMA were not being disbanded and are just in the process of being reconstituted. Would this have happened if Amol Palekar had stayed silent, like so many others?
Top News
Officials say two minor girls, daughters of main accused, we...
Jaishankar said that the human bond between the two countrie...
Says the gurdwara is open to people from all communities and...
Following recent killings, Pakistan's ISI relocated several ...
Arrested smugglers identified as Sarabjeet Singh of Jhalandh...