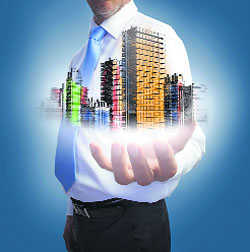 Smart cities have drawn the attention of governments, communities and urban planners all over the world. This concept drew the attention of the Indian Government in 2010, when the then Minister for Commerce and Industry, Mr. Anand Sharma, announced the creation of three smart futuristic cities along the Delhi-Mumbai industrial corridor in collaboration with Japanese corporations such as Hitachi, Mitsubishi, Tokyo Gas Corporation, and Toshiba. The aim was to minimise pollution, maximise recycling and reuse of finite resources, optimisation of energy supplies and consumption, and efficient use of transportation in these cities. The real fillip to the smart city concept was given by Prime Minister Narender Modi, who announced the creation of 100 smart cities and a sum of Rs 7,060 crore was provided in the year 2014-15 budget.
A close look at ongoing smart city projects worldwide shows that the planning process is at the development stage and a universally accepted definition has not emerged as yet. Every smart city project defines its own parameters which are to be made smart. Some smart city concepts, especially in small island countries like Malta, Singapore and Cyprus are being planned in such a manner that these could be applied to the country as a whole. On the other hand, in developed countries emphasis is on the development of small sections of big cities as smart business districts such as Amsterdam smart city, Barcelona smart city.
In developing countries a large number of initiatives have been undertaken to build entirely new cities such as Songdo international district (South Korea), Cyberjaya(Malaysia), Cyberport Hong Kong (China) and Masdar City (Abu Dhabi). These cities have been built from scratch and were designed to incorporate leading edge smart technologies as well as environment friendly physical planning. China has proposed to build 154 smart cities, while India has a plan to build 100 smart cities.
Based on the critical analysis of the existing smart city models, a holistic smart city concept depicts a new development planning model, which defines a frame work for interaction between systems, citizens and administration, using new information and communication technologies (ICT). This will help in the optimum use of multiple socio-economic and technical resources, improve the delivery of services to the citizen, and boost the economy of the city by providing an innovative and conducive working environment.
Under the Indian smart city project, each city will be allocated Rs 1 billion (US$15.7million) every year for five years. State and local governments will match these resources, at least by 50 per cent. Thus, smart cities across India will see a maximum investment of Rs 2 trillion (US$31.5 billion) over the next five years. The government will focus on delivering adequate and clean water supply, sanitation, efficient mobility and public transport, affordable housing for the poor, connectivity, online public service, safety of residents, health, education, and sustainability and promote participation of citizens. Thus, the Indian smart city model packs virtually all possible aspects, without realising their feasibility.
A sum of Rs 7,060 crore ($1.27 billion) was allocated for the proposed 100 smart cities in the 2014-15 budget. India has signed deals with foreign countries to build 8 smart cities. Germany and the US will build three cities each, while Spain and Singapore will build one smart city each. However, in spite of this being the flagship project of Prime Minister Modi, only 13 per cent of the earmarked budget was spent during the 2014-15 financial year on it. This project was further downgraded during the 2015-16 budget, when just 1/3rd of the allocation of last year's budget (Rs 21.6 billion) was made. Smart cities did not figure in the Finance Minister's speech. Instead provisions were made to develop infrastructure in cities, which will rely on technologies to run their transport, utilities, housing, health care, safety and other municipal services. No road map for smart cities as well as housing for all has been proposed during the current year. It appears that the government is having a relook at the smart city project. The reasons for this about-turn could include the high cost, socioeconomic limitations, limited capacity of smart cities to absorb the deluge of migrants.
A close look at the existing smart cities in the world shows that the cost of the most successful Barcelona smart city project, which is spread over just ½ square mile was a staggering Rs 1,380 crore. Sensors in this city monitor noise, humidity, pollution, traffic flow/congestion, bus arrival information, watering of plants and energy use. Songdo international district smart city was built from scratch on 1,500 acres in South Korea at a cost of $35 billion. The first phase was opened in 2009, ever since the growth of the city has slowed down due to various bottlenecks such as the failure to attract foreign capital, insufficient government backing, budgetary issues, bureaucratic and administrative issues. As a result, it has ended up as a wealthy suburb of Inchon city. Similar issues plagued the newly created smart cities in China -- Kangbash, Zeng Zhou new district, Erenhot, Dantu, Bay-Annoaoer and Tunnan University campus. These are being termed as ghost cities. Thus before going ahead with full stream for creating 100 smart cities, we should critically examine lessons from these failed ventures.
At present the need for smart cities in India is being justified for tackling the large migration of villagers to urban areas due to lack of job opportunities, infrastructure and basic amenities in the rural hinterland. Hundreds of thousand persons arrive in cities in the hope of a better life, but are condemned to live a wretched life in sub-human conditions around these cities. It is predicted that with rapid urbanisation, infrastructure requirements in the country will increase by more than 20 times of what was added in the last decade. It is estimated that the cost of a new smart city per is 10 times more than a conventional modern city. With such astronomical cost, it will be next to impossible to accommodate this gigantic multitude of poor population, without any resources and knowledge, in these 21st century cities. Thus, there is need to develop an alternate sustainable model of development to tackle the gigantic problem of urbanisation. Smart cities will be suitable only for smart people, who own smart phones and smart gadgets with a 24-hour access to the high-speed data and have financial resources to own smart apartments and appliances. Without this kind of residents, these smart cities will become ghost cities like the ones in China. The introduction of innovative technologies will not automatically transform a city into a smart city.
In view of this, smart cities should be planned as small working districts for national and international entrepreneurs so as to provide a world-class working environment and infrastructure for the generation of innovations, knowledge and wealth. These cities should be developed based on the Public Private Partnership basis as governments in developing countries lack sufficient resources. The other important issues which need to be tackled are types of smart services, infrastructure and technologies planned, ability of residents to afford these gadgets and services, information technology infrastructure to process extremely large amounts of data (Peta bytes) from heterogeneous sources, smart grids and backup systems. Thus, the setting up of smart cities will require an intense collaboration between the local administration, technology providers, research institutions, city planners, corporate houses and property developers.
The writer is a Professor Emeritus, Panjab University, Chandigarh
Top News
Health Ministry launches probe into four alleged substandard...
Addressing a rally, Shah asks whether terrorism has ever ben...
MEA had reacted sharply to Ilham Omar's visit to PoK
Development in Himachal possible as people voted BJP to powe...
The Ministry of Defence spokesperson from Tezpur says the mi...