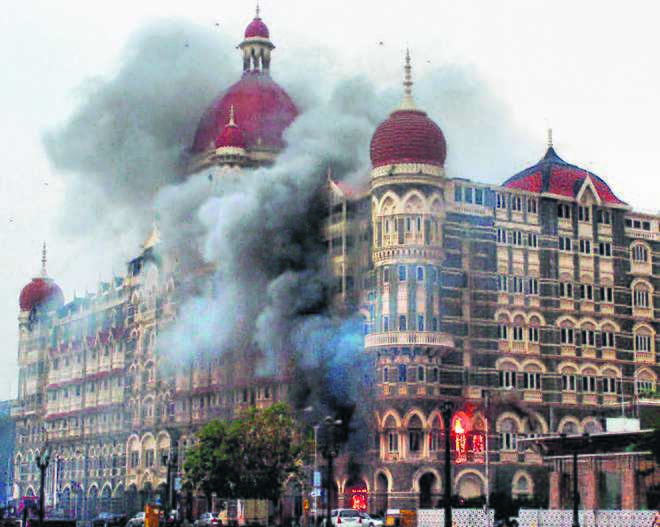 Vappala Balachandran
Ex-Special Secretary, Cabinet Secretariat
THE November 26, 2008, Mumbai attack was as significant in the annals of global terrorism as 9/11, which saw planes used for the first time as terror weapon. The assaults (26/11) on six locations were the first 'streaming' assaults controlled from abroad when Lashkar leadership utilised India's free visual media for escalating or diverting attacks. It also inspired the IS to use the same methodology at six places in Paris in 2015.
But there is a world of difference how these attacks were followed up by us and other governments. The US Department of Homeland Security publishes yearly updates on implementing 9/11 commission recommendations. Their congressional committees hold annual hearings on new threats and preparations by Counter Terrorist (CT) machinery. US think tanks also publish assessments. French Parliamentary Commission recommended US-style National Counter-Terrorism Centre (NCTC) to coordinate their intelligence agencies reporting to different ministries.
In India, the Centre did not constitute any inquiry, despite serious national security lapses. The state-appointed committee was given only a limited mandate. We gave 26 recommendations on better intelligence and CT management. The report was suppressed from the public by treating it as 'top secret', exhibiting indifference to 166 victims, including 17 police officers. Only ritualistic observance is done on 26/11 anniversaries, with no authoritative updates if we are safer now.
The reason: crime, including terrorism, is 'State subject' and the Centre has no legal responsibility under Schedule 7 of our Constitution. No government has rectified this anomaly. All legal roadblocks to centralised CT management were removed by the US Congress by amending laws within 46 days after 9/11.
Neither our National Security Council nor Central intelligence agencies have any legal responsibility to prevent terrorism. The Modi government came to power on 'muscular response' to terror but has not set up an effective agency to coordinate or advise state police on new trends in terrorism. The entire legal responsibility rests on our fragmented police system. Also, except for verbal propaganda, there is no official report to update the public whether the promised coordination between the Coast Guards and Coastal police and between the BSF and state police is actually working.
That we are vulnerable is apparent by the November 2018 UNSC's Counter-Terrorism Committee Executive Directorate warning that the IS continues to 'retain thousands of supporters who are active online, while IS's online messaging remains effective for radicalisation, recruitment and instruction purpose'. Theoretically, it should be possible for intelligence agencies to penetrate jihadi groups. Stephen Tankel, a well-known authority on LeT, says that since 2002, US agencies were documenting regular meetings between Lashkar and the ISI. Why could we not know what they were planning? We could have strengthened coastal security and resistance capability.
Intelligence alone can't prevent terrorism. No agency has been able to pin-point the timing of any major attack in recent history. Surprise is the keyword of terrorism. Bureaucracy in any country is inelastic by following only linear thinking. For them, past experience is the only guide to organise preventive methodology. After 26/11, the efforts of our governments were to build up capability against seaborne commando attacks. We were surprised when terrorists changed strategy, reverting to hidden bomb attacks in the 2010 Pune German Bakery and 2011 Mumbai triple attacks.
Experience reveals that only exponential thinking, analysis and interpretation of trends could remedy this inelasticity. After 9/11, it was revealed that over 100 public and private institutions contributed to national security. Hence, they changed their organisational structure to bring in diverse elements into the CT dialogue. Prior to 9/11, domestic terrorism from hate groups was dealt with by the police and international terrorism by the FBI. After 9/11, they realised that this could be countered only through joint efforts and adopted a multi-agency model through joint task forces located in 104 centres. The same pattern is more or less followed by the UK.
In addition, they created public-private partnership in key areas. In India this pattern is not followed despite 26/11 committee's recommendations. All responsibility is on the overworked state police.
Government and private groups should be encouraged to set up dedicated centres for studying terrorism. However, governments have not thought of sharing terrorism-related data with any private group or university. Researchers have to depend upon media reports. For calibrating any meaningful counter-terrorist methodology, it would be necessary to have research data.
A 2010 research into 86 attacks in the US, by Duke University's Homeland Security Solutions revealed that 18 took place (including 9/11) while 68 were foiled. Only 13 were detected through advance intelligence, 20 by vigilant public, 15 by police and 20 by federal agencies. Another research by the Heritage Foundation in 2011 revealed that 39 terror plots were foiled since 9/11 due to domestic and international cooperation, as well as efforts in tracking down terror leads among local communities. Bruce Hoffman in his book Inside Terrorism has said only 'strong confidence-building ties with the communities from which terrorists are most likely to come or hide in' could be the solution. This has been rendered impossible by official or semi-official spokespersons of the Modi government in Kashmir, the hatchery of domestic terrorism, by alienating the local community through partisan agenda.
The writer was a member of a committee set up by Maharashtra to inquire into police response to 26/11 attacks
Top News
Cane growers will get Rs 391 per quintal, says Bhagwant Mann
Polling draws to a close | Counting of votes on Dec 3
On Thursday, Supreme Court nullified the reappointment of Ra...
The PM is in Dubai to attending World Climate Action Summit