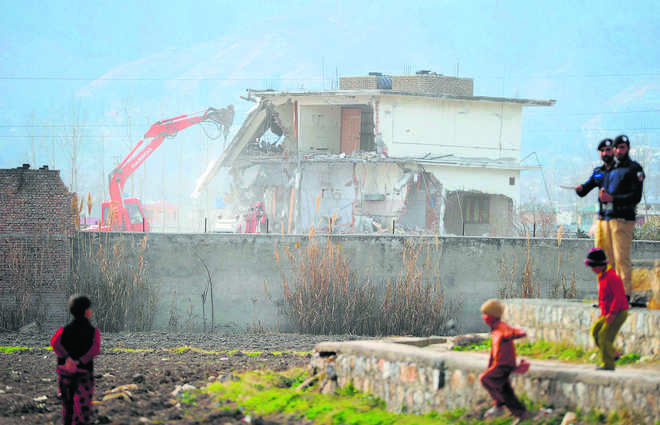 Vappala Balachandran
Ex-special secretary, Cabinet secretariat
INTELLIGENCE liaison between sovereign states is a tricky affair, especially with a domineering partner. Peoples' Republic of China (PRC) experienced this soon after the 1950 'Treaty of Friendship' with Soviet Union when the Soviet GRU tried to impose Stalin's Korean War policy on Diaochabu, the fledgling Chinese intelligence service.
There are indications that the sentencing of top Pakistani army officers and a civilian to harsh punishments on May 31 for 'espionage and leaking of sensitive information to foreign agencies' is closely related to the breakdown of the established protocol on intelligence liaison between Pakistan and the US. In fact, these arrests without names were already disclosed on February 22, 2019, by Maj Gen Asif Ghafoor, Director General, Inter-Services Public Relations (ISPR) at the tail end of his long press conference to refute India's allegations on Pakistan's involvement in the Pulwama attack.
On May 31 it was revealed by the media that Lt Gen Javed Iqbal (retd), who was sentenced to 14-year imprisonment, had held important positions like Adjutant General and DGMO. Death sentences were given to Brig Raja Rizwan (retd) and Dr Wasim Akram. The latter was earlier misidentified as a doctor but now confirmed as a nuclear scientist.
These punishments seem to have been awarded as a deterrent to others volunteering information to foreign agencies, meaning the CIA, a process which surfaced in the run-up to the Abbottabad raid in 2011 for executing Osama bin Laden. In 2015, US investigative reporter Seymour Hersh claimed that a former senior Pakistani intelligence officer had given information to US agencies for a reward of $25 million. Media identified him later as retired Brig Khalid, who had also persuaded a doctor to pose as a polio campaigner to obtain DNA proof of Laden.
Another journalist, Eli Lake, had published a sensational piece in 2011, claiming that the US was running a 'shadow state' in Pakistan since Islamabad was not cooperating with US agencies. 'But in the shadows, far from the public rancour, Pakistani-US cooperation quietly continued'. The example he quoted was the arrest of Qaeda's operations chief, Younis al-Mauritani, involved in the 2010 European terror plot, whose exact location was discovered. "Soon he was hundreds of miles away, at a special detention centre in Punjab province, under intensive interrogation by a pro-US faction of Pakistan's Inter-Services Intelligence directorate…CIA officials were even given an 'unofficial' visit to question Mauritani directly."
Lake says that US agencies did this by 'creating' what is called 'T' Wing within the ISI — 'America's most reliable ally' which was accomplished 'from scratch in 2006 and 2007' after they experienced resistance from the ISI leadership. US officials hoped that the T Wing would help "offset the pernicious influence of the ISI's 'S' Wing, the division in charge of managing the Pakistan government's relationship with Islamic extremist groups such as the Kashmiri separatist LeT and Afghanistan's Taliban". He also quotes US officials that they had funded 'units connected to Pakistan's interior ministry, in particular Karachi 'where the police are not considered reliable counterterrorism partners'.
This intrusive management of intelligence liaison is justified by US officials since they have given over $20 billion to Pakistan as security and economic assistance during the past decade. Mark Lowenthal, a former House Intelligence Committee staff director and former CIA assistant director, was quoted by US media as saying that they had to do it in Pakistan which had different power centres. He adds: 'If it was a coherent government, when we made a deal with the president or the PM, you would know as the orders come down the line they would be obeyed.'
As a result, the history of US-Pakistan security and intelligence relations reveals a teeterboard pattern. It started in September 1953 when Gen Ayub Khan, then chief of the army staff, made a theatrical offer to the YS: 'Our army can be your army if you want us.' As President he realised that things were not that rosy. In 1963, President Kennedy punished Pakistan by cancelling $4.3 million loan to build the Dacca airport after Islamabad concluded an Air Transport Accord with its newly found friend China.
Ayub Khan hit back to hurt the US on its very sensitive side by refusing to the expansion plans of the Badaber USAF-CIA intelligence facility that was functional from 1959 as a listening post and also for monitoring U-2 spy flights like that of Gary Powers, which was shot down in 1960. Under Secretary George Ball was sent to mollify Khan. Kennedy also sent Gen Maxwell Taylor, chairman Joint Chiefs of Staff, to reassure Pakistan on support in the event of an Indian attack.
This rollercoaster relationship continued after the Afghan War. In 2010, Pakistan shut down Torkham crossing to Afghanistan for 11 days after accusing NATO of killing three Pakistani troops. In 2011, it again blocked NATO supply route by closing Torkham and Chaman crossings when NATO airstrike killed 26 soldiers in Khyber Pakhtunkhwa. After a seven-month standoff, it was reopened in 2012 after Secretary of State Hillary Clinton's apology. The Pakistan army also forced ambassador Hussain Haqqani, its US envoy, to resign for seeking secret American help to prevent a military coup ('Memogate').
Haqqani has now published an alarming piece in India that this incident is an indication of a total breakdown of Pakistan's security and of its nuclear arsenal in the hands of the military. One need not attach too much importance to this assessment as Haqqani was a harsh critic of India till 2014, when he appeared as a star panel member on an Indian weekly's televised debate in New York, coinciding with PM Modi's first US visit.
Top News
Congress has lodged an FIR against him by for peddling a fak...
Vivo is a Chinese smartphone-manufacturing company
Says wants to develop friendly policing in the state