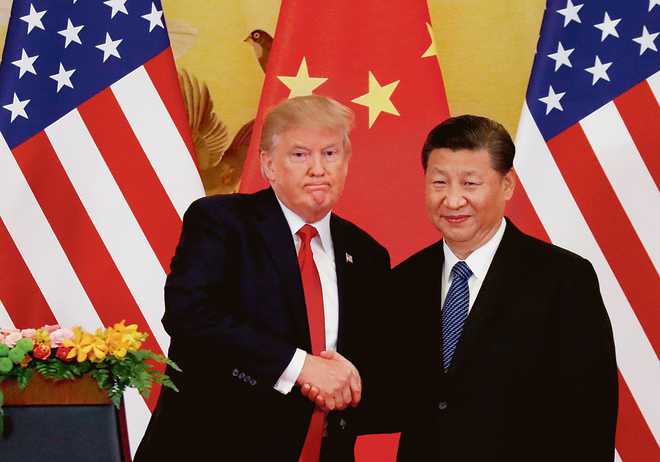 Shyam Saran
Former Foreign Secretary
American policy towards China seems to have run a full circle since the emergence of China as a Communist state in 1949. There was a phase of war (on Korea) in the early 1950s, followed by containment until 1972, when President Nixon made his historic visit to Beijing. There followed a phase of defacto US-China alliance against the Soviet Union. This inaugurated a period of economic reform policy in China in the post-Mao period beginning 1978, which the US, Japan and Western Europe supported with influx of capital and technology. There was a brief setback in 1989 as a result of the Tiananmen incident, when pro-democracy protests were brutally suppressed in Beijing. Western engagement with China resumed and intensified soon thereafter, with China entering WTO in 1990. From 1990 to 2007, when the global financial crisis erupted, China had uninterrupted access to the world's major consuming markets. The years between 1978 and 2007 constituted a most supportive economic environment for an emerging economy like China and it leveraged it to become the world's second largest economy.
Since the Tiananmen incident, there had also been a significant trend towards political and social liberalisation in China. The role of private enterprise expanded and that of state-owned enterprises (SOEs) declined. The scope of personal freedoms, such as choice of employment, marriage partner and travel increased. The Communist Party distanced itself from direct role in state administration, armed forces and economic management which devolved on professionally run institutions. A limited degree of political choice was also available at the level of grassroots organisations and Chinese media became much more outspoken, and even bold, in criticising the Party and its functionaries. It appeared that China was following the historical East Asian trajectory, where a phase of high growth, mostly led by private sector and supported by foreign investment, was overseen by relatively authoritarian, even dictatorial regimes. At higher levels of GDP, there had been a gradual transition towards liberal democracy akin to Western variants. China, it was assumed, would not be an exception. This justification continued, even expanded Western engagement with China, welcoming economic interdependency to moderate the visible trends towards Chinese assertiveness. What we are witnessing now is the reluctant acknowledgement that those assumptions were deeply flawed. The Chinese brand of state capitalism under one-party rule has proved to be sui generis and the world is now struggling to understand its dynamics and implications as we step into a rapidly transforming geopolitical landscape. This is an unfamiliar beast, but also remarkably adaptable, so it is not always easy to devise policies to confront and constrain the multiple challenges it poses.
Since the global financial crisis of 2007-8, China has become bold in projecting its unique and successful model of 'Chinese socialism with Chinese characteristics', contrasting it with the existential crisis in the capitalist world. Earlier, it was argued that China would become a variant of the Singapore model. This is not the destination Xi Jinping aspires for, but rather a strange mix of a Leninist centralised state which also draws inspiration from China's historic empires.
Xi has brought major departures from the political and economic dispensation put in place by Deng Xiaoping in the post-Mao era. One, the separation of Party and State is being erased. Party committees, most chaired by Xi himself, also determine policy and oversee implementation, diminishing the authority of state organs. Two, while the professionalisation of the armed forces may continue, there is repeated assertion of the Party's control. Three, the role of SOEs is being expanded. They will play the leading role as champions of new technology areas, such as AI and quantum computing. Professional management in both SOEs and private corporations is being constrained by the reintroduction of party committees in supervisory and managerial roles. All pretence of collective leadership has been abandoned with Xi being constitutionally anointed as leader for life. With these changes have come new restrictions on personal freedoms, the media and academic freedom.
This is the backdrop to a major shift in the US policy towards China, articulated recently by Vice-President Pence on October 4. He accused China of 'employing a whole of government approach using political, economic and military tools, as well as propaganda to advance its influence and benefit its interests in the US'. There follows a litany of complaints about its predatory trade behaviour, theft of intellectual property and aggressive intent in the South China Sea. He accused China of wanting 'a different President' by interfering in the US electoral process. There was a story about hardware supplied to US high-tech companies and security agencies being implanted with spyware. These are early but unmistakable signs of a containment policy, although its nature may be somewhat different from the Cold War, when there existed minimal economic interaction between the two sides. Economic interdependence between U.S. and China has not moderated political and security tensions , rather, the ongoing trade war is an instrument in the larger political and ideological confrontation.
China's response has been muted and even conciliatory, but it is difficult to see a way. The US is unlikely to be appeased by trade concessions or large purchases of its products, as in the past. It is targeting the Chinese system itself as it has evolved under Xi. There can be no going back from that without Xi exposing himself and his party to immense risks. A rough ride remains ahead.
This new and escalating Sino-US contention offers opportunities to India as a swing state. However, the more polarised the situation becomes, the more pressure there will be from either side. Neither US-China collusion nor confrontation suits India's interests, but a level somewhat closer to the confrontation end of the spectrum may suit us best.
Top News
Counting of votes will take place on May 13
The trial court has given Rahul Gandhi, who was disqualified...
Faizal, who represents Lakshadweep, had moved the Kerala Hig...