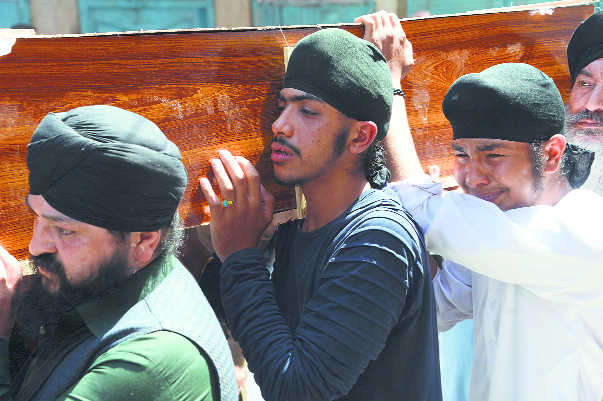 Saad Mohseni
IT was a black day. On July 1, a suicide bomber tore into a crowd of Hindus and Sikhs who had collected to meet President Ashraf Ghani in Jalalabad, resulting in the massacre of 19 persons; 10 were badly injured. The pain has been felt and shared by every Afghan I have come in contact with since the attack. The brutal attack claimed the lives of two of the Sikh community's favourite sons, Avtar Singh Khalsa, the only Sikh candidate running for Parliament in October; and Rawail Singh, a vibrant member of our trying-to-be-more-civil society. We all feel incredible shame that it has come to such a pass.
I vividly recall Harandar Singh and Amarjeet Singh, my Sikh classmates in primary school at the French Lycee Isteqlal in Kabul, Afghanistan, in the late 1970s. As first cousins, they were inseparable: gossiping, laughing, switching between Farsi and Punjabi without missing a beat. One was quite tall and slim, while the other was darker, shorter and slightly chubby — although I can't recall which one was which. What I do recall is that their parents, like many Sikhs in Kabul, were involved in the textile business. Anil Kumar, our lone Hindu classmate, came from a well-known family that operated one of Kabul's better-known movie theatres.
I would often walk with Harandar and Amarjeet the mile-long distance from our bus stop to school, going past the homes of the few remaining Jewish families adjacent to Flower Street. In the late 1970s, Kabul was a city that peacefully housed Indian communities. The same was true of Ghazni, Kandahar, Jalalabad and all other urban centres of Afghanistan.
I viewed these boys as lucky to evade religious studies at school, they didn't have to be subjected to the less-than-competent religious studies teacher, a character who once pulled his belt out to whip a student, only to see his pants fall to his knees. But other than their 'exotic' turbans and absence from the compulsory Islamic studies class, Harandar, Amarjeet and Anil were no different to my other friends in Kabul in those years of innocence.
The 5 lakh-strong community of Sikhs and Hindus was a robust contributor to the private sector: trade, banking, textiles, food and retail. Throughout the city, they left a distinctive mark: an enduring signifier that Afghanistan was once a true crossroads between the Middle East and South Asia. How can I ever forget the exquisite jalebis sold in the Karte Parwan district of Kabul by a Hindu merchant? Or the lively Punjabi music and the bountiful spice shops that were a routine stopover for every Kabul cook. But what was special about them was their ownership of Afghanistan. They seemed to embrace the hybrid identity and took genuine pride in the link to this remote country. They belonged there.
Afghan historians believe that the first wave of 'modern' Hindus arrived during Mahmood Ghaznavi's reign over a thousand ago. Of course, it should also be noted that huge swathes of modern Afghanistan were 'Hindu' prior to the arrival of Islam in the 7th and 8th centuries, alongside Zoroastrianism, Buddhism and paganism.
The Soviet invasion of Afghanistan and the civil war that ensued brought misery to millions of Afghans — Muslims, Hindus, Sikhs, Jews. Many members of the community were forced to flee the country, but some of them stayed, resolutely. Those who were forced to take refuge outside of Afghanistan took pains to identify themselves as Afghans. This endeared them even more to their fellow Afghans.
The post Soviet civil war that devastated Kabul and resulted in the lawlessness that destroyed the social, moral and economic fabric of the nation compelled more Hindus and Sikhs to flee their homes. But again, some of them stayed back.
The arrival of the Taliban only brought more wretchedness. Hindus and Sikhs were initially forced to wear yellow dresses and turbans and raise a yellow flag on their rooftops. Many, feeling vulnerable, decided that it was finally time to leave. But despite this intolerant and violent environment, some of them still stayed put.
The defeat of the Taliban regime and the emergence of an independent government in Kabul, committed to the rule of law, gave hope; encouraging many Afghans to believe that this was a new beginning for the country. In 2003, a brave Sikh gentleman stood before a Loya Jirga (grand assembly) of mostly Islamic commanders, politicians and clerics and screamed: 'It is you Muslims that have ruined my Afghanistan.' He received a standing ovation because we all knew that he was right.
The rule of law of the post Karzai era was more myth than reality. Many of their properties, namely in the Karte Parwan district of Kabul, were squatted on and confiscated by warlords or Afghans with strong connections. Given that the community had survived for a millennium through peaceful means, there was no warlord to protect them. Many of them decided to leave the country. But again, some chose to stay.
There were moments of optimism. To Hamid Karzai's credit, he appointed Shamlal Bhatija Bhatia, an Afghan Hindu, as Ambassador to Canada — a first in the country's history, despite the fact that Mr Bhatia's family had resided in the city of Kandahar for over 350 years. Mr Bhatia regularly pointed out that Ahmad Shah Durrani, the Kandahari founder of modern-day Afghanistan, had based the concept of Afghanistan on inclusion.
Forty years after I last shared a class with Harandar, Amarjeet and Anil, their community has dwindled from 5 lakh to only 1,300 — scattered across three Afghan cities. Their numbers, which coexisted with Afghans of all faiths for centuries, has now shrunk to almost nothing.
I am not certain if the community can tolerate more pain, but we don't want them to forget that they represent a legacy that stretches back a thousand years in Afghan history.
And more than ever, Afghanistan needs them to stay.
Chairman of Moby Group, the largest media company in Afghanistan