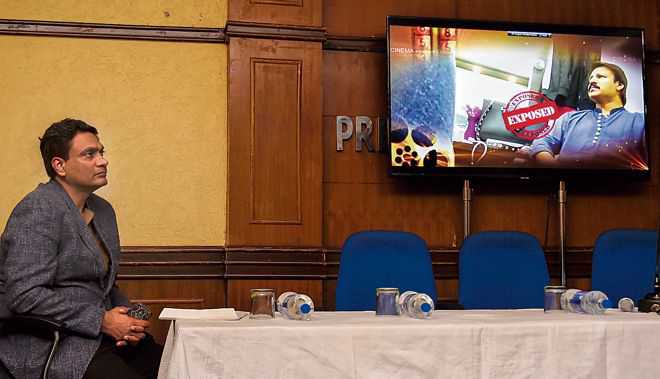 Salil Desai
Ovelist and Filmmaker
INVESTIGATIVE journalism website Cobrapost, which specialises in sting operations, recently came up with an exposé, Operation Karaoke, that reveals on tape 36 personalities from the entertainment world agreeing to become 'secret' social media campaigners for political parties, mainly the BJP, in return for a hefty fee.
Cobrapost reporters, posing as executives of a fictitious PR agency, met all these personalities with a fake proposal that they post messages through their accounts on platforms such as Twitter, Facebook and Instagram from September 2018 onwards as part of an indirect, camouflaged social media campaign for the forthcoming Lok Sabha elections. They were offered amounts ranging from Rs 2 lakh to Rs 50 lakh per post and contracts as high as Rs 20 crore for a nine-month period. The line-up included film stars Jackie Shroff, Vivek Oberoi, Sonu Sood, Shakti Kapoor and Sunny Leone; singers Abhijeet Bhattacharya, Kailash Kher and Mika; TV actors Rakhi Sawant, Aman Verma and Hiten Tejwani; popular comedians Raju Srivastava and Sunil Pal; and choreographer Ganesh Acharya.
All those approached were briefed that they would be provided content by the PR agency for messages praising various initiatives of the current government and the ruling party's take on different issues, which the personalities would then have to tweak in their own style so as to appear as if these were their own genuine opinions on the matter and transmit it on their social media accounts to influence their followers, running into lakhs.
These stars unhesitatingly jumped at the offers, negotiated the best possible fees and in effect knowingly agreed to peddle political propaganda to their unsuspecting followers, as if expressing their independent thoughts. There were only four exceptions — actors Arshad Warsi, Raza Murad, Vidya Balan and Saumya Tandon — who refused to take the bait, stating that they didn't want to be part of such covert political campaigns.
This brings us to the million-dollar question: are the facts unearthed by the sting operation scandalous at all? What, one may ask, is wrong in an entertainer monetising his/her social media fan following? Isn't it just another form of marketing, which everyone indulges in today? So, is the sting shocking only because the actors were ready to promote a political party's agenda? But isn't it true that film actors and entertainers have always been used for political rallies, government endorsements and election campaigning, while some have even transitioned successfully into political leaders? Why then should it be unpalatable to accept this particular form of their political participation?
The answer, of course, lies in their willingness to be dishonest and become accomplices in what is tantamount to subterfuge.
What strikes one the most while watching the sting tapes or reading the transcripts is that except for one or two personalities like Abhijeet, who has a long history of fanatically supporting the BJP, most of the others did not seem to be doing it out of any sense of political or ideological conviction, but just as a professional promotional assignment.
Almost all of them didn't even appear to feel they were signing up for an unethical project that involved subtly manipulating their followers' electoral preferences.
It is this blithe amorality or ethical blindness that should worry us all, because it mirrors the brazen cocktail of cynicism and commercialism that has taken root in our society. Quite simply put, we live in any age where expediency has become the guiding principle and even ethics come with in-built flexibility. With growing political and social cynicism, commercial benefit provides the perfect logic on which to base our professional decisions, even if it means overcoming scruples, since everyone around seems to be doing exactly the same.
And since 'marketing' has now acquired a special halo around it in the post-truth world, as if perceptions are more important than the product itself, these celebrities simply considered the assignment as a means of making a fast and hefty buck in the election season from a ruling party flush with funds. As the saying goes, 'Behti Ganga mein haath dho lena' (make hay while the sun shines). Perhaps, it matters little to them whether their followers get influenced or not and whether this manifests itself in an electoral victory or loss for their client, because everyone in India is skeptical about the quality of governance and politics, no matter which party wins.
Another disconcerting dimension of the sting is the rampant hypocrisy with regard to black money. Almost all celebrities didn't seem to have the slightest problem with accepting 60 to 80 per cent of the proposed fees for the assignment in 'cash'. No one batted an eyelid about receiving 'black money' or that the political party concerned insisted on paying them in cash. That the elite in our land are comfortable with cash transactions reveals how demonetisation has hardly made a dent in the all-pervasive culture of corruption in India.
Finally, the most disturbing question that arises is: who and what source of information, fact or opinion do we trust on the Net, especially social media, anymore? How do we know who is providing what slant to influence or manipulate us? There is a certain, unstated fiduciary relationship between a celebrity and his fans. Now that we know that many celebrities have no qualms about subliminally gaming us, will it only add to our cynicism? Probably yes, and yet there would still be millions of gullible folk. Maybe the only solace we can take is that there are still some celebrities who believe in certain ethics, like the four who refused.
Top News
As soon as the House meets for the day, Congress members wea...
Opposition members attend a meeting called by Rajya Sabha Le...
The Gujarat government had granted remission to 11 convicts ...
The shooting takes place on Sunday at around 2.30 pm at the ...
South Korea's Joint Chiefs of Staff says the two missiles we...