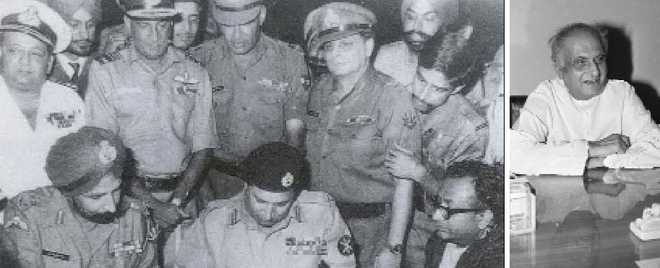 Vappala Balachandran
Ex-Special Secretary, Cabinet Secretariat
THE Research & Analysis Wing (R&AW) completed 50 years of its existence on September 21, 2018. By coincidence this is also the 100th birth anniversary of its founder, the late Rameshwar Nath Kao (1918-2002). Official records on why a separate foreign intelligence agency was created have not been released. The still classified "Henderson Brooks Review" (December 1962) on our Chinese debacle could have been one of the reasons. Although the Committee was not tasked to go into the role of intelligence, it had remarked that our military actions on "doubtful intelligence surmise had broken all percepts of war".
Former Union Minister Jairam Ramesh's brilliant book on P.N.Haksar Intertwined Lives- P.N.Haksar and Indira Gandhi gives us some clues. Ramesh had full access to the Haksar archives. Haksar (PNH) was ``Indira Gandhi's ideological compass and moral beacon from May 1967 to January 1973, guiding her through her magnificent achievements". Helping Kao in stabilising RAW within a hostile bureaucracy was one of them. PNH had a big role in creating RAW.
In his contemplative moods Kao used to tell me about his difficulties in setting up the new organisation. He said this after his abrupt retirement in March 1977 consequent to a stage managed incident. When he was ushered into Prime Minister Morarji Desai's room, an unidentified person waiting in the PM's antechamber also entered. Before Kao could speak a word, that person started haranguing him for being responsible for all "Emergency excesses". Kao left the room after thanking the PM when the latter did not utter a single word.
Kao said that parting from the Intelligence Bureau (IB) in September 1968 was quite acrimonious as he could not get his choice of officers and office accommodation. Nor could he get the help of the Cabinet Secretariat bureaucracy. The government notification only said that the new organisation would do what the IB was doing in foreign intelligence. A very unhelpful Deputy Secretary would whittle down all higher level decisions on financial and operational issues.
On February 2, 1969 Haksar issued a stern order asking Kao be given financial and administrative powers as the head of the new organisation. Ramesh says: "Indira Gandhi fully backed PNH and Kao got what he wanted. It was to have its year of glory much sooner than expected in 1971". As a result Kao got his independent functional powers including a separate administrative section within Cabinet Secretariat. This is continuing even now.
Kao told me that the only advice Indira Gandhi gave him in 1968 was not to structure the new organisation as a Central Police Organisation (CPO). In this she did not mean to deride the police work but that foreign intelligence needed something more than police skills. Police is a hierarchical and transparent organisation, accountable to law and society for their actions. Foreign intelligence is a secret multi-specialty responsibility requiring special skills to do unconventional work abroad in "Penny packets" in hostile surroundings. And its tradecraft is based on deniability and subterfuge.
Within a short time Kao was able to recruit a large number of persons with special skills, not available through normal bureaucratic channels, with startling results. He recruited a retired brigadier whose unit could intercept advance intelligence on Pakistan's pre-emptive air attack on 3 December 1971. The satellite monitoring facility set up by his part time chief who was working full time in another department, came in very handy even later during the clandestine nuclear bomb project period from 1972. It was a pleasure to hear Prime Minister Zulfikar Ali Bhutto's hour long chats almost daily with his Paris based French friend with a Greek name on that project interspersed with rants against his own colleagues.
Ramesh has done great service to our 1971 War history by recording Kao's lead role even when several others had claimed credit. Kao had consistently refused to publish his memoirs during his life time. His archives at the Nehru Memorial Museum and Library "are closed", according to the author. But he could get PM's approval papers on PNH's proposal of 2 March 1971 to make Kao as coordinator of a five-member committee consisting of Cabinet Secretary, PNH and others on the subject of deciding aid to Bangladeshi freedom fighters. Again on June 1, 1971 PNH came to the conclusion, after meeting Muyeedul Hasan, that no military operation would succeed unless there was insurrection in Bangladesh. Kao was again put in charge of these covert plans to motivate Bangladeshi freedom fighters.
Kao cultivated personal bonds with several foreign intelligence chiefs to expand our strategic interests, achieving what normal diplomacy could not. Nahum Admoni, Mossad Chief in the 1980s had spoken to me very highly of Kao after he had met him in the 1970s. The secret Trilateral Cooperation conceived by Kao with Alexandre de Marenches, then French chief, and Iran's Nematollah Nassiri (Savak Chief) was meant to carve out an independent bloc to offset the growing US-USSR rivalry in the Indian Ocean. During his second tenure as "Security Adviser" from 1981 Kao had also set up "Policy and Research Staff" (PARS) with diplomats, scientists, and economists as a forerunner of a National Security Council Secretariat.
Fifty years after 1968, RAW does not seem to have succeeded in preserving Kao's legacy on the choice of personnel. No doubt it is difficult for a person like me who retired 23 years ago to comment on such matters but one could get some idea from the media. RAW seems to have fallen back into a revolving door system catering more on regular bureaucratic intake which is not the right channel to meet risk taking challenges of foreign intelligence. Further the National Security Adviser system with its own "Overreaches" and "Indirections" seem to have added a layer blocking the intelligence chief's direct access to the prime minister, which is a must if we want intelligence to be sharp and purposeful.