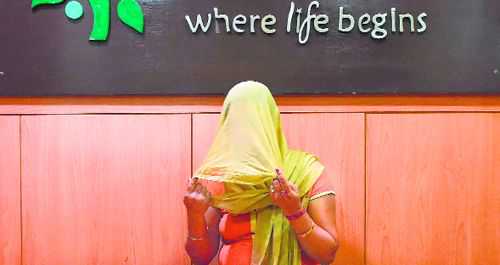 Flavia Agnes
Women's rights lawyer
PASSED by the Lok Sabha last month, the Surrogacy (Regulation) Bill — once it becomes an Act after the Rajya Sabha's nod — will bring to a grinding halt a flourishing trade in commercial surrogacy and rob India of the title of being the international hub of surrogacy.
Since commercial surrogacy is allowed only in Russia, Ukraine and the US state of California, where the costs are prohibitive, couples keen to have a child through this procedure used to flock to Indian shores and approach surrogacy centres in major cities of India. Rough estimates state that it is a $2.3-billion industry which allowed medical practioners to reap a rich harvest for well over two decades, without any rules and regulations governing their practice.
However, it put the lives of poor women, who rented out their wombs to a surrogate couple to earn a living, at great risk due to repeated pregnancies. Their dire poverty was exploited by medical professionals who trampled upon the surrogate mother's fundamental rights. While the women earned a pittance, the professionals thrived on huge profits through this scientific innovation in the field of reproductive rights.
While the surrogate parent could lay down conditions, the woman volunteering to be a surrogate had no rights to proceed against the doctor or the couple opting for surrogacy. She had no recourse if the conditions of the contract were violated by the medical professional or the couple concerned.
These women were confined to 'hostels'; they could not meet their family during pregnancy; there was no insurance against pregnancy-related or post-partum complications. While the women could not refuse to give up the child, the surrogate parents had the option of refusing the child in case of physical or mental abnormalities.
There was indeed an urgent need for a statute to regulate this practice, wherein women gave birth in almost factory-like conditions, and secure their rights. Ironically, what we have got instead is a virtual ban on commercial surrogacy, dealing a body blow to these women's earning capacity.
The Bill bars commercial surrogacy and allows the process only in the case of close relatives for 'altruistic' reasons. While Health Minister JP Nadda termed it a 'historic' legislation, there were protests by Congress and AIADMK members during the hour-long debate in the Lok Sabha. Even those who supported the Bill expressed apprehension that it was too narrow in its scope.
As per the Bill, surrogacy can only be undertaken by a close relative as a 'labour of love' for her childless kin. While the agency can charge for its services, the woman volunteering to be a surrogate cannot be paid, as that will amount to 'commercial surrogacy', which has been declared a crime punishable with a maximum of five years' imprisonment and a fine up to Rs 10 lakh.
There are several other restrictions and prohibitions. This 'close family relative' must be in the age group of 25-35 years; she should have had a child of her own; she should not have been a surrogate mother earlier. She is also prohibited from donating her own gametes (egg) for surrogacy.
There are also severe curbs on the couple opting for surrogacy. The mother and the father should be in the age group of 23-50 and 26-55, respectively. They should have been in a stable marriage for at least five years. They should not have an earlier child of their own and must be declared medically unfit to bear their own children.
The most disturbing part of the Bill is its conservative undertones, described by the Health Minister in Parliament recently as 'Indian ethos'. As per these, single women or men cannot opt for surrogacy, those who are in stable live-in relationships, lesbians and gay couples are excluded, transgenders are out and anyone who has a child cannot opt for surrogacy, unless the child suffers from a life-threatening disease. Going by these restrictions, a Karan Johar or a Shah Rukh Khan no longer have this option.
After the historic verdict that decriminalised homosexuality and the National Legal Services Authority (NALSA) judgment which awarded citizenship rights to transgenders, the Bill amounts to discrimination and may attract constitutional challenge.
The Bill also closes all avenues of providing opportunities for international surrogacy. Only Indians can opt for this procedure; foreigners and non-resident Indians (NRIs) are excluded.
A couple cannot choose the sex of the unborn child. An insurance cover is provided for the surrogate mother for 16 months to cover post-partum complications. In order to avail the same, she will have to provide a 'certification of essentiality' that is conditional to insurance coverage.
The Standing Committee had recommended that the word 'altruistic' should be replaced with 'compensation'. Altruistic surrogacy, it observed, was tantamount to exploitation.
Permitting women to provide reproductive labour for free to another person but preventing them from being paid for it is grossly unfair and arbitrary, the report stated. It further commented that altruistic surrogacy entailed high expectations from a woman willing to become a surrogate without any compensation or reward but on the basis of 'noble intentions and kindness'.
The government also ignored the recommendations of the Standing Committee, which had pointed out that since the Supreme Court recognised live-in relationships, the eligibility criterion for persons who can avail surrogacy services be expanded to include live-in couples, divorced women and widows.
The Bill now almost seems as though we are moving backward rather than forward, taking in our stride not scientific advancements and securing the rights and dignity of poor, vulnerable rural women, but the patriarchal notion of a woman's body and womb being the property of the great Indian family. The Supreme Court has clearly declared that what India needs to abide by is 'constitutional morality', not outdated modes of social morality in the name of protecting the 'Indian ethos'.
Top News
Bill provides for reservation of one-third of the seats in t...
Says Canada has provided no specific information regarding H...
Reiterated that there are 'credible allegations' that should...
Rapper Shubh's 'Still Rollin India Tour' was cancelled after...
Sukhdool Singh alias Sukha Duneke, a gangster who escaped to...