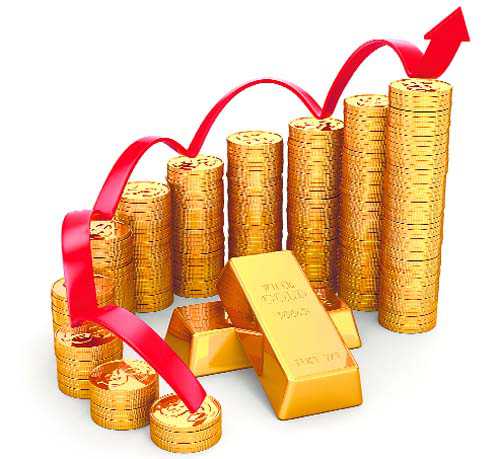 IN the Union Budget, Finance Minister Arun Jaitley, observed that India is amongst the largest consumers of gold in the world, importing nearly 1,000 tonnes of gold each year. According to conservative estimates, stocks of gold in India are estimated to be nearly 25,000 tonne or equivalent to about Rs 63 lakh crore. This amounts to nearly 56 per cent of GDP or 67 per cent of total money supply in India. According to other estimates, and anecdotal evidence, including talking to markets, the amount of gold stocks in India are at least three times the above mentioned estimates.
The government has proposed in the Union Budget to monetise gold stocks through three schemes. First, to introduce the Gold Monetisation Scheme (GMS) to replace the existing gold deposit and gold metal loan schemes. GMS would allow the depositors of gold to earn interest in their metal accounts and the jewellers to obtain loans in their metal account. Second, to develop an alternate financial asset, sovereign gold bond (SGB), as a substitute to purchasing metal gold. SGBs will carry a fixed rate of interest, and will be redeemable in cash in terms of the face value of the gold, at the time of redemption by the holder of the Bond. Finally, to develop and issue an Indian gold coin (IGC), with an Ashok Chakra on its face. An IGC would help reduce the demand for coins minted outside India and also help to recycle the gold available within the country. In brief, the Government is making efforts to encourage recycling of gold within the country and reduce the pressure on imports that finally impact the current account deficit (CAD). The minting of gold coins in India, mainly used for investment purposes, would lead to higher employment and retention of related profits within the country.
Amongst the relevant country experiences, case of China and Turkey are very interesting. In China, limited number of domestic and foreign banks have import licenses and commercial banks have actively contributed to the development of the gold market by providing finances for gold leasing and offering other financial products linked to gold. In Turkey, in 2012, the Turkish central bank introduced a system under which any bank may substitute a part of its reserve requirements with gold, thereby boosting gold reserves and monetising stock of gold, lying idle "under the mattress" in Turkey.
Roadmap for India
Of the three instruments announced, the easiest to implement would be SGBs. These can be made available from banks, especially post offices, because of their extensive rural network. Also, to address the need of investors in contrast to consumers, GSBs can wean away the annual demand of nearly 300 tonnes from physical holding of gold in bars and coins and thereby reduce pressure on imports. Would GSB need physical gold to be procured and stored as a back-up for the bonds? No, not necessarily, as this could be a perpetual annual scheme with buyers and sellers in the market, despite a stipulated maturity period of each series of bonds. There would be need to make these bonds tradable on the stock exchange to make them attractive or redeemable at post offices and banks.
The GMS will need infrastructure and time to implement. The gold collected under the GMS would need to be stored, transported and delivered through a secure and safe supply chain from procurement to last-mile delivery. In India, the gold and jewellery business is highly fragmented and unorganised and nearly 96 per cent is family-owned business. India, according to different estimates, has about 16,000 gold dealers, 4,50,000 goldsmiths, and more than 2,00,000 jewellery outlets, in addition to diamond jewellers. To successfully implement the GMS, there would be a need to have a network of gold-purity verification centres; world-class fabrication facility; and storage and distribution services.
In the gold business, the most important activity to inspire confidence amongst market players and consumers is establishing purity through assaying of gold. Assaying can be done by various ways and the simplest method is visually scratching the gold on a touchstone. This is not accurate as gold jewellery can have a different amount of gold at different parts of the jewellery item. Therefore, another method, which is more reliable is melting gold jewellery and finally determining the content of gold. But in this method, while assessing the purity of gold, jewellery-making charges are lost and would imply loss to the consumer. Consequent to developments in modern technology, X-ray fluorescence hand-held instruments provide a non-destructive test to verify gold purity. There are also desktop analysers which are expensive but more accurate and are able to provide details of gold plating, if any.
To help the monetisation of gold and develop the markets, hallmarking of gold and gold jewellery is necessary. Internationally, the practice of registration of assayers and assaying marks vary across the world. The certification by the London Bullion Market Association (LBMA) is most respected across the world. In many countries like France, Sweden and Netherlands, all jewellery is monitored by government assaying offices.
In other countries, the jewellery industry polices itself and every manufacturer is supposed to stamp every item with an identification mark and gold content. In India, Bureau of Indian standards (BIS), with headquarters in New Delhi has been hallmarking gold jewellery since 2000 through its 221 centres to provide third-party assurance to consumers on the purity of gold jewellery or its fineness.
To establish a vibrant gold market and attract gold for recycling, assaying machines need to be extensively provided to retailers to determine the value of gold, generally in less than an hour. The BIS centres are restricted to 84 cities — with 22 centres in New Delhi, 18 in Mumbai, 16 in Chennai and just 1 in 47 cities like Nasik, Vadodra, Cuttack and Indore. These may not be sufficient to serve a large country with nearly 676 districts, representing large administrative areas. Therefore, there may be a need to have an assaying arrangement in every district and large city. Further, in view of the highly fragmented market, there is need to assign responsibility to a designated corporation (DC) or an institution by the Government and channel gold imports through that designated corporation which should be tasked to ensure high quality of gold in the country. Also, it should be mandatory that all gold sold in the domestic market has to be hallmarked and meet the gold standards set by the DC. In view of the large size of the domestic market, India could consider establishing its own gold standards.
Initially, the GMS should start with gold bullion which implies gold bars, and coins. According to current trends, 45 per cent of gold is for investment purposes and, therefore, is generally hallmarked. The monetisation scheme could have two parts — outright purchase of gold or loan against gold deposits. An important aspect would be spreading awareness about the scheme, location of assaying centres, rate at which gold would be purchased or loans provided.
The prevalence of gold holding is widespread in India and includes even those under the poverty line, according to anecdotes and interaction with market participants. Therefore, operating it through bank accounts given the success of Jan DhanYojana, would be more appropriate as it would also encourage banking amongst the unbanked and help in weaning away consumers from pawnbrokers. If banks have to become active in the gold market, and they should as in other countries, then the government and the RBI can consider permitting holding of gold as a financial instrument, as part of reserve requirements in the balance sheet.
An interaction with the market reveals a fear that GMS could be a ploy to unravel black money and therefore the amount of gold offered by the public could be low. To address this problem, the Government could consider a provision that gold monetisation of 100 grams or less would not require any identification documents. As the scheme operates through banks, any amount of gold more than 100 grams should be monetised through the individual's bank account.
Unlocking dormant money
India needs to use its foreign earnings for importing capital goods which enhance production and growth and not on consumption items like gold. Therefore, the new schemes announced by the Government are appropriate but the successful operations of these would need extensive research into the behavioural pattern of people in different parts of the country as preference for gold differs between North and South India.. These schemes would increase employment opportunities in terms of gold fabricators, assayers, and outlets. India can also become a regional hub in gold refining and recycling.
The Government could consider reducing the high import duty on gold to reduce incentives for smuggling and enhance custom duty collections. Monetising gold will help in unlocking high volume of dormant-money that would boost the economy by providing purchasing power to the households and much-needed liquidity for micro-enterprises.
Cross-country experience
The case of China and Turkey is very interesting. China has a long history of gold production, going back to more than 3,000 years and is currently the largest producer of gold in the world. In view of the growing demand, after introducing "regulations on administration of gold and silver" policy in 1983, People's Bank of China took control of the gold market.In the last few decades, Chinese authorities created three major bodies in order to further facilitate the growth of gold market. A limited number of domestic and foreign banks have import licenses in China and commercial banks have actively contributed to the development of the gold market by providing finances for gold leasing and offering other financial products linked to gold. China, as of now, has 8 LBMA- approved refiners. There are stringent quality measures in place to protect the interests of consumers and investors in the gold market. Also, National Gold Standardisation Technical Committee published standards on high pure gold to facilitate physical gold trading market. Turkey's relationship with gold is underpinned by a deep cultural heritage though its gold mining industry is small. In Turkey, individual gold reserves are the traditional form of savings. Faced with a severe fall in household savings, deposit shortages and spiralling current account deficits, Turkey turned to an innovative model to monetise "under-the-mattress" gold savings. Turkey was facing a bloated CAD that threated to derail the country's rapid expansion. The government was trying to persuade Turks to transfer their vast personal holdings of gold into the country's banking system. Amongst many measures, in 2012, the Turkish central bank introduced a system under which any bank may substitute a part of its reserve requirements with gold, thereby boosting gold reserves and monetising stocks of gold, lying idle.
The writer is RBI Chair, Professor of Economics, IIM, Bangalore
Top Stories