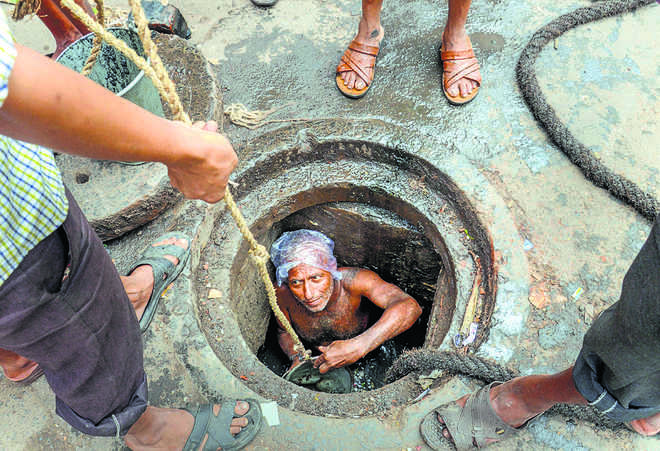 GS Bajpai
Professor, National Law University, Delhi
IN no country, people are sent to gas chambers to die. Every month, four to five persons are losing their lives in manual scavenging," the Supreme Court remarked on September 18, during a hearing in a recent review petition by a three-judge Bench led by Justice Arun Mishra and also comprising Justices MR Shah and BR Gavai.
Victimisation of manual scavengers is quite unique in this country. The practice exposes the workers to highly inhuman and degrading conditions. According to official data, 820 sewer deaths have happened in India, from 1993 to August 2019. The figures broadly suggest that every five days, a manual scavenger dies in a sewer, septic tank or a manhole in India. However, the actual number may be much higher. Moreover, deaths are generally counted, but ailments emanating from this form of victimisation largely remain undocumented and unrecognised. And this is despite the Prohibition and Employment of Manual Scavengers and their Rehabilitation Act, 2013, that prohibits and disallows all kinds of employment that force individuals to engage with human excreta manually.
This situation can be contrasted with the Swachh Bharat Abhiyan launched by the Modi government on October 2, 2014, aimed to achieve the vision of a 'Clean India' by October 2 this year. The campaign and movement seem far from their goal, despite the due date fast approaching. It is not possible to achieve this aim until manual scavenging is removed and manual scavengers rehabilitated. As stated by the National Commission for Safai Karamcharis (NCSK), Swachh Bharat is a "nationwide mission mode project for promoting cleanliness", but it "should not focus just on building toilets but also on eradication of manual scavenging or the workers' rehabilitation." There is an urgent need to explore ways to remove human intervention from scavenging.
Manual scavenging is not just an issue of a poverty-ridden country, but a reflection of its deep-rooted caste bias too. It is prohibited by Indian laws and also international instruments. International agencies such as the Unicef, WHO, UNDP and ILO have all advocated that the practice be abolished. The Supreme Court has also called out the issue of manual scavenging and noted the plight faced by manual scavengers in the Safai Karamchari Andolan & Others vs Union of India & Others (2014) case and during a review petition in another case on September 18. The court observed that sewers are gas chambers where people are sent to die. It doesn't happen anywhere else in the world. In its recent September ruling, the Supreme Court equated manual scavenging, sewage and manhole cleaning to gas chambers which are a death trap. It also rapped the Central government for not providing manual scavengers with gas masks and oxygen cylinders and termed the situation as "inhuman".
But has any of this been effective in addressing the issue? This is the moot question. At present, it is hard to give even a correct number of manual scavengers. This was attributed to "slow progress in the identification of manual scavengers by states and union territories" by the Standing Committee on Social Justice and Empowerment (2016-17). The ministry also informed Parliament last month that a national survey by Niti Aayog has identified at least 54,130 manual scavengers from 170 districts of 18 states in the country.
The practice continues to rip people off their dignity and the state machinery has taken due cognisance of the same. However, it is time we realise our abject apathy this practice indicates. A part of the problem lies in the way how we have still kept the caste hierarchies intact, for our own benefit. The problem is not just that a certain section is forced to do an errand as dehumanising as this. The issue also lies in our perception of them being at the bottom of this hierarchy which acts as a justification for them being in this situation.
Moreover, the other issue besides caste is our capability to switch to alternative methods of cleaning sewage. Countries like Mexico have adopted the ecological sanitation model of collecting it as an agricultural resource after treating it. Currently, in India, sewers and septic tanks are cleaned with the help of suction and jetting machines, using primarily the force of water to clean. But due to their inefficacy in clearing sludge in manholes, humans have to enter to clean that clog. However, this is unimaginable in countries like the US where the system is fully automated.
A great initiative has been taken by the Thiruvananthapuram-based start-up called Genrobotics which has introduced Bandicoot, a robot which uses an electricity-driven mechanical arm to replace the human hand. The device is operated by a human and it can guide the device to clean the clog, normally done by humans. Perhaps, easy funding for such companies by the government can encourage technological advancement to actually help in solving systemic issues like that of manual scavenging.
The annual report (2017-18) of the NCSK must be taken seriously and its recommendations put into practice. The National Human Rights Commission has also made recommendations for the public authorities while dealing with issues on manual scavenging and sanitation. These should be heeded and implemented. Awareness must be spread about the existence of the pre-matric scholarship and its availability, and the coordinating and implementing agencies should ensure that it is duly allotted, to alleviate the financial crunch faced by the families of manual scavengers to educate their children. States and union territories must take a pro-active role to identify the eligible beneficiaries under the scheme.
Compensation issue to manual scavengers was always crucial. The Supreme Court in Safai Karamchari Andolan & Others vs Union of India & Others directed that a compensation of Rs 10 lakh each be given to the families of all manual scavengers who have died in sewerage work since 1993. It also criminalised entering sewer lines without safety gear. A three-judge Bench in the case observed, "Sewer deaths — entering sewer lines without safety gear — should be made a crime even in emergency situations. Identify the families of all the persons who have died in sewerage work (manholes, septic tanks) since 1993 and award a compensation of Rs 10 lakh for each such death to the family members." A study conducted by the student-driven Legal Aid Committee at the National Law University, Delhi, found that despite the SC ruling, the implementation of the compensation aspect is woefully inadequate and a large number of dependents and relatives of those who die in these cases are still struggling to get compensation.
The apathetic behaviour faced by manual scavengers from the authorities and the general public, and unsympathetic employers must be changed. The hazardous work conditions which include toxic fumes, poisonous gases, lack of safety equipment like masks, and working in less or no light, leads to unfortunate diseases and deaths. The occupational hazards are so severe that workers do not live long after they stop working in manual scavenging. These unnecessary evils can be prevented if proper measures are taken. Technology-induced interventions should be promoted, tested and implemented quickly at the ground level. Regular and updated training of the workers and sanitation inspectors must be imparted effectively. To fully eradicate the problem, it is imperative that proper awareness and sensitisation of authorities is undertaken so that they can recognise its intensity and view the system as dehumanising and unconstitutional.
Top News
Said six specific cases pertaining to violent incidents to b...
Says the CM is protected at both these places by the Punjab ...
The training aircraft, which took off from the air force sta...
'Mahapanchayat' being attended by khap leaders from Punjab, ...
Kamikkar Singh Dhaddi is lodged in jail in an abetment to su...