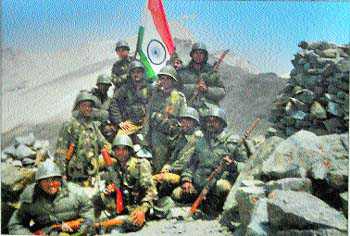 Seventeen years ago, on July 4-5, 1999, the Indian army fought and won a magnificent battle victory during the Kargil war. There were two turning points in the Kargil war: the capture of Tololing which started the 'turn in the tide' and the back-to-back capture of Tiger Hill and Point 4875. Although Point 4875 was tactically more important, it was the capture of Tiger Hill which caused a physical and psychological blow to Pakistan and the 'end in sight' for us. Tiger Hill is 5,062-metre-high with sharp conical features and stands majestically among the mountaintops a few kilometres north of Dras. One cannot miss it, or help admire it, as one drives along National Highway 1A (NH 1A) from Zojila to Kargil. During the Kargil war, it was a delight for photojournalists as it provided some of the best pictures of that war.
From Tiger Hill, the enemy (one company of Pak 12 Northern Light Infantry) had a clear view of NH 1A from Dras to Bhimbat, and the road leading to Marpola on the Line of Control (LoC). They could effectively interdict vehicular movement on these roads with observed artillery fire. We were clear that unless Tiger Hill and Point 4875 (located 2 km to its South-West) were secured, movement along NH 1A will never be safe. Although Point 4875 was closer and dominated a larger stretch of NH 1A, Tiger Hill occupied by the enemy was more difficult to climb and assault.
In the second week of May, 1999, 8 Sikh moving from Udhampur to the Kashmir valley was diverted to Dras. On arrival, the Brigade Commander launched the unit into battle without acclimatisation and snow clothing to clear Tiger Hill. The unit suffered heavy casualties in its attempt to get close to the objective. It was then ordered to occupy dominating heights in the vicinity in the area called 'Parion ka Talab'. No further attempts were made to capture Tiger Hill for the next six weeks till we were able to clear the approaches and fully ready for it.
On June 27, 1999, I visited HQ 8 Mtn Div and 56 Mtn Bde at Dras. That evening, 2 Raj Rif was preparing to attack Three Pimples, another very difficult feature west of Tololing. After GOC, 8 Mtn Div, Maj Gen Mohinder Puri briefed me on the ground situation, I asked him about his next objective. He told me that after a few days, 192 Mtn Bde will attack Tiger Hill and Point 4875.
The attack on Tiger Hill was to precede the attack on Point 4857 by a day so that enemy attention would be diverted from the latter more strongly held objective. That I thought was a sound decision. Tiger Hill extends about 2,200 metres from west to east and about 1,000 metres north to south. The main extension is towards west on which there are two prominent protrusions. The first, approximately 500 metres west of Tiger Hill, had been named 'India Gate'. The second, another 300 metres to the west, was called 'Helmet'.
18 Grenadiers along with 8 Sikh, which were already in the area, were tasked to capture Tiger Hill on the night of July 3-4, 1999. They were provided a team of the High Altitude Warfare School, adequate artillery, engineer and other support. The Air Force could easily identify the prominent conical shape of Tiger Hill. It engaged the objective on July 2-3, 1999, and was able to score many bull's eyes in its missions.
The multi-directional infantry assault began at 1900 hours on July 3, 1999, with direct and indirect firing by artillery and MBRLs. 8 Sikh provided the firm base and engaged the enemy from 'obvious' approaches as part of a deception plan. 18 Grenadiers moved towards the objective from the south and north east. The weather assisted the battalions in achieving surprise. Lt. Balwan Singh led the Ghatak Platoon of 18 Grenadiers on the most difficult, north-eastern approach. His Platoon made use of ropes to reach the top at 4.30 hours and totally surprised the enemy which had already suffered due to heavy artillery shelling and air attacks. In the ensuring hand-to-hand fighting, the enemy lost 10-12 personnel. 18 Grenadiers suffered six fatal casualties. Grenadier Yogendar Singh Yadav, who was in the lead on the rope and wounded badly, earned India's highest gallantry award of Param Vir Chakra. The Ghatak Platoon with some reinforcements firmed in on the Tiger Hill top but came under enemy fire from the Western Spur. Brig Bajwa, Commander 192 Mtn Bde, quickly moved a company of 8 Sikh to occupy India Gate and Helmet. It was reinforced by another company of 18 Grenadiers. On the morning of July 5, the enemy launched a fierce counter-attack led by two officers. One, Capt Kamal Sher fought gallantly and was killed. Later, he was awarded Pakistan's highest gallantry award when we returned his body to Pakistan.
In New Delhi, I remained anxious all night till Lt. Gen Krishan Pal, GOC 15 Corps, rang up at 0600 hours on July 4, 1999, to inform me that 18 Grenadiers had reached the Tiger Hill top and heavy fighting was going on. After consulting him and the Director General Military Operations, we decided to wait for confirmation from Maj Gen Puri. At 0730 hours, Puri spoke to me and confirmed that the enemy would not be able to dislodge 18 Grenadiers from the Tiger Hill top. By then the Defence Minister was on his way to Amritsar. When he landed at Amritsar airport, I gave him this exciting news. I also informed the Prime Minister, who was to address a public meeting in Haryana at 10 am.
July 4, 1999, was an important date. Despite heavy commitments of Independence Day, President Clinton had agreed to meet Prime Minister Nawaz Sharif of Pakistan, who had conveyed desperation in wanting to meet. The meeting was to take place in the evening --early morning of 5th July in India. We made sure that the whole world got to know about the capture of Tiger Hill and thus, the likely outcome of the Kargil war.
That was a hard psychological blow for the Pakistan army. Initially, it tried to deny the existence of Tiger Hill and labelled the entire operations as a figment of the imagination. But with Indian media beaming live war pictures into drawing rooms, that kind of fooling was no longer possible. The Indian victory made Pakistanis realise the writing on the wall. It allowed Clinton to arm-twist Nawaz Sharif in Washington DC. In India, there was a wave of jubilation and relief in the mood of the people!
— The writer is a former Chief of the Army Staff
Top News
The scheme to cost additional Rs 44,762 crore
There are about 50 lakh Central Government employees and ove...
Decision comes following two consecutive country-wide raids ...
The process of nominations ends on September 30 with only Sh...